Class Introduction
John Greengo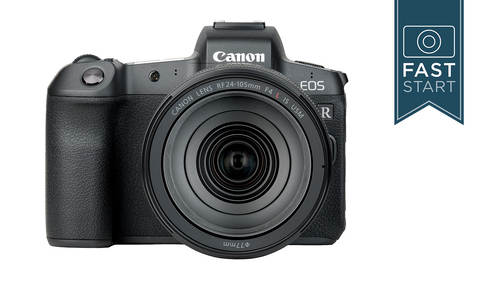 Class Introduction
John Greengo
Lesson Info
1. Class Introduction
John introduces the Canon EOS R, Canon's first full-frame mirrorless camera and what makes it stand out from the Canon EOS 5D Mark IV or other Fujifilm or Sony competitors. Learn what will be covered in this, class materials you'll receive and which other photography classes he teaches on CreativeLive that can supplement your learning experience. John shares what you need for this class: how to prep your camera and access firmware updates.
Lesson Info
Class Introduction
welcome everybody to the canon. EOS are fast Start. My name is John Gringo And in this class we're gonna be covering pretty much all the functions of the canon. Eos are obviously a very groundbreaking camera for Canon because it's their first full frame muralist camera and they've added a lot of new innovative features to this camera. We have a new mount, we have new sets of lenses and we have a lot of different controls than on previous canon cameras. And so if you're migrating from one of their DSLR cameras, you're going to notice a fair number of changes. There's a lot of similarities, but there are a lot of changes in a lot of new things. So we're gonna go around, do a tour of the outside of the camera, all the buttons and dials, talk about what they do and what the functions are, and then we're gonna dive into the menu system and we're just gonna walk through the entire menu system, and I'm gonna be telling you what the items do and how you might set them up for different types of...
photography and where you might want to set them for your type of photography. When we get into the menu section, let's give me real handy to have my recommended settings guide here. This is where I've taken the entire menu and have put it out on one or two pages so that you can see everything nice and clearly. And I've given you my recommendations for a good starting point, where to have things set in the camera, and so that will be helpful when we get to that second half of the class of the menu section. So before we get really going into the class here, I thought I'd give you a couple of thoughts that I have about this camera. And I've been trying to think about how I would introduce this for quite some time because this did hit and there was a lot of publicity and a lot of talk and a lot of camera reviews and a lot of commotion about this camera when it came out. And I think it's easiest just to summarize this. It is that this is the most misunderstood camera out on the market today. I would have to say that in general the reviews were kind of lukewarm. A lot of people didn't take super kindly to it, and I've been spending several months with the camera now. Obviously, I dove into everything that it can dio, and I did have to get adjusted to some new things. And I think a lot of people have taken this the wrong way because it's a cannon. It's a full frame camera. It has a 30 many megapixel sensor. So a lot of people just assumed it was a Canon five D Mark four in a mere list form and they were disappointed. And yeah, that's a good camera. But that's not what this is about, and they should be judging it just on what it is. And I think the other thing is, is that Cannon may have gone too far on this camera. When industries changed technologies like when cars go electric, you can't make too many radical changes. You scare off the people and I think they made a lot of changes that kind of scared some people. But once you dive into these features and you really learn how they work, you start seeing the genius in it. And so I'm really quite happy with this camera. I think it's one of the best cameras ever made. It's one of the best cameras out of the market. It's one of the best blogging cameras. It's one of the best general photography cameras. It's not the best sports and action camera cause the focusing isn't quite as fast as it is on a five d mark for some of the other sports related canon cameras. But for a general purpose camera, it's really good. And then you add, on top of that fact, the lenses and the quality of the lenses that are coming out for this. It's really a compelling offer. And so this is, I think, a start of a very good system for Canada. And for those of you who own it, uh, let's get to learn this camera so you can find out the genius on the inside. All right, so here's what I have planned for the class. We've got a few different sections. We're gonna start with a little class overview. Maybe you're new to Canon. Just some basics about this camera. We're going to, ah, few minutes on photo basics for people who are stepping up getting into their first serious camera and then the vast majority of the class is the camera controls and the menu section. So we're gonna go through all the buttons, all the dials, and then go through the entire menu system and help you set your camera up for the best operation possible. And then finally will in the whole thing off with a little camera operation where I kind of summarize the most important settings for different types of photography. So should give you a full complete view of this camera by the end of the class. Now this class is not intended to tell you everything that is in the instruction manual. There's a lot of valuable information in the instruction manual, and I've tried to pull out everything that is important to most photographers and put it into this class. I go through that instruction manual Paige by Paige, pulling out what I think are all the important relevant details. But there is still some things in there that you may need to access a reference, and so don't quite throw it away just yet. Additionally, this is a camera class. We're gonna be talking about this camera, which is used for taking photos, but it's not specifically a photography class. If you are interested in photography classes, there are many of them out there. I have a couple of them. I have a short one called the Photography Starter Kit for beginners. I have a more in depth one called the Fundamentals of Photography. And so if you want to know more about shutter speed, aperture lighting, composition and so forth, we're not going to be talking about that very much in this class because this camera has enough to talk about on its own. And so, if you want to conquer, the rest of the world of photography, might want to start with these other two classes. So if you are new to cannon, a cannon has obviously been around for a very long time. They have started making SL ours way back in 1934 and they were very amateur basic sl ours. Then they started getting into more the professional game in the 19 seventies, and in 1987 they went auto focus, and this is an important break point because these air the oldest lenses that you can possibly use on this particular camera, go back to 1987 you will need an adapter, and I will talk more about lenses as we go further into the class. In 2000 they went digital, and then in 2012 they brought out their first muralist camera. But that was the crop frame version of it. And then, in 2018 they finally brought out this camera, which introduces their full frame muralist lineup, which looks to be their mainstream line going forward. So the Canon Eos system is now broken into four distinct parts, and it's good to know what these four parts are. The DSLR system has been the one that's been going since 1987 or at least the SLR part of it. Digital roughly 2000. We have full frame versions and crop frame versions, and there is a little bit of a distinction on lenses, but they do share some lenses back and forth between them. Then they have the mirror Elice crop frame system, and now they have introduced the full frame system. And so there is limited compatibility between the lenses on all of the system. There is some in some directions, and I'll get into that later when we talk about lenses. But this is the four different sections of canon cameras available today. As far as the care in handling of the camera. It is a well built camera. It's ah has a magnesium Alloway body on it. It has a very durable shutter unit, one of the ways they rate how long a camera is expected to last. It's up a 200,000 cycles, which is professional in that quality. Remember for quite a period of time. Your basic camera had a shutter durability of 50, firings, but they've been going up and up asses. They've been getting better and design. The camera does have quite a bit of weather ceiling on it. It's not waterproof, and so you got to be careful a little bit with heavy downpours of rain. They say it's not waterproof, but it is designed to be dust and drip resistant. Unfortunately, they don't get much more specific than that. They do have a lot of weather ceiling. They do have a lot of indications of where they have high precision parts. And to be honest with you, I would pretty much think everything in This camera is a high precision part, so I'm not sure exactly what they're referring to there. But I thought it was interesting. All right, so let's make sure that your camera is ready for today's class. You want to make sure that you have a charged battery takes about 2.5 hours to charge that you'll need a lens on your camera and on the side of your lands is probably a little A F and M F sweats. You want to have that in the auto focus mode. You'll want Tokyo card in the camera so that it works properly. Turn the camera on and the mode dials a little different than we've had on most canon cameras. And so on this one, you press the mode and turn the dial. And if you just go to the auto plus mode, that is gonna be the most simple mode for just taking a practice picture and then press down on the shutter release to take a photo and hopefully your cameras working. And if it's so, then you are ready for the remainder of this class
Class Materials
Canon R Recommended Settings
Ratings and Reviews
John Greengo is a very good teacher. I think it's the best investment you can make to get to know your camera well - especially something new like the EOS R. I love his feedback on what new features are worth trying and others that are simply not there yet. Awesome course!
This is the best course I have ever seen on how to use a camera, it guides you through the functions, settings, hidden configurations in a crystal clear way using very well designed visuals aids. I'm glad I was able to find this class, it's really a great quality course, thanks a lot John Greengo and CreativeLive Team!
John Greengo is wonderful at making His classes easy to follow and understand. We have purchased the Canon R and found that the only books with directions are in German and Japanese with the US version out in August. We are very grateful that John has produced this class. Love the CanonR but with Johns' class; the camera is easier to understand. Thanks! Hope to see more on the CanonR!
Student Work