Camera Controls: Multi Function Button
John Greengo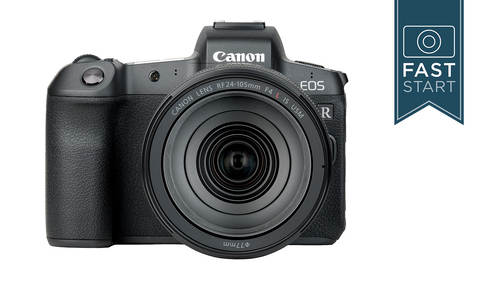 Camera Controls: Multi Function Button
John Greengo
Lesson Info
5. Camera Controls: Multi Function Button
The multi-function button is a completely new feature on this camera body; learn how to take advantage of the settings it gives you access to (including setting the ISO range from ISO 100 to 40,000 and above) and how to customize settings to your needs.
Lesson Info
Camera Controls: Multi Function Button
All right, let's talk about the multi function button on the front of the camera now. There have been multi function buttons on previous canon cameras, but this one is working in a different manner, and it's probably thrown a number of new users to this camera or longtime canon users a bit for a loop because it's a little bit different. So the problem that has occurred going from DSLR is Tamir Lis is when we take the mere out of camera, the cameras get a little bit smaller and everybody has kind of been asking for slightly smaller cameras. And when you have a smaller camera, you have less real estate on the outside for buttons and so on. Previous cameras that were much larger than this. You would have an individual button for eso and one for white balance and one for focus and maybe one for something else, depending on how much room is up there. Well, with less size, we have to do more with less. And so this one button is going to give us access to these five features. Now, as I said b...
efore, this camera is highly customizable. So if you don't like these five. You can change him and you can reorder them in any way you want. But this is the way it comes from the factory. So let me explain it through this manner. So when you press the function button on the back, you can change which function you are addressing. And we have the five different options I s O drive, focus mode, white balance and flash exposure compensation. And then you can adjust the particular setting using the top dial on the camera. So between the two dials, you can go very quickly from one to the next, adjusting what you need to. So let's look at more closely what these options are. All right, So here are five options. Let's first start with I s O. This is traditionally been pretty close to where Canon has always had their eyes. So dial or button on their camera for quick access. And so if you want to address it here, it's right where you remember it. In most cases, for most canon users press down on the button, turn the top dial to change your eyes so the range is gonna go from 100 to 40,100 is the base sensitivity. It's where you're gonna get the best image quality as's faras color rendition in detail in the least amount of noise. But you name may need to bump it up for a lot of photographic reasons, and so you can bump it all the way up to 40,000. There isn't actually a number there, but that's two clicks higher than the 25,600. It does have a high one in a high to setting, which go up to 51,000 and 100,000. And these air high I esos now you currently can't get there because Canon has limited you unless you've gone into the menu system to kind of unlock that feature. So if you want to go into the set up men, you number three I s O speed settings. You can kind of up the ceiling for what your camera could do, and I do recommend it because I like to have all of the options available to me. The other option down on the low end is that we do have an auto setting, so any time you want to have the camera controlling your eyes so you can do that. And so ranges going from Auto 100 all the way up to 100,000. In this case, 100 is kind of the default place that would probably be best to start out. So let's take a look at an image quality test between these different ISOS taking my standard test shot here and enlarging it so we can see detail. And we're looking for grain or noise and up through 1600. It is extremely clean. Lower is a little bit better, but 1600 is still very clean as we get up to the 6400 and 12,800 is when we really start noticing this noise. Those high settings of high one and I two tend to be pretty bad, but that's generally the case as it is with most cameras. And so, if you want to set a higher limit, kind of want to know, where can I shoot at and still get clean images? I would say 6400 and for smaller print sizes 12,800 which is very good for a 30 megapixel camera. All right, our next setting. Using that back dial to change the function is our Dr Settings. This controls what happens when we press all the way down on the shutter release. And let's take a look at the different options in what's going on here. So the standard option, of course, is single shooting. This is when you press down, you take one picture at a time, and that's gonna work for most of us for basic photography. Next up we have the continuous modes. We have a high speed, and we have a low speed. The high speed is at eight frames per second. However, when you have the focusing in servo. So for action photography, it slows down to five frames a second, and so five frames a second is a bit slower than some of the competition now. At one point, it was professional quality. Remember having a professional quality camera that was shooting at like 5.4 frames a second, so it's still reasonably good, but it's not fantastic at tracking the action. It does slow down a little bit there, and then the low speed is three frames per second. If you need a self timer, we have a 12th and a two second self timer. Two seconds really handy when you're on a tripod and you don't want to touch the shutter release right when it's taking a picture, you want the vibrations to settle out. With either one of those, you can use the Cannon RC six remote control for triggering the camera. Next up on our multi function button is our focus mode. We have three basic options here. Let's take a look at what these are for basic photography. The one shot mode is where the camera will focus on a subject, and then once it achieves that, it gives you the little beep beep and it locks the focus. In that way, you could do a focus recomposed to get that subject a little bit off to the side. We do have a servo mode for continuous focus, and this is for subjects that are moving towards you and away from you, and I do have to admit that this camera is a little bit slower in this regard. It is pretty smooth, so for something basic that's very smooth, like a car driving towards you, a person walking towards you tends to do a pretty good job with really fast, erratic action. It's not quite as good some of the other SLR comparable cameras, but it's pretty good in a general sense. And then, of course, we have manual focus. So if you want to flip the switch and go manual on it, you'll just see the manual focus option in here. And that could be really handy for static shots, perhaps where you're shooting from a tripod. Next option is white balance. And so this is controlling the type of light that you are shooting under so that when you photograph under these different types of light, you are getting the proper color. And there's a lot of different color light sources that we might be working under and these air all falling on a Kelvin scale that goes from red to blue. There's a number of natural settings, and there's a number of artificial settings as well. A lot of different fluorescent settings. Different tungsten light, which is probably the most different evolve alights. There is a kelvin temperature where you can go in and specify a specific Kelvin temperature that you're working at. If you want to manually make it extremely accurate. There is a preset manual where you can go into the menu system, photograph a white sheet of paper and have that calibrated Have the camera using that white sheet of paper to calibrate the color of the light that you were working under. So if you are under a very unusual light source, then that would be a great way of making sure that you're getting the correct light light. Next up is the auto white balance and auto White Balance does a very good job with canon cameras in most cases, and so it's a good default position to put the white balance in. It'll automatically figure out what sort of light source you are in. If it doesn't look right, you can quickly come in and change it to an appropriate source, so it does work pretty good. Good starting place. The final step on this is flash exposure compensation, and this allows you to either power up the automated flash or power it down. So in general, the T TL automated flash outputs what is considered a technically correct amount of light, but from an aesthetic point of view, it can sometimes be overpowering on your subject. And so a lot of times, photographers prefer to dial back the power on this so that they get more natural skin tones. Now it's worth noting that this camera does not have a built in flash. So this function isn't doing anything until you add a flash onto it. And because all of these modes are replaceable and you can add other things in here. This is probably the 1st 1 to put on the chopping block, you might say, because there are other features that you might have greater need for. But it's up to you. It's your camera. You can organize it and customize it as you want here. And so if you do want to get in to do this, you go into custom function four operations, and you can customize these buttons. And so that might be kind of fun to do right now, So let's go ahead and die van and customize some of these. But so I'm going to go in to custom function number four, and we're going to customize these buttons. And so we're at page number four on our custom functions. I'm gonna go in and I want to change my multi function Right now, the multi function is right here. It's under dial functions and dial functions means we get five different features that we add in there. If we wanted to to do just one particular thing, we could set it up to just do one thing here. But having it do five things I think is very valuable. So we're gonna go in here and select that, but you'll notice down at the bottom. It pressed the info button form or detailed setting. So we're gonna press the info button, and now we can choose. What are our five items? Well, I would like to add auto focus. I think that's a nice option to have that we don't currently have. I'm gonna press set, and nothing happens because there are check marks among all the chosen ones and you could only do five at a time. So I'm gonna have to go unchecked something. So I'm gonna uncheck this flash exposure compensation, and then I'm gonna come down here to a F method and add the check mark there. And so I'm gonna press info for next, so I can either press info or I can press it on the touch screen. Either one. And now what I can do is I can change the order of these. So, for instance, this auto focus I can select it and move it next to the other auto focus related feature and put it right there. If you wanted to put eso way over on the right hand side, you can organize it here so you can select a wide variety of items not everything imaginable, but a wide variety into the five places into the five spots. And then you can move the five spots anywhere you want. You know, just so that I don't get myself mixed up. I am actually gonna put all this back to where it waas in case I need to go back here. And so I'm gonna come back in here, make sure that that set up and actually going to check it, and I forgot to uncheck this one. I'm gonna put the flash exposure back in there, so I have reset it back to its standard place info. Impose. Okay. And so we're set back to our normal default settings in there and so that's gonna be a great control when you get used to it. It's one of those things that's a little bit different than on previous cameras. But once you get used to it, you start seeing the genius and the fact that you could change a few things really easy very quickly. And if you don't want to have five items and there, I believe one of the options was none. You could just have two or three items in there if that makes things easier for you.
Class Materials
Canon R Recommended Settings
Ratings and Reviews
John Greengo is a very good teacher. I think it's the best investment you can make to get to know your camera well - especially something new like the EOS R. I love his feedback on what new features are worth trying and others that are simply not there yet. Awesome course!
This is the best course I have ever seen on how to use a camera, it guides you through the functions, settings, hidden configurations in a crystal clear way using very well designed visuals aids. I'm glad I was able to find this class, it's really a great quality course, thanks a lot John Greengo and CreativeLive Team!
John Greengo is wonderful at making His classes easy to follow and understand. We have purchased the Canon R and found that the only books with directions are in German and Japanese with the US version out in August. We are very grateful that John has produced this class. Love the CanonR but with Johns' class; the camera is easier to understand. Thanks! Hope to see more on the CanonR!
Student Work