Build Your Own Tote Bag: Interior Details
Betz White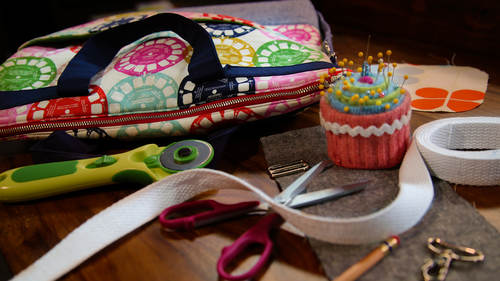 Build Your Own Tote Bag: Interior Details
Betz White
Class Description
Tailor the interior of your basic tote with tips and techniques from Betz White in Build Your Own Tote Bag: Interior Details.
In this class, you'll learn how to add the interior extras that make a simple bag more functional and finished. 
You'll learn how to add a:
Divided slip pocket
Flush Zipper pocket
Elastic pocket
Padded tech pocket with velcro
Zippered divider
Key Fob
Betz will share best practices for making sure that each of these embellishments looks professionally-done and functions perfectly.
If you want to add extra dimension to a classic tote, join Betz White in this fun and instructional sewing class.  

Be sure to also check out Betz's other class "Build Your Own Tote Bag: Custom Exteriors" 
Class Materials
Interior Details Resource List
Interior Details Tool Kit and Materials
Ratings and Reviews
I loved this class! Betz is very relatable and she explains what she is doing and why she is doing it! I think that it's really important to know why something is done the way it is. I think anyone who is considering bag making or wants to improve their bag making skills should take this class! Thanks for offering it and thanks to Betz for teaching it
I love this Build Your Own Tote bundle and the totes she makes. I am in the process of making them all! Her instructions are excellent and as a result, my totes have turned out great!
Excellent course! Explains, in detail, many techniques for sewing bags. This includes different types of pockets (inside and exterior), adding hardware, etc. Very thorough explanations with up close shots of how it all goes together. A great class to learn how to make your bags look professional!
Student Work