Visual Storytelling, Why It's Important.Finding Inspiration In Others Work
Lisa Carney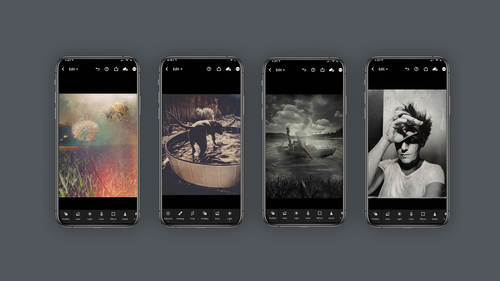 Visual Storytelling, Why It's Important.Finding Inspiration In Others Work
Lisa Carney
Lesson Info
3. Visual Storytelling, Why It's Important.Finding Inspiration In Others Work
Lesson Info
Visual Storytelling, Why It's Important.Finding Inspiration In Others Work
let's take a minute to talk about storytelling. This is really important. In fact, it's probably one of the most important parts of this course that I'd like to discuss with you and it's essential for you to reconsider first of all, the device in your hand. Now it's no longer going to be a phone, right? It's going to be your camera quite literally your camera, not a snapshot device. And I think this is important because it will kind of dictate how you utilize it, I find, and it's a more to start telling your visual story. We're visual communicators here. What's your narrative and not derivative and what do I mean by derivative? I mean, copying that same old shot that everybody and their mother has been doing for time and duration, do something original, something that speaks to you. What do you want to say? What are you feeling? What do you see? And this device makes it so easy to experiment this whole mobile ecosystem we're talking about. So really what's your story? And um I think se...
ries are a really great way of experimenting because it keeps you going in the process and I'm gonna tell you there's a great photographer who does beautiful storytelling and her name is Alexandra Cabot aqua, she's out of Florence italy and she did some amazing series, Anatomy of the USa. She's got a bunch of looks in here and it was all about solitude and she's a pinhole photographer and a mobile shooter, some really, really interesting looks and I'm not sure if I would call this um conceptual or experimental because some of it looks a little experimental, but I think I'd go with conceptual for her for more of her style and often storytelling can be and as I said, doing a series can be a great way of experimenting. This is a grief series. I did all shot on the iphone, the majority of it processed in light room, all mobile and then brought into Photoshop for compositing and color grading and that kind of thing. So again, I really would like to invite you to keep your options open for what device you're working on. Don't limit yourself just to the mobile phone. Maybe go to the ipad, it's much easier to compositing on an ipad than on a phone with Photoshop for the ipad you could totally use and then of course you can always go to desktop if you need to see something bigger. Now, here's a really interesting series from a former student of mine named charlie Terrel, love charlie. He was a student of mine at UCL extension and it's really interesting kind of experimental portraiture where he's doing illustration style work again, all digital, really moody, cool fun. You want to check him out on instagram, charlie Terrel again, I adore. Um um another inspirational photographer I find for conceptual work is kate Woodman and if you haven't heard about her, she is amazing, she's absolutely what I would consider to be the queen of color. Uh look at these stories, she's out laying all in single shots and her color grading is absolutely beautiful and who says you can't do this on mobile now. She doesn't shoot with a phone, but you could and it's more about you really, I don't know, getting some ideas to express yourself to how you do, it will come to you, I'm gonna give you some tips in this class to um for compositing that might help and heck fire, you know, dig deep. You know, I do these uh this story, it was a very personal story for myself and I wanted to, I want to take it out of the photo realistic looking world and give it kind of a, I don't want to say graphic novel look, but definitely an illustration style. And for that I went to an app called Prisma. So what I did is I shot at all mobile. These are all shot with my phone. Little setups are done just outside on a tabletop and then composited in Photoshop and then taken back to my phone to treat it through this app called Prisma. So this is an important workflow thing I want to talk to you about, which is you can shoot mobile, go to your desktop and actually do your, your montage. You're compositing and then go back to your phone to give it an illustrative treatment. So let me show you that real quick. I'm gonna do a little demo here and throughout this course, this is what I'm gonna do. I'm gonna actually uh do a piece and and deconstruct it, show it to and then go back and talk about, you know, different processes you can do.
Ratings and Reviews
Good course. A lot of good tips and ticks. I thought there would be more on using different props to create different effects....A little disappointed that Mextures and PaintCan is only available on iPhone not on Android.....
This class really helped open my eyes to the potential of mobile photography. Now I know some new apps and ways of using my existing apps to take my mobile photography in a fun, new and more artistic direction.
Oh Lisa, what would we do without you? You are one of the main reasons I keep coming back to Creative Live. If anyone is relatively new to either mobile photography or Photoshop - push through the zones where you feel a bit lost. One of the absolute joys of Lisa's teaching is that she addresses all levels of students in one go - there is always something as an instant takeaway, and always more to sink in on future viewings.
Student Work