Introduction to Abstract Painting
Amy Wynne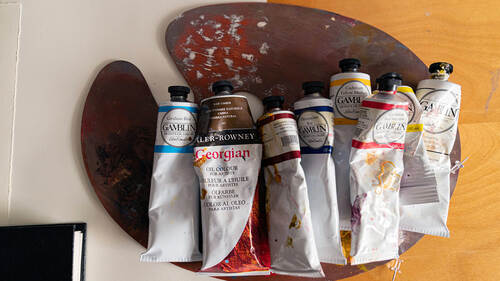 Introduction to Abstract Painting
Amy Wynne
Lesson Info
1. Introduction to Abstract Painting
Let's start by taking a closer look at the spectrum of realism. Your art can benefit from these liberating methods for overcoming obstacles in abstract work.
Lesson Info
Introduction to Abstract Painting
Hi I'm Amy Win. I'm an artist and educator and I'm so excited to have you here in my historic mill studio in Rhode island to do some abstract painting. So first I just want to say that abstraction, even the word abstraction, there's a real span of what people understand is abstract. I started my journey as a painter in a very academic way. I started in new york city studying anatomy, studying the figure, there was a right way and a wrong way in terms of learning renaissance traditions in realist painting and at the time that's what I was after at the time it was really what I wanted to learn. I'm so grateful to be able to do that to have those tools in my tool belt for sure. But over the last couple of decades I've really been fascinated in how to take that knowledge and loosen it up, how to take that realism. It just at a certain point didn't feel as satisfying for me anymore to paint in that way. And an evolution as a maker is actually really important to allow yourself to evolve to ...
allow yourself to change. Maybe not feeling like you need to fit into one particular way of working for your entire life because we change as humans as we develop our interest, change our style changes. So what we're going to explore in this course is working with different types of abstract painting, different techniques, different strategies to help you maybe loosen up, liberate your inner critic. You know, really like play with the exploration of painting. So many artists throughout history have pushed the boundaries of abstraction in many different subject matters and also beyond subject matter. What I wanted to show you is just some examples of sort of the spectrum of realism to abstraction. And, you know, what you might start to think about or notice is the artists that you admire. Who do you like to look at? Who do you feel has an energy that you really would love to tap into? And it's not about necessarily copying them. Although that's something you could do, but it's more about what kind of energy, what kind of color, what kind of mark making, what kind of subject matter is interesting to you. And how do other people handle that in the sort of running the gamut from realism to abstraction. Where do you, what what what is your aesthetic, where does your preference sort of fall in that range? So, here on this, um, these images here sort of illustrate, you know, you have the BOTTICELLI a detail from a BOTTICELLI, which is very realistic. Uh then we have this um this painting by Duran where if you look at these two portraits side by side, you see how this one is much more sculptural. The colors are very vivid, there's a sense of it being perhaps a little more abstract than the BOTTICELLI. And then we have this Picasso, which is a portrait that's even even more abstract. So there's this there's this transition from realism to abstraction, which is really interesting to look at and portraiture. You can find that in many different genres of painting, you can also see it in still life, you can also see it in landscape. So I thought it would be interesting just to see three different versions of landscape. It does have an art historical progression, but this coro here very neutral colors, much more realistic. I mean, I would say that almost every painting is an abstraction, even photography has an abstract quality to it because it flattens things out. But I think you can see this coro juxtaposed to this Kandinsky. The Kandinsky definitely has more of an abstract quality. The colors are brighter, the shapes are more robust. There's a freedom you can see the brush strokes, but you can still sort of feel when you look at it, even, you know, you can feel a sense of landscape and then we have this joan Mitchell painting, joan Mitchell is an abstract expressionist painter. Um and you know, this is a landscape. She liked to work from her memory of places rather than observing and working from memory, allowed her a window into abstraction and mark making, that's very different than perhaps maybe what you might experience if you're working from observation. So, these are some, some images to help inspire you towards maybe getting a feel for what some of your preferences are in terms of how abstract you might want to go and what's really exciting for me here is to be able to provide you with some fun opportunities to play with different ways in so one of the things we're gonna do is we're gonna be drawing and drawing and painting, you know, they do connect. So um we're gonna be drawing a piece of fruit and we're gonna be playing with abstract marks and also flipping space between what's behind an image and what's in front. We'll also be working with exploring different types of paint because depending on the type of paint you use, there are different abstract possibilities. So, working with transparency and layering and the illusion of transparency with using opaque paint. So transparent paint versus opaque paint. What are the possibilities of that in creating an abstract image? We'll also talk about amplifying color. So, working with a monochrome, working with something subtle and then working with something very, very bright, again, sort of getting a feel for where you feel you fit within the spectrum of color. And maybe also prompting you to push yourself a little bit maybe out of your comfort zone, in terms of what you might normally use or what you might use, you know, might hope to use because all of these exercises, they're not all for the advanced painter, like all of these things could be done by a beginner and intermediate painter or an advanced painter, if you have the attitude of playfulness and curiosity, all of these exercises could be a benefit. And then ultimately we're gonna have some fun by making our own muse. So, as I said, you could just work with pure obstruction without looking at anything, but sometimes I like to actually make little sculptures out of found objects and use them. Uh And we're through that exercise, we're going to play with um how to use a projection on a wall, and how to play with scale change and opaque paint to create a sense of depth and space and rhythm in a piece will also be working with where drawing meets painting. So the idea that, yes, there's a fluidity of paint and the brush, but there's also the possibility of that to meet drawing and have drawing almost kind of uh energize the painting process. We'll be starting also by taking a section of a painting and making it larger. So I call that start with a part like finding a section of a painting or a photograph, or um you know, something that you um you see, and you take you take an image of taking a small part of that and enlarging it and having that be the abstraction. And in that case, we're actually gonna work with oil paint. We'll be talking about quite a few different options for materials for painting. Um whether they're water based paints, water soluble pencils, certain kinds of brushes, palette knife, oil, but don't be intimidated by that because you can sub out whatever you have or whatever you might be able to afford to do these experiments. And then ultimately, we're also going to be playing with more free form experimental ways in spilling paint, making stencils, spraying paint, allowing things to drip and having sort of happenstance and incidental techniques, maybe allow you to loosen up and embrace the unexpected. So all of these ideas, all of these strategies are meant to inspire you to explore this new frontier of abstract painting.
Class Materials
Abstract Painting Color Wheel
Color Wheel Template with Neutrals
Abstract Painting Materials
Ratings and Reviews
Student Work