7 Abstract Art Painting Techniques
Amy Wynne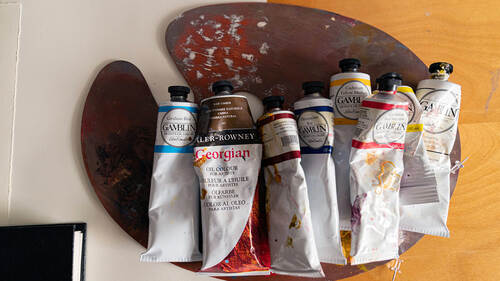 7 Abstract Art Painting Techniques
Amy Wynne
Class Description
AFTER THIS CLASS YOU'LL BE ABLE TO:
Refresh your artistic techniques with new skills
Approach your craft from a flexible viewpoint
Give space and freedom to your artistic process
Advance your understanding of basic art principles
Level up the professionalism of your creations
ABOUT AMY'S CLASS:
Is your artistic process starting to feel a bit stale and predictable? Break out of that box!
Give your craft the freedom and space it needs with abstract painting techniques. For over 25 years, Amy Wynne has been teaching creatives how to use abstract art principles to reignite their inspiration and grow their skillsets.
Amy will show you how to discover playful, new directions through constructing and deconstructing surfaces. You'll learn liberating new strategies to challenge and advance your craft. You may even stretch yourself with unexpected color extremes in this all-encompassing course.
Under Amy's guidance, you'll feel inspired, equipped, and highly skilled with these 7 abstract painting ideas.
WHO THIS CLASS IS FOR:
Curious creators looking to grow their skillsets
Artists with a desire to advance their techniques
Makers of all ages and skill levels interested in learning the secrets of the professionals
ABOUT YOUR INSTRUCTOR:
Amy Wynne received her MFA in Painting and Drawing from the New York Academy of Art in Manhattan and her BA from Smith College in Art History and Cultural Anthropology. She has been teaching painting and drawing for over 25 years. For 10 years, she taught full time at the School of the Museum of Fine Arts Boston.
Class Materials
Abstract Painting Color Wheel
Color Wheel Template with Neutrals
Abstract Painting Materials
Ratings and Reviews
Loved the class! I loved seeing all the different techniques!
Student Work