Materials and Surfaces for Painting Exercises
Amy Wynne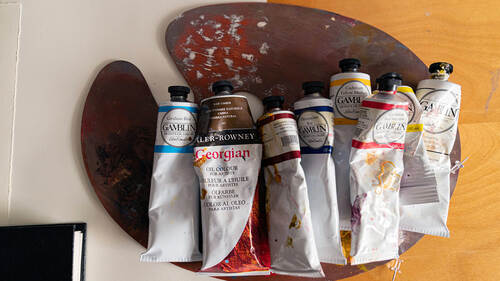 Materials and Surfaces for Painting Exercises
Amy Wynne
Lesson Info
2. Materials and Surfaces for Painting Exercises
Pro tip: your tools and their effectiveness are key! Let's look at the tools, surfaces, and alternate options you have at your disposal.
Lesson Info
Materials and Surfaces for Painting Exercises
So when it comes to abstract painting, there are so many possibilities for materials. And I've had to just choose my favorite to show you. And it may seem like a lot I want to assure you that if you just had one or two of these things, you could easily accomplish a lot of the things that I'm going to be showing you in this course. So, but I do think it's important to expose yourself to different possibilities. Um maybe see things that you wouldn't normally try and then maybe go out and and and and acquire something so that you could try it yourself. So some of the materials that we're gonna be using in terms of paint throughout all of the lessons will be um we'll be using some oil paint, we'll be using some opaque water based paint. We'll also be using some watercolor paint which is transparent. We'll be using some ink which is also transparent. We'll be even using some spray paint which is can be transparent, but we'll be using spray paint and we'll be using spray paint along with a s...
tencil. So we'll be doing some stenciling and some experimenting with that. Also in the experimental realm will be using um what's in this little spray jar is actually some diluted ink. You could even use like a diluted water color in a spray jar, a spray bottle to spray on paper and show some drip. Be techniques that are really fun to work with. So in terms of paints, oil, opaque and transparent paint some ink, some spray paint that's more or less the realm that we'll be exploring in different exercises in terms of drawing materials, we will be working with some drawing materials, we'll be working with some pencils that actually dissolve in water. So that's gonna be a nice exploration of sort of making a segue between drawing and painting. So that's that's a really liberating process and water soluble colored pencils are super easy to get a couple of colors and try it out. This is quite have quite a few brushes here. Um And I also these are brushes that I would use for water based paint and these are brushes I would use for um oil paint. So there may be different brushes being used depending on the type of paint we're working with. Um We'll be also using a palette knife, a palette knife or a painting knife is something that you can use in conjunction with brushes, but you can also use it. I often like to use it on its own for painting and that's something that I like to use a thicker paint like oil paint with. Also you might be wondering what surfaces will be working on and we'll be working primarily on different kinds of sort of sturdy paper. This is a watercolor paper and a lot of what we do will actually be on a sturdy watercolor paper. Um But we'll also be working on a panel which you could also use a canvas, but this is a wood panel that I primed with a turquoise colored paint because I want to talk a little bit about the difference between maybe working on a bright white surface and a surface that has a color on it. So, so this is more or less the the realm of the materials that we're working with. We're gonna just take really like mostly one material at a time and explore it in a certain way. So you can really see the possibility of how that material might be used. And we're going to work again with this idea of maybe pushing the boundaries a little bit of what you might habitually use to work. And again, if you're a beginner, you just be diving in, you won't have to really be concerned with what you're used to. You can have the beginner's mind, which is a really great place to start. So let's get started exploring these wonderful materials through abstract painting.
Class Materials
Abstract Painting Color Wheel
Color Wheel Template with Neutrals
Abstract Painting Materials
Ratings and Reviews
Student Work