Illustrating Motion with Rolling Shots
Aaron Brimhall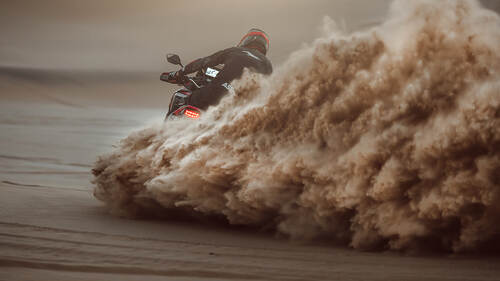 Illustrating Motion with Rolling Shots
Aaron Brimhall
Lesson Info
10. Illustrating Motion with Rolling Shots
We follow Aaron into the "birdbox" - a custom trailer attachment he uses to allow him to get ultra low to the ground. He explains why he loves low shots, and shows us how to convey a feeling of motion in our photographs.
Lesson Info
Illustrating Motion with Rolling Shots
(dramatic music) After years of experiencing really bad and really good things, safety is number one, especially when doing anything action involved with trucks, any type of vehicle motorcycles, UTVs, et cetera. I think this is the main thing that me and my crew go over before any type of shoot, especially when I'm gonna be sitting in the back of a truck, two inches from the ground going 50 miles an hour over dirt. And there's gotta be a lot of precautions to take place and everyone's gotta be aware of that. And the entire team has gotta be, we all gotta be on the same page. So I will be in a harness in a basket on my truck, and as tight as possible, I will be held in, it's basically a seatbelt, but I will be literally two inches over the ground. And when we're doing action stuff like this, as well, we'll have sweepers. And what sweepers do, we'll have a section of the road to cover for rolling shots. And someone will go ahead in front of us. We'll call in with walkies telling the dr...
iver and then the vehicle that we're shooting, "We have a green light and we're good to go." They'll block off traffic for us. And then we'll have a sweet spot to go for rolling. And then we usually only need 30 seconds of that for stills. So that could just be a short window, but we don't want any oncoming traffic because it just gets hairy and could lead to bad things. And so taking every precaution with safety is number one in my book. So that's what we're gonna do now. And basically clear out the entire spot where we're shooting and we should be good to go. (dramatic music) We are gonna get into the fun stuff and that's all rollers, anything motion, basically just cruising. So what had built, my cousin built me this little platform. It looks sketch, but trust me, I've done it a million times, it's perfect. It's nice because I can literally get on the ground basically and get those aggressive shots that a lot of people usually can't do. You can, yes, shoot in the back of a truck, but I tend to get pretty lightheaded with the blood rushing to my head. So this is actually really nice, but we're gonna be strapped in, harnessed, and this is pretty secure, but we're gonna be in the dust and the dirt. So we'll kind of just see how this goes, and I don't know spray and pray and shoot and try to get all the goods, so here we go. (dramatic music) (camera clicking) So we had two options. We could have been out there where it's smoother, and we would've had, we could have gotten a lot smoother shots, but there's nothing in the foreground that's gonna really let us know we're moving. We're gonna get more of just like a white surface. And it's not gonna be as like dynamic for me. Even just the slightest thing, like this brush is just gonna make that entire photo a lot better. So if you can find anything in foreground or any kind of texture on the ground, that's gonna like let the viewer know that you're moving quick. That's kind of what you want to aim for. So even just how small this brush is, it's perfect. So that's kind of what we're going for. And again, shooting back lit because another thing is too, if we were shooting front lit, we would have our truck, our shadow, in the image as well. And no one wants to clean that up. So always remember to shoot back lit. (upbeat music) (camera clicking) All right, so we've had some fun in the back of the truck with some following shots, some rollers. What you're gonna wanna do now is, obviously, check to make sure you got at least one sharp image that's as dynamic as you wanted it. Once that's checked off, normally what I like to do is go static. I like to go static. And then I like to have the truck kind of just do its thing and just kind of get rowdy. And I'm gonna show off how the suspension works and why it's good to show the suspension in these kind of conditions, especially when it's in dirt and there's knolls everywhere. You wanna show the performance of the truck and what it can do, what it can handle. And to me, I kind of like to get really wide shots with dust flipping up at the screen, but obviously stay safe. And yeah, so I'm gonna, once again, spray and pray, and let's just kind of get a little bit more rowdy and get a different perspective on things. So let's get it. All right, so I lied when I said that was the fun part. This is the fun part. What we're gonna do is kind of get up close and personal with the vehicle, and I'm gonna have the stunt driver, (laughs) basically try to hit me, but not really. And when I say that, I usually tell him to try to hit me, but I'll stay away from the camera. I'll stay away from the vehicle, obviously, as much as I can. But what I have here is just a PVC pipe that a Home Depot guy had just gave arm pump for this morning. So he cut this for me, which is nice. And then I'm gonna glue some plexiglass over it. That way the lens is gonna stay safe and the glass is not gonna get scratched. So that's what I'm doing now. And it's like a two-minute process. It's super easy. So why I shoot such like a wide piece plexiglass is because when the dirt's flying, it's not just gonna protect the glass, but it's gonna protect the body. Not my body, but the camera body. I'm okay to be hit with dirt, so it's all good. But yeah, that's why I use like a big piece of glass. The goal of this is basically you're gonna wanna, obviously, get the vehicle in focus, but what I want is dust, dirt, everything hitting, basically, the camera. And I want it to feel like you're actually in the photo. And so I'm gonna shoot back lit, again, and I'm just gonna have the truck just go wild, and I'm gonna get pretty close without dying and being safe. And without getting too many rocks hit on my body. But luckily, this dirt is really soft. You're gonna wanna make sure there's no rocks or any type of gravel. Sand is like the best thing. This is basically sand, super silty. It's not gonna wreck the camera or anything like that. But the goal is to get as much dirt as possible with you're still gonna see the vehicle in focus. So that's my main goal for every shoot. And now, we're gonna try to just go for it. So let's do it. So my job is just not to hit you? Exactly. (upbeat music) (camera clicking) I don't know if it's smart enough for me to get closer, but I want more dust in my lens. That was pretty darn close, but I kind of work in and out. I'm pretty dusted out, but I think we can handle a little more. (dramatic music) (camera clicking) So there you have it, that basically covers everything that I do in the field when I'm covering dirt, vehicles, motion, the whole nine yards, details, everything. As you can see, we're all dusty, but it's worth it. We stayed safe and, yeah. We just kind of go wild and spray and pray and kind of just go for it. But when we're going for it, obviously, we're thinking of those initial key shots and checking everything off the checklist and making sure we have everything over the day. And that's what we've been doing, but it's a wrap now. We've got everything and here you have it. (dramatic music)
Ratings and Reviews
Worth Every Cent! Keen For More! This was awesome, definitely keen to see more of these in the future! Keep them coming dude! Loved seeing your edit breakdown and workflow. Would love to see some more of the behind the scenes of planning a shoot too - @benwaugh
From Zero to Hero Awesome workshop to not only get my first taste of automotive shoots, but I am walking away with a shoot set-up and planned to create speck work and present brands with decks. I loved how Aaron really explained everything he was doing. He rocks.
Amazing and WORTH IT! I have followed Aaron Brimhall for a while now and when I saw he was releasing a workshop I knew I had to get it! If you are wanting to shoot anything in motion or automotive action this is the workshop for you!
Student Work