Shooting Rollers of the GT3 RS
Aaron Brimhall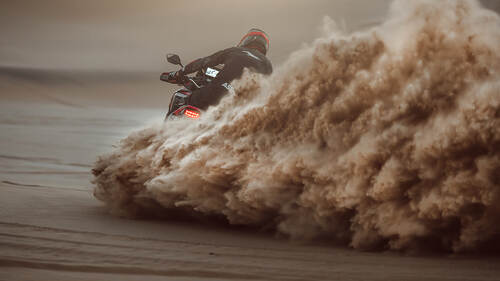 Shooting Rollers of the GT3 RS
Aaron Brimhall
Lesson Info
17. Shooting Rollers of the GT3 RS
Aaron shows you how to take your rolling shots to the next level, with the use of a remote gimbal and stabilizer arm mounted to his truck. Watch as he operates the camera remotely, directs the driver into position, and works with his team to get the composition he's looking for.
Lesson Info
Shooting Rollers of the GT3 RS
What's up guys? Welcome back. Today we are going to be building the arm finally. Last time you guys saw, I was on the little platform on the back of my truck. Today we're going to be doing a little bit of, kind of a next-level thing. We'll be putting a camera on the arm. The reason why is because one, I think I get better stuff with the arm. And two, it's a bit safer, for everyone's sake. So, yeah, we're going to go build that right now. And exciting things to come. (Introductory music) All right. So, basically, I sit back here, and just control everything. Just right here, hold on tight, kind of just hope for the best. Just kidding. What do you mean? You just sit on the rail? Yeah. Like cirque du soleil? But this is the arm setup. It actually, like, this is made for, like, a payload of, what, 100 pounds? Over 100 pounds? Yeah, this is built for a camera. Like a flight head of full, like, 100 pound, 80 pound, flight head. And this is, like, the lightest camera that we can fit...
on the Ronin with this big of an arm. We had to let all of the air out. Where's the sand bag? This is like a snow mobile suspension, with GPR, and, like, moto-stabilizers. Cause it's built for a really big flight head that can, that can take like a beating off-road. And so for photos, we've, like, had to pull a lot of the air out. But, I mean, it's working actually pretty good. Anyways, how we're controlling it, is we've got the Ronin controller here. But as you can see, like, you can literally control any type of way. You can do tilt, panning, you know, tracking, whatever you want, really. The only downside is, you can't pull. You can't zoom in and out, which is fine. We've got the 16 and the 35 on. You want to turn it on? Yeah. Yeah. Why I use this is because one, it's steady enough to, like, drag the shutter, as long as we want. Well, there is a, there is a fine line. So, I don't go anything below a twentieth of a second, just 'cause the motion. Anything like, the tiniest slight of bumps, you're going to see it. So, anything from twentieth of a second, probably, to like 60, tops. Yeah. We'll mess around with it. Maybe drag some shutter even slower than that, to get some, something weird. Yeah. So Aaron, other than the zoom, you can control every aspect of the camera inside the car? Basically. So, F stop, shutter, anything really. Can you show us that set-up? Yeah, totally. So this is kind of what we're dealing with right now. So it's nice because you can change where you want to, like, focus. Just with a touch here, so if you want to change focus on different parts of the image, and then Aaron can change, can move the camera around and see where he wants to shoot. So it's cool that we're able to, like, change our different focus points. But then once we're ready to shoot, come over here, change your settings, and then you can just fire away. I'm just in the back seat, going on. Telling me to go faster, go slower. And how is this connected to the camera? Is it Bluetooth, or wifi? So this is hard-wired through a USBC cable, to the computer, to the camera. And then we're able to control camera, and see a live view. And then we're able to capture photos onto a folder here, and so whenever we want to, like, see what we're getting we go here, and see where we're at. And you can see the photos that we've taken. And what's the software called? So this is Canon software. It's built into the camera, and then you just download it onto your computer. It's called EOS Utility. So. Pretty, pretty easy. Yeah, it's pretty sweet. It's pretty flawless. The only thing that's a little bit of a pain is there's not a shortcut to fire away, or take photos. And so that's the one, that's the thing we need to build a work around to is, like, dialing in a remote trigger to where, like, Aaron can be controlling the camera and taking photos. And then all I need to do is control the settings, and the focal point, and then, you know, it makes it a lot, a lot easier. But, for now, I think this is, like, the perfect work around, rather than being in the back of the bird cage, taking photos, strapped into the back of the truck. So, yeah, this is our work around. Sweet. (Music) I just got a banger iphone though. It's sick. (Music continues) Radios are key, one, if we had a radio. Also, two, because there's no service up here, so radios are always a plus. That way I can tell a driver with picture car, where to come closer, side to side, kind of whatever. Radios, always handy. I always lose them though. Don't give Aaron a radio actually. I won't have this during the shoot. We'll have Ethan have it. What's 16, 35? Let's go right, probably. Let's go, like, 10 miles an hour. Okay. Tell you what, I'm going to have you pretty close to me. (Ringing sound) We'll go around 10 miles an hour as well. Okay. So, you know what, you want to drop it down to, like, what are we at right now? Forty, F11. Let's go to...keep it at 40, just because (indistinct). Let's go to, like, F14. All right Pete, you want to come up, a little closer? Keep coming. That's perfect. All right. We've got a car behind us now. Do we? (Ringing sound repeats) So you're just firing off photos? Yeah, so I'm just firing photos whenever I see this blue box. I know that's in focus. And then I can kind of check them in this untitled photo here. That's why I've got them sending, so. I've got JPEGs on here, and then on camera, it's JPEG and raw. You don't have to fire anything right here. Let's go, like, 15 ram. If you were going to go up to, like, 15, 20 maybe. (Upbeat music) Yeah, that one's super sharp. We could even drag more I feel like. Yeah. (Soft music) All right, let's flip it around, do it again. (Upbeat music) So Aaron explain, like, where you want to keep the focus. And, like, why it's on that light, and if you keep it on the light, rather than the dark, it always focuses better on automatic focus. Yeah, I'm just kind of thinking of composition, too, like what can I usually have, you know, the subject, bottom right or left thirds, depending. Yeah, kind of depending on how I want to shoot it. But mostly it's on - Cause I can't focus on here, so I have to have Ethan, like, place the box in a certain, you know, area where I want it. So yeah, usually like bottom, left or right, thirds, with like, you know, the upper half is like sky and trees, and there's more room for copy, if I want to throw anything in there. And then when you're focusing on here, a lot of times if you're focusing on something dark, which will happen in camera, too, it won't focus, so usually focus on something bright. So whenever I'm doing this, Aaron's always saying, focus on the closest light. So in this case we're on the driver's side, driver's side, front light. And so I focus on that, so that it's easy for the camera to find where the focus point is. And so you have the best chance of getting a clear photo. Right? Yeah. But, yeah. I think so. We should definitely go lower, don't you think? A lot of times when I'm shooting cars like this, especially like a sports car, you want more of an aggressive look, and this is kind of like, this is above eye level, which I do not like at all. But yeah, shooting lower is just more aggressive, and just makes the photo look that much more dynamic, in my opinion. And just a little cooler. It builds more energy being lower, because you can see more of the ground moving. And you're able to see more of the car. It's raw power, huh? It's raw power. (End music)
Ratings and Reviews
Worth Every Cent! Keen For More! This was awesome, definitely keen to see more of these in the future! Keep them coming dude! Loved seeing your edit breakdown and workflow. Would love to see some more of the behind the scenes of planning a shoot too - @benwaugh
From Zero to Hero Awesome workshop to not only get my first taste of automotive shoots, but I am walking away with a shoot set-up and planned to create speck work and present brands with decks. I loved how Aaron really explained everything he was doing. He rocks.
Amazing and WORTH IT! I have followed Aaron Brimhall for a while now and when I saw he was releasing a workshop I knew I had to get it! If you are wanting to shoot anything in motion or automotive action this is the workshop for you!
Student Work