Pro Tools Essentials
Segment 28 - Purpose of Automation
Zach Varnell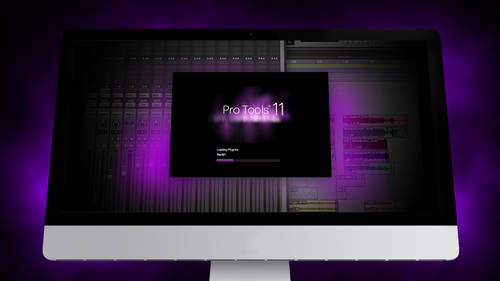 Pro Tools Essentials
Zach Varnell
Get access to this class +2000 more taught by the world's top experts
24/7 access via desktop, mobile, or TV

New classes added every month

Download lessons for offline viewing

Exclusive content for subscribers
Lesson Info
28. Segment 28 - Purpose of Automation
Lesson Info
Segment 28 - Purpose of Automation
this next section. It's called Automation with your ears, and I specifically bring this up if you can see this example some somebody sent this to me recently. It was kind of a joke. I'm sorry if anybody after did this, but this is an example of how in my mind of how you should not do automation. If you can see what this person did was, I think they assumed that this way form every single peak and valley of this wave form could be flattened out instead of using a compressor. And so they went through an automated, every single peak and valley of the wave form out, making basically no sound. I'm not even sure what this would sound like, but it's definitely not the correct way to think about how automation works. But it also proves a good point. And that point is that basically, you have a set amount of time to get the vocal sounding the way you want, like you're mixing and you want to create some sort of vocal sound, and you'll oftentimes be removing a lot of the transients or at least co...
ntrolling transience and removing some of the dynamics to be able to create the sound that you want once you've got that sound, a lot of times you realize that the dynamics from the performance or no longer there, and so you have to go back and reintroduce those using automation. And that's the last thing that I do in mixing. So once we've started all through the whole track, we've been working for a long time. We finish all the drums, vocals, guitars. We can't get to the end. We feel like we just want to go back through now with a fine tooth comb and really introduced some tiny little dynamics to make certain things stand out. And you really want to use your ears to do this. You want to be thinking about what is the sound like if this part doesn't really need to come up 1.5 db in this on this one word? Or does this one phrase need to be pulled down because it's just kind of out there a little bit too raw? That's a good thing to think about. Instead of thinking about how you can, what it looks like, you shouldn't be able to go through and look at a track and decide what it should be automated for. You should go through and think about what it sounds like and how that fits in the rest of the mix. Um okay, so we're gonna go and do this a little bit. Um, the purpose of that exam for the purpose of automation is to go through and fine tunes of these parts. So now that we have some compression, what I want to do really quick is show you is an example what this actually looks like. So I'm gonna set up a send here, and I'm gonna record this vocal with the compression so you can see the difference in dynamics will record this whole section here. Okay, so I've recorded this track now, and if you look, we're gonna compare the levels and see how each of these things changed. Um, make these same height, so there's no that's the same height. So right off the bat. Like, look at how the dynamics change between these two performances. So there's the same zoom levels. Um, um, this is the exact same track, but after dynamics, if you can see like, these first parts were completely squashed while some were pulled up. Now, why would that be? Let's listen to this really quick Born of the virgin. So this is where the release for the compressor pulled out and added, That s back in that dynamic. Wasn't there to begin with? It was it was equal with the rest of the track. But the release pulled off and it let this transient through. So listen to that again. Born of the Virgin, what did you wine? So some of these, like teas and s is depending on your attack and release settings are actually slipping through the compressor or being mawr exaggerated. Where I was like some of these longer phrases get pulled down like, you can see the beginning parts here get much more squashed out. What did you line? So in this section, this is what's actually happening when I'm doing the compressor. Obviously not looking at this once I've done the compression, but I'm gonna go through an automation and maybe try to Mitt pull this back down because I don't want that to pop out as much. I want the tone of what that sounds like, but I don't necessarily want that t to pop out in the same way. So I'm gonna go down to the volume automation and zoom in a little bit, and we're just going to kind of draw out some of that tea of the transient, and this is, like, you know, some tedious work. But if you think about what you're actually doing, it makes a lot of sense. What did you line? What did you lying? And now that t seems much more natural, right? So what I was doing is the compressor changed the dynamics of the performance. And I'm gonna use automation to go back in and fix some of that. Um, but still a couple more. So we can kind of see what this looks like. Like this one is a great example. So this hit right here. This whatever this is was very pronounced in the performance, and it's very underplayed here. The beginning of this track was very quiet, and it's very elevated here because of the way that the compressor was pulling on that performance. Let's listen to that Taught in the temple top in the temple. That second t right there, shot in the Tampa, um, was a huge part of the first performance, and now it's completely downplayed in this first tea is really elevated. So maybe I want to downplay that 1st and then maybe reintroduced more. That 2nd 1 shot in the temple, see, that almost likes it. Sounds already. Musically, you're hearing less of the compressor, working with the tone still there, topping the tempo. Thank you. Don't feel like it. Pulse right away, shot in the tempo. But you still have that intense sound so you could do this to the whole track. And like, you know, it might even make sense to print the automation and then copy it up to the next track and then remove it so you can always change the sound he'll the like. Here, the h right of the front is not exaggerated. That breath, but obviously with a compressor, that breath from the H is driving the threshold in pushing the gain reduction down, causing You can see right at the beginning part right here. The H two b really pronounced versus here. It's not pronounced at all on the original takes, so we're gonna go ahead and kind of remove some of that he'll the by and already sounds way better. And if you notice that happens a lot of the first of phrases, especially with really aggressive male vocals like that, Why don't you? Wine topping the tempo, Topping the tempo Hill the brine? How is ready for the on? And then there's sometimes more musical decisions we want to put into way. Just want to kind of bring that down a little bit in that that part. So it's not super loud. And that's not something that I'm removing from the transient section, something that I just noticed in the track itself a little sooner, like this section. It's not an entire section, but it gets lost in the back half. Here in the front, you can even see like it physically looks like it's more present. And it is. I'm gonna draw up that section just a little bit. E been a little too much just what I'm doing this. I also just kind of want to point out that while we're trying to do this, we're I'm listening at pretty low volumes. Automation, specifically, is something that you really wanna have a trained here for, and it could be you could really deceive yourself as far as how much you're listening in the room. I don't if you could tell how loud it is in the room here, but it's actually pretty quiet. I'm listening automation, especially with vocals at a pretty low volume, because I want to hear the very specific nuances and compare it and not be, like, overwhelmed with sound. Um, I learned this mostly from I mean, a lot of engineers would say this, but I got to mix a record with Joe Chicken Rally once Who's one of my idol engineers, and he makes this record I produced, and I couldn't believe how quiet it was when we mixed. We sat in the studio and I feel like I could have, like, had to whisper to my friend. Well, he was mixing because it was so quiet and especially needed vocal automation. He was really listening very intently at very pretty low volumes to be able to really hear the nuances of what's happening in the track, um, at the same respect. It's also helpful, sometimes just alternatively, just to turn up and listen. Listen at a higher volume, um, so that you can hear how it sounds. Higher volumes getting too much into the science of the whole Fletcher Months and Kurt thing for many engineers know that as you listen to music at different levels, different frequency ranges pop out Maura different levels. And it's definitely true that higher volumes or hire acoustic levels the mid range or specifically like 1 to 4 K get brought out more or seems seems louder. So it would make sense that while you're doing vocal automation and you're listening at loud levels, you would think the vocals air louder than they actually are, and then you turn it down. They end up being really quiet. So we're gonna go ahead and do this. I'm just gonna finish up a couple more automation things here on day. We're gonna copy automation back to the main track and get rid of the duplicate. Here's a good one, too. There's another good example, this ass it's way more pronounced than it was originally intended to be, So I'm gonna pull that down, too. This last line will bring up. I was a little too much, I think I want to point out to is there's not really a scale on the side to show how much you're changing. And if you're like in a small way from like this, it looks like there's virtually no change. But if you zoom out and make the track bigger, you can see it's quite a significant change. So when you're doing automation, it's really important to make sure that until you're done with the whole track, keep the track height the same. Otherwise, you'll sort of like throw your gauge ofus faras. How much change you're actually applying versus how much is actually happening? Um, so done kind of the section here, let's go through some of these notes really quick teas way more pronounced because the attack on the release on the compressors so fast Druze, Any questions or anything? People asking, um, we had the see you. Well, there's a question about control surfaces and whether or not you use them. You're not using one here. Um, do you use them? Yeah, so control. So I talked about it just really briefly, but control services are really helpful to write live automation. I find it really hard with vocals. I think writing automation for vocals offline is so much faster and more detail oriented because you can see the transience and you can go through and draw like where the mistakes are and you can see exactly where you're looking When you're making really rough moves, it's hard. The thing that's really nice about writing an actual fader with control surfaces when you have like, you want to do something musical that it's hard to sort of, you know, emulate with drawing points on the board, like doing a fade out, for example. In fact, just just do that really well, we'll finish this really quick, but, um well, dio like, if we're gonna write a fade out on a song, let's say I'm gonna go to the Master Fader here and we're gonna do like a scene out of this track. I guess this would work to even on that vocal part that we added a ton of river been. Maybe I want to automate the volume of this down a little bit over the course of time so that I could add so that it kind of fades into the background. Um, the first thing I'm gonna do to is that send that reverb send to the vocal verb. I don't want the river level to change with the volume, so I'm gonna make this send pre Fader. But I want to make sure that that only happens in That's well, I'm gonna make it pre fader for the whole track. I might have to adjust the vocal verb on the rest of the track, but as it's going into the river, But I also want the fader to dive down and then you all here is reverb. So maybe I want to do something musical like that here. I could try to draw it like, put in points, you know, and try to, like, draw fade out and hope that it's good. But really, I kind of musically already know what I want to do. So I'm gonna go ahead and put this in, um, touch mode on. We'll just try to do it a couple times here. You know what? We're not even listening to this right now. We're listening to the key input, So let's go and pull that back up to try this again. Um OK, so I drew that. Obviously, it would have taken me forever to put in all the little points and create this like natural curve. Maybe I want to try it again and do it a little bit later. Um, and at the same time, you could do the inverse to, um, the vocal reverb send you hear the river of kind of spread out. But yeah, that's that's kind of a place where you'd want to use a fader and actually like, draw that out. So it's a little more musical instead of trying toe punch any to the actual points. We're kind of getting to the point where, like, we've got these sections. Now, you look at this vocal take like it's pretty close. This was obviously exaggerated. Maybe we want it kind of get to the point where we're gonna actually copy this back to the original track and pull it up again. So I'm gonna take all of this, make sure these are both on volume select across this whole region. And, um, I'm gonna make sure keyboard command focuses on him and hit C and then move up and it v And now you see, all those changes that I made are now on the original track and not the vocal track. I commute and hide this, um put this back in read mode, and now all the automation is applying to this, but I was basing it off of post compression. So again, that's something that's really helpful. To do when you're looking is to print the vocal trick, the vocal take with all the plug ins to another take make your automation on that take and then copy it back to the original on and reactivate the plug ins or I'm sorry. Reacted at the output to the main so that you can see that what you're actually compressing you're not seeing what you're actually compressing here are automating here you're seeing before the compression, so that really helps a lot. So now we have this whole vocal take We've done the automation. Let's say that we've done this with the whole song on guitar automation. Vocal automation were pretty good. I've done the fade out. We have all this stuff. What happens if I get to the end and everybody says, Oh, hey, could you, uh, turn up the vocals like three D B in just the chorus and I go through and I look here I'm like how in the world in this last chorus. Am I gonna turn up the vocals by three db? Um, sort of three ways that you could do this, and I've done it every which way. The first that way would be to add a V C a bus. You can assign it to V C bus, which already is and what you can see. This little blue line that's that's along here with the vocal is, um, the compensation of where the vocal buses are, where the V c A buses. So what's happening is that the black line is where the fader is, but the blue line shows actually what the output level is because the V C. A. Fader is subtracting it by whatever that differences between there and their. So if we go back to the V C a bus for vocals, if you look, it's at negative 2.6. So that means that this blue line is actually 2.6 decibels less than the black line, and that's the reality of where it is. So if I want to bring down the vocal, um, by two db and the chorus instead of having to go and mess With all this automation, I could just go in and add in points and drop the vocal by two db And now you can see it made that change. But it didn't affect in the automation. So that's one way. If you didn't have a V c a set up and you didn't want to do that way Number two is I'm gonna go back to here. And instead of choosing volume, there's an option called volume trim and volume trim is basically like another volume. It's like a backup volume sort of, and it's made for just exactly the scenario where I've got a track, have done a much automation. But I need to just make another change to bigger part without affecting that automation our mystery without messing with that automation. So I'm gonna pull volume trim and I'm gonna just cut down by two db. And now when I go back to volume, you see, now there's a yellow line. So I got a blue line, a yellow line in a black line. Um, the blue line is representing the V C A buster. The changes being applied by V C a bus, the yellow line is showing the change that's being applied by the um by the by the volume trim and then the black line is the actual volume. So I've got sort of three layers of volume here that shows you exactly what's changing and there's three ways to do it. So that's the second way using volume trim The third way on this is kind of an old school way. I don't do this anymore cause I don't need to know that there's volume trim and V C A. Buses. But before that, what you would need to do Let's go to the vocal track and I would go to the end of the plug in the end of the plug in chain, and I would just pull up like a um, I think there's a gain plug in there used to be. I haven't really even though trim on and I would just add, um Well, actually, what I would do is add gain as automation on, and then I would automate that trim up to DB in that section. So those were like the three ways that you can make some of those changes after the fact, and I'm gonna remove that from automation they don't need to do that anymore, actually removed the plug in entirely. So we've got vocal automation. We've gone through it and figured out how to reintroduce some of the transients. We've learned how to use your ears and know exactly what you're looking at by copying a vocal take. And we've also learned how to use volume trim and V C. A. Failures to be able Teoh Volume Trim V C. A Trader's or VCF caters to be able to make some global changes to certain sections of songs or maybe even the entire song, while still being able to print this without changing any of the the automation that you already written. So some of this stuff comes across is really helpful, and some of this comes across is really tedious, and you can sort of like pick pieces that work with your work full of the best. If you feel like you don't want Teoh, or if you feel like it's easier for you just to add a plug in just to add some gain or by all means, go with whatever is easiest. But know that there's other options out there to be able to maximize your workflow is you go through this stuff. Um okay, so we've done some automation on the the vocals. Weaken, do some stuff on guitars. I wanted to show really quickly, kind of how, especially with guitars, some of the automation could get a little tricky. Let's pull up this part right here. Ah, kind of a roomier part would see if I can pull up Paul's part. Here we go. E have, uh, way had the vocal bus, said his pre fader. So it's being sent, even though it's not being soloed, which we're gonna fix really quick. So we're gonna look at this guitar, but really quick now find a spot where it's getting to the end. So a lot of times with guitars it's really cool is you can find spots where you want to have the guitarist just have a little extra punch like there, for example. And if you can see there's really not any change in dynamics, So we're gonna automate just a little punch here, bring that down sooner. Those kind of small changes make a huge impact, especially as you start thinking about, like just the fine details of making a song like You've got this big punch and the guitar part didn't really change, even though it seems like it should be. You can reintroduce some of those dynamics and think musically about that, and those things make a big difference. Okay, so we've got most of our automation done. Let's say, like we're kind of getting to the end. We're getting to the point where maybe we want a mix and maybe want to bounce some of this stuff. A lot of times, the number of bounces and mixes that you do really depends on who you're working within the scenario on the label and all that stuff. But I'm gonna kind of walk through. Some of the mix is that you should have when you walk away from the studio that will help you not have to come back and re about some stuff in the very next section. So that is coming up next
Class Description
Learn the ins and outs of Avid's Pro Tools HD, the recording industry's most comprehensive DAW, with Zach Varnell. Zach is an industry veteran, who has worked in dozens of studios throughout Seattle. In this comprehensive guide to Pro Tools, he'll share the best practices he's picked up over the years.
In Pro Tools Essentials, Zach will walk you through the entire mixing platform including the intricacies of bussing, VCA groups, key input, HD functionality, and notable plug-ins. He'll also show you how to create custom impulse responses from time-based outboard gear and rooms.
You will learn about Elastic Audio and Beat Detective along with a comprehensive workflow and track management process and how it can be applied to a studio session with a band or film scoring with triple-digit track counts.
If you are ready to take your Pro Tools game to the next level or just want to brush up on some time-saving techniques, don't miss Pro Tools Essentials with Zach Varnell.