Finding Clients (Is Not the Same As Building An Audience)
Tara McMullin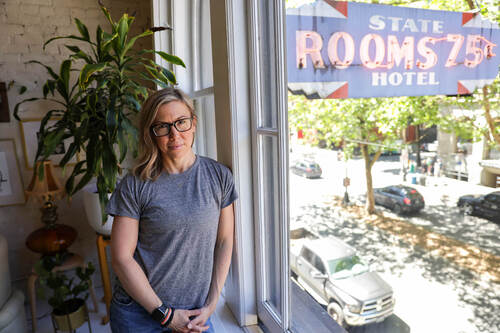 Finding Clients (Is Not the Same As Building An Audience)
Tara McMullin
Lesson Info
3. Finding Clients (Is Not the Same As Building An Audience)
Differentiate between your clients and your audience, learn which one your business really needs, and how to know the difference.
Lesson Info
Finding Clients (Is Not the Same As Building An Audience)
most of the marketing advice out there right now is all about building an audience, getting more followers on whatever social media platform you are on. Um, and just constantly churning out content, but service based business owners don't have to worry about that, they need to put their focus on getting out there and reaching the exact right people the exact right clients for the news flash, finding clients is different than building an audience and this is good news for anyone who would like to get off of the content creation treadmill. In the last lesson, I asked you to come up with a number of clients that your business needs to work to make the amount of money that you want to make in the amount of time you want to give your business now that you have that number. What is the best way to reach that many people? What's the best way to reach that many people? It's probably not instagram, it's probably not, it's definitely not Tiktok, I can tell you that right now, it's probably not e...
ven linked in, although maybe the best way to reach the number of people for a service based business is largely by talking to people. So that could be referrals, It could be coffee chats, it could be actually networking on social media rather than constantly broadcasting, but it's a much more personal process that said, why has audience building become the default marketing strategy? Why is it that when we think marketing, we think how can I get more followers on instagram or how can I get more people on my email list? The reason there's, there's lots of reasons, Okay, but one of the big reasons is that having a lot of people who are ostensibly paying attention can feel like a safety net, it can feel like when you've got followers or 10,000 followers that there's always going to be somebody ready to buy. But the challenge there is that the work that it takes to build that kind of audience does not equate to having somebody ready to buy. So when all else fails or when frankly I don't feel like building my audience anymore. I always go back to one on one whenever I feel like my marketing isn't working or that the business isn't working or that I'm not working. The first thing I do is start talking to people one on one and it always makes a huge difference. It always gets things back on track. And sometimes in ways that I wish that it would slow down some. So let's take a look at the difference here. What is the difference between building and audience and finding clients? So, simply when I'm talking about building an audience, I'm talking about all of those marketing tactics and strategies that you hear about that are designed to help you reach one to a lot of people, so you're the one person and your audience is that lots of people. So again, whether that's building up your following on instagram, building your connections on, linkedin, building your follower following on twitter or your view news on youtube, all of that is toward building an audience and that can be a really important strategy for a certain kind of business but that business is not yours instead you need to be out there finding clients and talking to people one on one or maybe one on a few is a much better process for finding clients than building an audience. So when I'm talking about building an audience, I'm talking about things like social media, I'm talking about email marketing and I'm talking about content marketing, there's a role for those tactics in a service based business as well and in a sort of finding your client's strategy but these are the tactics that we typically Associate with trying to get more and more people to pay attention now when you are building an audience for every 100 people that you reach, you might connect with one customer. So I like to think about that 1% conversion rate as being Sort of the baseline that I use when I'm thinking about an audience. If I'm talking about social media, it might be more like .1%. So for every 1000 people that I reach, I might get one customer When you start thinking about the math that way building an audience probably doesn't sound very effective because it's not um so building an audience is key to selling at scale. So if you need to reach 50, customers per year. Yeah, you need to build an audience, but the vast majority of service based businesses are serving fewer than 50 clients per year. When you are building an audience, your job is content creator, and I know this because when I'm not helping out with yellow house media, my real job is creating content as a writer, podcaster and speaker. That's the main thing that I do and I love creating content. It is the work that I do and it's my job and I love it, but I know it is probably not the job that you love and that's great because you have a service based business and it's not your job. All right, So if you're thinking about building an audience or you know, you need to build an audience, your full time job becomes content creator. But if you're running a service based business, your job is that service and that means you need to find clients. So the kinds of activities that help you find clients are first and foremost, one on one conversations or maybe one to a few conversations. Another great tool for finding clients is seO content marketing. So instead of being on the content treadmill where you're constantly churning out content week after week after week and s E O. Content marketing strategy is all about creating a sort of slow Suite of content. That is so good that it helps you rank in search engines so that when someone is searching for your kind of business, they're going to see your content and learn about your business. So maybe you spend a couple of months putting together 5 to really great pieces that are optimized for search but you're not constantly creating content. And then the gold standard of how to find clients is referrals and maybe right now you're thinking oh I don't have time to ask for referrals, I don't have time to do the work. That's you know following up with old clients and asking them if they can introduce me to somebody. But that's probably because you're spending too much time on social media, right? So if we're really focused on finding clients, there's plenty of time and opportunity to dig into tactics like these that are going to help you actually find new clients rather than just build up a following. So when we're out there finding clients, we are going to be connecting directly with potential clients. And that yields many more sales per connection. So if you remember with building an audience you might need to reach 100 people to find one customer. But with finding clients and those kinds of activities you might find a client for every three people you reach or every 10 people you reach. So you don't have to be talking to hundreds or thousands of people in order to hit your now numbers. That means that you get to spend less time on marketing. So you can spend more time on other work, namely client work that you get paid for, Right? And that's why finding clients is also more profitable because it takes less labor to produce similar revenue to a business at scale. So what does the look like in practice? We're talking about building an audience. We're talking about supporting a business that maybe sells membership programs, online courses, mass coaching programs, brand partnerships or book sales. If that's the kind of product that you're selling, then building an audience is the right strategy for you. But that's not you you run a service based business. Maybe you offer coaching or consulting, maybe you offer some sort of design service. Maybe you run a small agency or maybe you work as a strategist in all of those kinds of business models. The activities to help you find clients directly are going to be a better fit for what you're up to. Just to hit this home one more time. Let's take a look at the numbers. So if we're talking about a business that needs to build an audience, say an online course business, the numbers look something like this and I promise you these are real numbers, this is not exaggerated. So let's say you have an online course business, you've spent time building your email list. Maybe you've gotten up to 10,000 email subscribers. Nice work. Well, every time you send out a sales email, you're probably getting maybe 2000 people to actually click through and read About what you have for sale. So you've gone now from 10,000 email subscribers down to 2000 page views. Now from that 2000 page views you might get 60 sales and by the way, that's a fairly high conversion rate. So let's say you have 60 sales, your online course costs $1,000 that is going to net you $60,000 per year. Okay. That's one example of how the numbers work in a building, your audience kind of business, but that's not you, you're out there finding clients and the numbers can look something like this first. You might have 20 conversations with new to you prospects from those 20 conversations you're invited to send out 18 proposals. That's a really high conversion rate. Right? Of course it is. Because when you talk with someone one on one who's interested in hiring you guess what they're interested in hiring you. So once you send out those proposals, I'm going to guess 15 of them come back as yes. Is that number might be a hair hive but it's really reasonable to expect that kind of conversion through this process. If you're looking for 15 clients at $1000 a month. Suddenly you have a business that generates 100 and $80,000 per year. Which one would you rather be running? It's probably the latter, right? You make more money talking to fewer people dealing with fewer clients on the back end. That's a pretty, pretty good deal. So let's take a look at how to construct a marketing strategy to actually make that happen.
Ratings and Reviews
Tara is great. I have been looking forward to new content from her. This class is major departure from her earlier classes. In it, she essentially argues that we spend less time on marketing, doing fewer activities....because that nonstop whirlwind of content creation didn't actually help her business (which makes me question what I learned in her earlier classes). I think this new class could greatly benefit from more specific examples of where she suggests we meet our ideal clients since she's suggesting it isn't on social media or in their email inboxes. I don't think I have enough information to actually "do" anything after taking this class.
Student Work