Eat More, Exercise Less & Lose Weight
Jonathan Bailor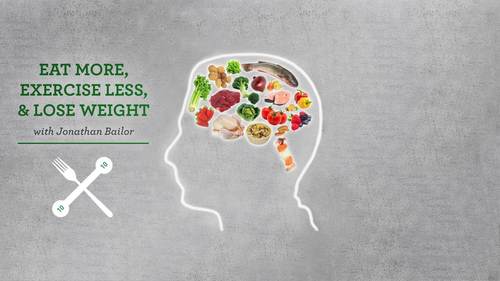 Eat More, Exercise Less & Lose Weight
Jonathan Bailor
Class Description
Want to lose weight without starving yourself or logging endless monotonous miles on the treadmill? Join CreativeLive instructor Jonathan Bailor for a workshop on how to slim down by eating more, exercising less, and listening to your body's needs.

Drawing on the methods from Jonathan's groundbreaking book The Calorie Myth, this course will debunk common misconceptions about calories and dietary needs. You'll learn an entirely new way of eating that focuses on using fewer calories and more satisfaction. Jonathan will teach you how to stabilize your blood sugar, feed yourself efficiently, and consume the right nutrients. Jonathan will also introduce you to new methods of exercise that will overhaul your muscle physiology and help you achieve efficient, dramatic results.
Whether you've been trying to find the right diet for years or you're just beginning to take control of your nutrition and health, this course will give you the tools you need to feel better and live better.
Class Materials
7 Days of SANE Meals Recipes and Snacks The Calorie Myth Quick Start Guide
Smarter Exercise 20 Min Weekly Program The Calorie Myth Quick Start Guide
Smarter Success The Calorie Myth Quick Start Guide
Green Smoothie Strawberry Shake Recipe
Strawberry Seed Porridge Recipe
Free 28 Day Program Smarter Science of Slim
Sample of Recipes by Carrie Brown
Ratings and Reviews
This course if phenomenal! I've been on a 20+ year journey of trying to find the solution that will help me achieve my body goals that I can stick to, without going crazy. I have tried everything (keto, paleo, low fat, weight watchers, dash etc). Jonathan goes over a massive amount of research to help you understand the 'why' of why these diets don't work longterm and how to eat in a way that's sustainable. In addition, I've always struggled with exercise. I was an athlete growing up but as an adult it's been very difficult to find something that I like and will stick to. This exercise methodology is perfect because it's fast, results oriented and doesn't take longer than 15 minutes. I've recommended this course to everyone who asks. It's absolutely brilliant and I'm so, so grateful!
This class was great - I love that it is presented as a framework so you can fit your own personal needs into it. Jonathan exhaustively covers the ideas, examples, and benefits of this strategy for better living.
It is the first time that I really want to leave a review on Creative Live. The course has touched me, although I am not new to the topic. But the ability of a knowledgeable person to base his lifestyle advice on science, his energy and wisdom are amazing. Thank you!
Student Work