Paper Napkin Rings
Robert Mahar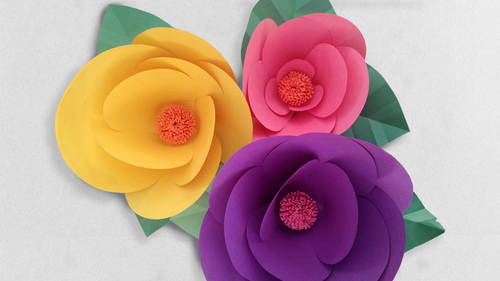 Paper Napkin Rings
Robert Mahar
Lesson Info
7. Paper Napkin Rings
Lesson Info
Paper Napkin Rings
One very last thing I want to show you quickly is the crowning touch for your dining table is a very simple way to pull together a napkin ring if you just take some card stock eight and a half by eleven, cut it down into I think these are two inch wide strips that we've created. You've got your napkin for your events folded over. You can't just simply wrap it around the center, figure out the best place for that overlap, snip off some of that excess, apply a little bit of hot glue again. This is a really inexpensive way to add a little bit more color to your table top and also to pull in the floral element that you have been working so hard on. I'm gonna overlap those I think I did it here just about an inch pressing those two pieces together, just momentarily allowing it to set up you see a knight creates a nice band on the top, and then all we're going to do is add a little bit of hot glued to the back of this flower. And again, this is another lovely thing to send home with your gue...
sts. They could just tear away that band that wrapped around the napkin and take this diminutive little flower home and set it on top of their fridge, or they're dressed her just as a lovely home accent. Who we have covered a lot. All right, we've got now putin ears, and I should say, kate pulled up some boot near pins for us, so we've got our lovely boone ears. We have our floral centerpieces. We have our photo backdrop. We've got our hanging lanterns, and we have got our napkin rings, and I think, honestly, that's going to be a pretty rock and party.
Ratings and Reviews
Thank you to Robert for giving me inspiration. The flowers were beautiful and it has motivated me to go out and purchase the supplies to make some of the projects. I feel that his voice was relaxing and he took his time in explaining how to do the projects. I would definitely make these not only for events but for personal use as well. Great job. It's obvious that he has been doing this for some time,
Excellent class! It was easy to follow along and create the items exactly as demonstrated.
Student Work