Foundations in Metalsmithing: Bracelets
Megan Auman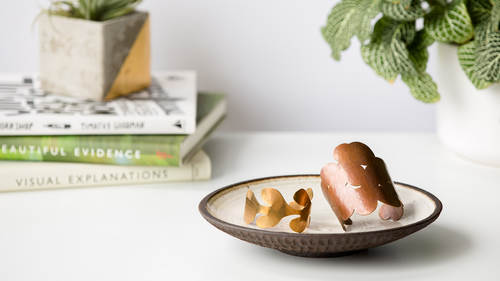 Foundations in Metalsmithing: Bracelets
Megan Auman
Class Description
Whether you're just getting started in metalsmithing or have been experimenting for years, Foundations in Metalsmithing: Bracelets will help you deepen your skills while exploring the exciting world of bracelets. From torchless techniques (like forming and riveting) to more advanced concepts (like hinges), you'll walk out of this class with a heap of new metalsmithing skills! (And a pile of new bracelets).
In this class, jewelry designer and metalsmith Megan Auman will help you build your metalsmithing skills in a way that's completely approachable - no matter what level you're currently at.
You will learn how to:
Create unique cuff bracelets by forming wire and sheet.
Join metal without a torch by riveting.
Solder wire and sheet into different shapes.
Make hinges (with or without a torch) to take your bracelet designs to the next level.
Finish your designs and experiment with color on metal through patinas.
Whether you're looking to grow your existing jewelry making knowledge or for a new creative outlet that you can proudly wear (and show off!), you'll leave Foundations in Metalsmithing: Bracelets with a series of bracelets you can call your own - and a new set of metalsmithing skills you can expand into even more jewelry ideas!
Class Materials
Bracelet Sizing Cheat Sheet
Ratings and Reviews
This is a great addition to Megan's metalsmithing series. She makes the topic really approachable. Bonus that metal patinas were added in to the class. I loved the class!
I really enjoyed this class! It was very informative and gave me a lot of ideas for expanding a jewelry line to include a variety of bracelets and finishes.
Student Work