Yoga Strength Basics for Beginners
Dylan Werner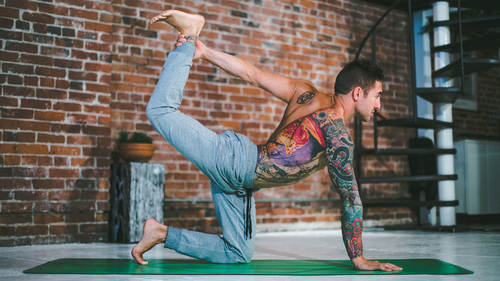 Yoga Strength Basics for Beginners
Dylan Werner
Class Description
Skill level: Beginner
Classes: 12
Time: 20-30 minutes
Cycle: 30 days
A yoga routine for strength practice offers so many incredible benefits to creators. It helps clear the mind and relieve stress, leaving you better able to think and concentrate on your work. It exercises the body and builds strength and endurance while tapping into the deepest parts of your mind to discover true inspiration. These strength yoga for beginners classes will help you:
Feel confident and empowered
Build your strength in the four major strength categories: core, straight and bent arm, back and legs
Instructor Dylan Werner grew up in the mountains of Southern California and became interested in fitness, movement, extreme sports, photography and nature at an early age. Dylan travels extensively, teaching at workshops, instructor trainings, festivals and retreats. He has taught more than 400 workshops and events in more than 60 countries. He is passionate about spreading his love for yoga and helping others by sharing his journey. Dylan's strength yoga for beginners course will instruct you in:
Movement, handstands, arm balances and creative sequencing
Building your confidence
Achieving a profound level of calm and peace
Workout Descriptions:
Day 1: Scapular Strength
This series will begin by focusing on scapular strength, which is very important when working through any yoga movement that involves straight arms.
Day 2: Core Strengthening
A strong core is one of the most essential parts in a balanced yoga practice. It's involved in every pose in yoga, and this class will focus on dynamic yoga for abs and core. If you're just starting out, some of these poses may challenge you, but they'll provide room to grow.
Day 3: Front Body Opening
Backbends use the shoulders, chest, psoas and hips. In this class, we focus on yoga poses to stretch hips to open the front body and improve mobility so that you can prepare your body for backbends or deepen your existing backbend.
Day 4: Rest Day
Recharge today!
Day 5: Mobility and Movement
These yoga mobility exercises are essential to combat the side effects of being stationary, especially if you are stuck at a desk all day. Even if you have an active lifestyle, there are benefits from increased movement and activity.
Day 6: Bent Arm Strength
Yoga arm exercises require bicep, tricep, core, chest and back strength. This class is designed to help strengthen your upper body so you can better execute poses like chaturanga, down dog and up dog.
Day 7: Core Stability
One of the most important parts of the core is the ability to stabilize the body. Through developing yoga core stability, a whole new group of yoga poses and transitions are available to you.
Day 8: Back Body Strength
This yoga poses for back strength class develops the other side of your core, highlighting the muscles in your upper and lower back.
Day 9: Rest
Rest up!!
Day 10: Leg Strength
This yoga for leg strength class will help strengthen and improve mobility in the quads and hamstrings, which will make warrior, chair and crescent poses much more attainable.
Day 11: Strengthen Your Vinyasa
Vinyasa links postures and breaths into a basic vinyasa flow. Through strengthening your vinyasa, you are able to move more efficiently and quickly through a flow to advance your practice.
Day 12: Side Body and Core Lift
By lifting and drawing up from the pelvic floor, you will begin building the foundation to eventually move into more advanced yoga poses for strong
core, postures and transitions.
Day 13: Back Body Opening
These yoga poses for your back will not only help open the back body, but also help you with backbends as you further your practice.
Day 14: Standing Balance
This standing balance yoga class helps you build balance and equilibrium to help you with standing postures.
Day 15: Rest
Take a rest!
Day 16: Rest
Take another rest!
Repeat for Programming
Day 17: Scapular Strength
Day 18: Core Strengthening
Day 19: Front Body Opening
Day 20: Mobility and Movement
Day 21: Bent Arm Strength
Day 22: Rest
Day 23: Core Stability
Day 24: Back Body Strength
Day 25: Leg Strength
Day 26: Strengthen Your Vinyasa
Day 27: Rest day
Day 28: Side Body and Core Lift
Day 29: Back Body Opening
Day 30: Standing Balance
Ratings and Reviews
Yoga Strength Basics for Beginners has an amazing amount of quality content. The title of the class says it all. These workouts are designed to target various muscle groups in the body to build strength and stamina, which can be applied to yoga moves or, quite frankly, to living life to its fullest. Each class begins with a short warm up of the targeted body part and ends with a short relaxation. Instructor Dylan Werner, offers clear, concise instructions about how to position yourself and how to perform the movements properly. As a novice in the world of yoga, I appreciated his suggestions for beginner modifications and his pleasant and encouraging tone. The workouts have no background music, which means you can have your own music playing at the same time, if you choose. In addition, it was easy to find time in the day for these lessons, as they range in length from 18-27 minutes. Thanks to the presentation of this class as a 30-day program, where 12 individual lessons are offered twice with six intermittent rest days, I feel it helped foster a routine for me. The skill level of this class is set to "beginner," and while I believe anyone can learn from these videos, I think it did help me to already have some exercising experience (I have been an at-home, video exerciser for over three decades.) I plan to continue watching through this class again and again because the content is so good and I have lots of room for improvement. In my opinion, Yoga Strength Basics for Beginners certainly adds to the quality lineup of classes that Creative Live offers.
Great course for yogis of ALL levels. Dylan does an excellent job of explaining how the body should be working through even the "simplest" poses in order to get the most out of your practice & grow stronger faster. Even after just 20 min, my muscles feel it the next day. I look forward to taking what I have learned and integrating it into my own routine! What a nice surprise to find an online course which gets me excited to deepen my yoga practice.
This is a great class, after years of bad form in yoga due to lack of strength, I am building up my core so I can rock a sun salutation. Straight forward, easy to follow, nice short classes that you can double up on if you want to work more. Super great way to start your day.
Student Work