Technique: Camera Settings
John Greengo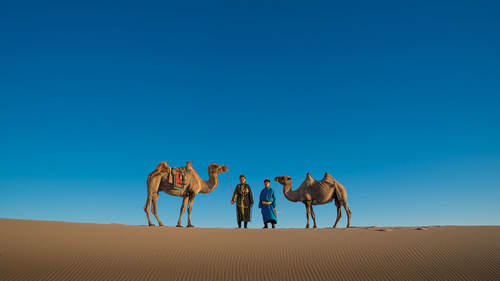 Technique: Camera Settings
John Greengo
Lesson Info
15. Technique: Camera Settings
Lesson Info
Technique: Camera Settings
Next section is just a little brush up on technique. Hopefully, you've all taken your basic photography classes, but this is just being kind of a brush up on the way that I make different camera settings for different types of travel photography. And so first off, let's go with some photo mistakes, all right? And so these are mistakes, as I said, I've led a number of tours, and there's mistakes that I see people making, and these are the mistakes that I think some people make when they're out shooting. I think they shoot too quickly and they're not paying attention to everything around them, and that maybe there's a better place to shoot. Sometimes, they're so busy shooting lots of little shots that they miss the really big shots. People who are kind of unorganized with their camera bags and ah, I can't get catch up with the group, because they just don't have everything where it should be and they're not able to keep pace with everyone. As I mentioned, fitness-wise, you end up doing a...
lot of walking in a lot of different types of photography, and so if you're a photographer, you should be a walker because going out for a five or 10-mile hike, walk through the city, you're gonna encounter a lot of different possibilities for photographs there. So, there are some things that are generally seen as bad technique here, okay? And shooting from a moving vehicle, while walking, or through windows, but I do also realize that there are exceptions to all of these rules, and so if you can avoid doing these things, by all means, avoid it, but I've shot through airplane windows because that's, you don't open the window on the airplane. If you've ever seen a bride and groom coming down the aisle, you gotta walk with them sometimes, and so sometimes, that's the way it has to work. But in general, if you can avoid these things, you're going to get sharper, better photos. So as far as the camera settings that I'm setting, they're not important, but they're also important, and so it kinda depends on the type of photo, so it's good to get these things right. And so these are, what are there, about nine of them here? Nine of the critical settings that you're gonna make on a camera and adjust on them on a regular basis. And so let's look at a couple of different types of photographs and how I would set them up. So scenics kind of fall into that landscape-type photo where we want most everything in focus, there's not a lot of subjects moving around and so this is a good opportunity for using a tripod if you want great depth of field or you're working under low light conditions. And so I'll give you some kind of primary and secondary settings that I would be in here. In that situation, I would prefer to be in manual. Aperture priority is not a bad semi-automatic way of dealing with it. I'm gonna want a fair bit of depth of field so F 11 would be pretty good, but anything that gives you a fair bit of depth of field would be recommended. The shutter speed is really gonna depend on the light levels and if you have a tripod, it doesn't really matter where it is. If you don't have a tripod, you need to make sure that it's within your handholding limits. And if it's not within your handholding limits, you're probably gonna need to make an adjustment with the ISO so that it is within your limits. Ideally, it would be at 100 with the ISO. Lowest setting is the best quality. Sometimes, for various reasons, you need to bump up a little bit. Most everything at 200 and 400 is still gonna be very clean in most all situations. Exposure compensation isn't getting used in the manual mode if it's in the automated aperture priority mode. Probably have it set at zero unless you need it for that specific situation. White balance is probably fine on auto. If you know you're shooting outside on a bright, sunny day, the beginning of the day, you can just put it on the sunny or daylight setting and leave it there all day long. Focusing, because your subject is not moving around a lot and you might wanna be very specific about what point you are focusing on, I would prefer to be in the single point, although you could also manually focus quite easily with most cameras, as well. Focus area, single point would enable you to choose a very specific point so you get your focus set right there, and in the previous one, I think I may have spoke wrong there. Single versus continuous, continuous is what we're gonna shoot for action. For stationary subjects, we're gonna be on single focus there. And granted, there's a lot of different cameras that have slightly different names for these terms, but these are pretty generic terms that apply to all cameras. And for the drive mode, one shot at a time with a cable release or possibly using the self timer or the remote option so that you're not bumping the camera, inducing any vibration into it at all. And so this is landscape photography, doing scenics, sometimes with a tripod, sometimes maybe not. So hopefully that makes sense to all of you and you've taken your photo 101 class to get all the basics down here. All right. Shooting events, action photographs. And so people are moving around or objects, other things. You're gonna need to be tracking their focusing, you're gonna need to be setting faster shutter speeds to stop their motion, provided you want a frozen image. So in this case, I would prefer to be in the manual mode so that I could specifically dial in the other settings. The shutter priority mode might be another good option here. The shutter speed is gonna be key. Probably gonna be at 500th of a second or faster. It varies a little bit depending on how fast your subjects are moving, but it's definitely on the faster half of the shutter speed options. With the aperture, this is where it pays off to have a lens that has a little bit faster aperture, and so this is why a lot of the pros shoot with 2.8 lenses. That's just a really good place to be for shooting sports and action photography, but if you don't have that, you usually, generally just open up the lens as wide as it can go. Of course, you would want to be at ISO 100, but the reality is is that when you need faster shutter speeds, you often need higher ISOs, and so one, two, four, eight, and many times beyond that, depending on the light levels and how fast the action are going on. The auto option for ISO can also be used with shutter priority. And so if you know that you want a specific shutter speed, let's say, a bird in flight at a thousandth of a second, you could use shutter priority and then put your ISO in auto, and the camera will automatically adjust for that as the bird flies from the sunny skies to the shade of the branches. And so that's just a different way of working. Same thing with exposure compensation. Need to use it when necessary. Same thing with white balance. Auto is pretty good most of the time. You can specifically set it if it's gonna be there for a while. For focusing on action, the big change here is to continuous. And this is where your camera will continuously track and try to follow that subject, and so this is where you need to really bond with your camera to know how well it tracks action, because some cameras are notably better than others. Focus area, I would probably choose a group, but all points wouldn't be a bad second choice there. It's just too hard to keep a single bracket on a subject that's moving around, and so I like a box of like, nine or a medium-sized box that I can keep on my subject. And of course, I'm gonna wanna get a lot of photos as they're moving around because it's hard to tell when the best shot's gonna be, and so I would be in the continuous mode when it comes into the drive, and some cameras will have a high and low version that you can choose, as well, in some cases. Next up, people and portrait photography. This case, we are often trying to have a shutter speed fast enough to stop their action from moving around, your action from holding the camera, 'cause you're probably not gonna be on a tripod, in this case. In a lot of cases, we like to have shallow depth of field so we blur that background out so that our subject is nice and sharp and the background is nice and blurry. Once again, I prefer to be in manual so that I have complete control of everything, but aperture priority is not a bad second choice here. Key setting here is on the aperture. You probably want to set it fairly wide open. Depends on what lenses you have available and how shallow a depth of field you want to get. You don't have to always shoot as shallow as your lens has. A lot of photographers will stop down a bit for sharpness and a little bit of depth of field. The shutter speed, you wanna make sure that you're at a 125th or faster. That'll most likely stop your handheld movement of the camera and their moving around. There's some variables in there, but 125 is a pretty typical speed for shooting portraits. Of course, you wanna be at the lowest ISOs. If you're in low light, level areas, indoors, and so forth, you might need to bump up those ISOs from case to case. Same as previous with exposure compensation, leave that at zero. Same with white balance, auto is good unless you know you need something else. Focus area, as long as your subject's not moving around, the single mode will focus on your subject and then stop. You can recompose for more pleasing composition, and you could use the continuous mode if they're on a runway or they're really moving back and forth, but for most portraits, single focus is gonna be fine. You wanna be very precise of where you are focusing and so that single point, focusing on the nearest eye, so that it is in sharpest focus possible is what you wanna get, and so all points is not good 'cause it might grab the front of the nose or something else that happens to be in that environment. With the drive, single is a pretty good place to be. You could also be in continuous or silent, given the, depending on the situation. And so this is how I would set my camera up in a variety of different ways for portrait photography. But a lot of the time, you don't know what your next photo is going to be, so you kind of have to have your camera set up for all purpose photography. So for just general photography, you wanna be ready to go. Here's the way that I would set it up. I'm finally using a little automation here. Nice to have aperture priority, so that the camera will figure out a shutter speed for me. I'm gonna choose kind of a modestly wide open aperture that's gonna give me a reasonably fast shutter speed. If I need more depth of field, I can just turn the dial and get it there in a few seconds, but for the most part, I'd rather have a faster shutter speed to start off with. And so you're probably gonna want something in the 60 to 500th of a second unless you're photographing something very specifically that's moving. I tend to leave my camera at ISO because I want to just constantly, oh yeah, I just bumped it up to 400 when I walked inside. I'm gonna bump it back down to now that I'm going outside. Wanna be a little bit more conscious of the exposure compensation 'cause in the aperture priority mode, the exposure compensation is gonna jump in and essentially change your shutter speed for you if you wanna make things brighter or darker. Use that as necessary. Same with white balance, as before. Most times, things are not moving around, and so single focus is probably fine. There are some people that like to leave their camera in continuous focus because the majority of what they shoot is moving all the time and they're only occasionally doing static subjects. It seems to me that most people are shooting static subjects occasionally shooting the moving subject. So using groups, single or all points could all be recommended here depending on how you want to have things set up. A group is a nice, little tight box of them that's gonna be quick, but give you a little bit of leeway in case you're a little bit sloppy on your composition that it's gonna grab on to what you want. So almost anything can work in there. I think the silent mode is a great mode to leave on your camera most of the time. It is not far off that our cameras are not gonna make noise. It's very soon that we're gonna have global shutters, and the mechanical shutters are gonna come out of our camera and it's no longer gonna make that satisfying click, and you'll have just the, yeah, I took a photo. I took a bunch of photos. And so that's the way photography is gonna be in the future and so it is nice for the cameras that do have silent, so long as it doesn't impact anything else going on in the performance of the camera 'cause there are some mirrorless cameras that can go silent, but they have a jello effect if you're moving, and so you got to be very aware of what the silent mode does to your camera. For most of the Nikons and Canons, it simply just slows the frame rate up, which is not a big deal and is perfectly fine for most people. So hopefully, these slides here give you a general idea of where I'm setting things, 'cause I'm trying to narrow things down so that I have a pretty simple ball field to play within, you might say, and there's a lot that you can do with those little changes. So some key tips on the exposure. I like aperture priority for fast shooting. That can take care of a lot of the day's work right there. Starting with the fast aperture gives you a fast shutter speed. That's good for a lot of different scenarios. When I get involved in a situation and I'm gonna be taking several photographs, that's when I switch over to manual exposure because with aperture priority, the exposure jumps around a little bit, and if I wanna really nail things down, that's what manual exposure is for. Casual human movement, you'll need a 60th of a second, and for faster human movement, 500th. Sometimes faster, depending on how fast that subject is actually moving.
Class Materials
Travel Photography - Class Notes
TravelPhotography - Presentation
Ratings and Reviews
As usual John has been an awesome instructor. He is so energetic and fun. I love taking his courses and this was no different. I absolutely loved it. I have learned so much by taking his courses. Thanks John for all you do to help us beginners out.
So inspiring! This class is so comprehensive and I look forward to applying all of Greengo's tips. He is a wonderful instructor and the example photos are breathtaking.
John is fabulous ... and so inspiring! I can travel the world and live vicariously through him! I've watched John for years and always find that he teaches me something new every time! Thanks John and CreativeLive for another awesome class!
Student Work