People: Street & Candid
John Greengo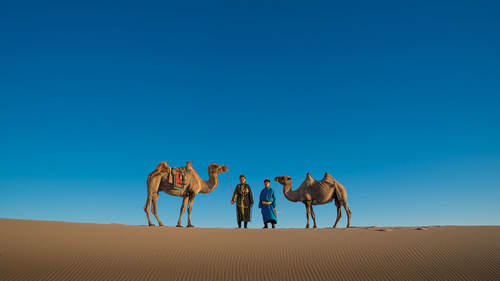 People: Street & Candid
John Greengo
Lesson Info
25. People: Street & Candid
Lesson Info
People: Street & Candid
All right we're gonna kind of continue on with the stories of how to do different types of photography and we're gonna do people, wildlife and events in this section. So first up, photographing people. This is one of those areas that makes some people a little uncomfortable and I'll have to honest with you, I do not like going up to a stranger and impeding and imposing on their time and I just, I just don't want to get involved, just don't want to get involved. But I really wanna get certain people's photographs and that has given me the ambition to go up in the appropriate situations to talk to people to get to know them and then to get to photograph them in some cases. And everybody can do this because if I can do this, anybody can do this and it's just a matter of getting a system that works for you. So we're gonna work through the people photographs one step at a time. First thing is you don't want to waste their time. Okay, nobody wants to wait around while you fumble with your ca...
mera and so make sure that you are set and ready to go on your own. You're gonna need shutter speeds probably over 125th, maybe to 1000th of a second, depending on what they're doing. The worst thing is getting a great portrait that's a little out of focus because of movement of you or them. Spot auto focus is gonna be very good. Some of you might be good at manual focus but I think just the spot AF so that you can focus on the eye is a good system for most people. There are cases where you are photographing people that manual focus with preset, like you know people are gonna be at 10 feet from you with a wide angle lens. Zone focus is where you're doing an old school depth of field trick and you know that people are going to be within a certain zone and at a certain aperture, at a certain distance, you can just hold the camera up and know they're gonna be in focus. Talk to anyone who shoots Leica, they're gonna know about this or anyone who shoots older manual cameras. Different technique, we don't have time to get into the long story right now but it's another way of shooting. A lot of times, people will just grab a shot just because they can and once again, it's not the first shot that comes to you, it's working the scene that you're gonna have to work with. When working around people, there's a certain style that at least I like. I don't wanna be the biggest, most obnoxious, loudest person in the room. I like to get a little bit lower key so that I'm hopefully more approachable and more easy to work with than somebody else may be. And there's going to be peak moments. Sometimes when you're photographing a person and I'm a runner so I know a lot about running gaits and steps and stuff and I would rather not photograph somebody in this perspective as opposed to this one right here 'cause we can see both legs in there. And so there's gonna be different moments that are just a little bit better, not so good, a little bit better, not so good and finding those peak micro moments if you will. There's a balance between bold and respectful because some people either they don't want their photograph taken or you just don't want to get too much in their face but sometimes, you need to step out in the street when you have the light with you to get your shot from the street and then you get back where you are and so there is a definite balance that you need to take in your social customs and be a good human being and a good traveler when taking these types of photos. Some of the simplest ones that everyone can get very easily, you don't need permission, you're not talking to people about hey can I take your photo, you're just seeing stuff on the street that you're photographing and so this is where it's good to have your camera ready very quickly. A lot of times with wide angle and normal lenses. And you're just kind of eyeing stuff that's going on like oh this looks like this is kind of interesting, let me get in position, give it a couple of quick shots and then I'm on my way. In some cases, it is with a telephoto lens and there's gonna be that peak moment for just a moment. It may speak to who I am as a photographer but I saw this and I go okay that's just a fun little beautiful scene. I photographed it, they heard the click, they turned around, they kept their arms locked together, I then posed them for shots which came out horribly. It was that just natural instinctive over the shoulder shot that looked a whole lot better than me posing them. And so if I can get just a natural shot, I'm gonna go with that one. Showing people what you're trying to do can sometimes help out. Having your camera ready, this is in Cuba, we're walking down the street, obviously I'm looking inside so there's beautiful light coming in which is a great opportunity for photographing. How did a dog make it into the people shots? Well it's a portrait, let's put it that way. And so in Cuba, getting the camera down nice and low to the ground to photograph your subject eye to eye is very important. The background is very important. I found this background that was all painted and the people were marching past it so I figured this would be a great place to be and then turned the picture into black and white and now there's this seamless where does it go into the background moment. So there's a lot of little events where I've learned something that I've taken with me as I continue on in photography. We were leading a tour in Cuba and as likely, frequently do, we come to an area that's got a lot of potential and we give everybody time to go out and photograph and as long as everybody's good with everything on their camera, I get to go out and photograph for a little bit until some sort of problem arises. In this particular case, there was no problem so I could go shoot. And I just couldn't find anything in the square so I looked down one of the streets and I found these three blue doors and I go that is a great background. Now I need to hope between our 20 minutes of time that somebody comes by and does something interesting on these doors and so I played around with a few different compositions to see how I wanted to shoot this. I knew this wasn't the shot I wanted to get but I just wanted to see am I focusing right, do I have the right shutter speed, do I need to make some adjustments so there's some things I gotta work on. I was hoping not for tourists but for a local to come by by one of the blue doors, okay, not bad, it doesn't really stand out enough. I just talked about there's this stride like, you want the leg position, okay, so I kind of like that, that's a good one. And so I'm all set up for people walking by. Now what was in my heart at the time was a woman in a long yellow dress. Yellow and blue, they work really well together and so that would be perfect walking down the sidewalk, never happened but two boys came running down the street. I was not set up for running but you know what, I did not have time to change, let's just shoot now, ask questions later and the shot that I got, although it's blurry, you can still see a little bit what's going on and so you can see the boy on the left is turning around and you can see a smile and in the boy on the right, you can see one shoe in the hand and all I can say is shenanigans. Something's going on here and normally this is not how I shoot action, what I'm doing is I'm just got the camera still, the boys ar running down in front of me and I'm just clickin' off a couple of shots and they're blurry but I'm totally okay with it. This is one of those I normally don't follow this, I would want to move with them but this is, I think, something that was a, it's what we call a happy accident that I prepared for. And even the followup shot, I still kind of like this one here. I wish he was more in front of the blue door but I think it's still kind of a fun shot. And so, my thoughts after coming out of this is you know, just be ready to change plans very quickly. You don't know what's coming. Shoot now, worry later. And it's like a golf swing, I don't play golf but I'm told that once you hit the ball, you don't stop right there, you swing through and so shoot through the moment, you never know when that best moment is going to be so keep shooting. It was just like the through the window shot. I got a good shot, I should go home happy. No, keep working, you might get something even better. So some general ideas on street and candid. There's some locations that are a little bit better, they sometimes have a little bit more room in some cases. Have your camera set up for these type of scenarios. Usually, 35 or 50 millimeter as far as a full frame lens is a good place to be but different lenses give you different opportunities.
Class Materials
Travel Photography - Class Notes
TravelPhotography - Presentation
Ratings and Reviews
As usual John has been an awesome instructor. He is so energetic and fun. I love taking his courses and this was no different. I absolutely loved it. I have learned so much by taking his courses. Thanks John for all you do to help us beginners out.
So inspiring! This class is so comprehensive and I look forward to applying all of Greengo's tips. He is a wonderful instructor and the example photos are breathtaking.
John Greengo was fresh, exciting and entertaining. He was extremely well prepared for this class, and I loved hearing little nuggets from such a seasoned travel photographer. The course provided great content and ideas I can take with me on my next trip!
Student Work