San Francisco Design Week Typographic Quiz
Part 1 of Quiz - Keynote
Allan Haley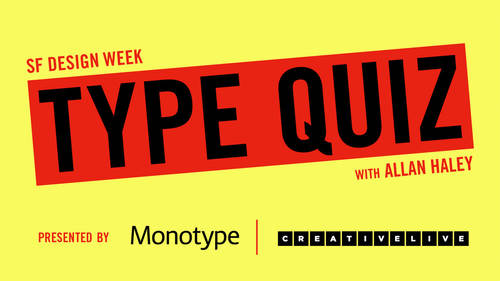 San Francisco Design Week Typographic Quiz
Allan Haley
Get access to this class +2000 more taught by the world's top experts
24/7 access via desktop, mobile, or TV

New classes added every month

Download lessons for offline viewing

Exclusive content for subscribers
Lesson Info
1. Part 1 of Quiz - Keynote
Lesson Info
Part 1 of Quiz - Keynote
Welcome to San Francisco 2015 Typographic quiz. And I want tell you first, who has been brought to you by its being brought to you by two really, really great companies, creativelive and monotype. These are companies backed by just some really incredible people that provide that not only are dedicated to the group to the design arts, but supported in every way that they can. Everything you see here tonight is was brought to you by them. The venue the Grateful you had outside 90% of the prizes over here. They're good people. You really, really should take advantage of their services in their products. Truly. Okay, Tight quiz. This is how it works. You're gonna get 25 questions to test your typographic smarts now is divided into two parts. Part one is 10 questions. It's sort of like when you're in school and the teachers up there and says, you know, what's the capital of whatever When you raise your hands, I know why. No, I know. Okay. And then if you get the answer right, it's multiple ...
choice. So everybody, every one of these questions somebody will get the right answer. Somebody will get the right answer. Okay. The first right answer to each question wins a prize. It's just that simple. The thing you need to know is your proctor. That would be me. I am the sole arbiter of the answers. Four. Correctness. If you don't like my answer, you could meet me outside afterwards. Don't bring no friends. Part two is 15 questions, and there's an answer sheet that will be passing out to you with 21 possible answers. Every correct answer till multiple part question equals one point. So it's possibility 21 points. Your answer should be on the course sheets. You're gonna fill them out when we go through with the answers you gonna fight, you're gonna answer your own, correct him or not, and then tally them up yourself. We trust you and your phones are off so you can't google. So you might say, Well, what is this worth? You know why? Why should I be doing this? I've had my great food. My wine. Well, there is the bragging rights. Yeah, that's worth something. But like they say, there's more. There are a complete open type typeface. Libraries on CD. Yeah, you're going to get the magma to typeface. Uh, typeface offering, which is my favorite designs, is a great stand, sir. If he's all brand new designs, EITC value New Value Bitch, which is a redoing a few bits of value, which is original EITC design. It's done is a display design and a text designed. There's a Brazilian characters in it. It's really a neat typeface. Did next you hear about didn't later and monetary newest high face release, which is Neue Haas Unica, which is sort of a marriage between. It's a revival, actually, of a 19 of, ah, 19 seventies typeface eighties typeface. That is a combination of you never in Helvetica, and some point bulls think that it's better than either of them. I'll leave that up to you. Creative Life is donating five creative life courses. That's a full course. It's worth about bucks each. Okay, and they're on typography. Brandon Reich on lettering Class A couple filing stress for one of my favorite people. Ah, sweet of her type classes that's really good. And then James Matori. Bold and Fearless design, they say on TV. But wait, there's even more. There's books about type and typography. There are T shirts that you're going to get. There are posters. In fact, I gotta tell you about this. There's some sort of really nice monotype posters, but there's a couple here I really need to kind of tell you about, If I could get it to come out. You know what she clay print is? Okay, The There are two posters that RG Clay prints of the original drawings for typeface design. This is Eric Gill's drawings for Gill sans bold condensed. There's another one for center, and if you put this up against the absolute original, the only way you could tell the difference is that if you run your finger over the original, you'll see that you could feel the bumps of the white out in the black ANC. This one is numbered. It's a limited. They're both limitations. This one's numbers. The other one is not. I have no like the center one. It's really pretty sexy. OK, so there are posters. There are mugs. There are mugs. Hold up your month. We got a mug. OK, hold up your black and there a few surprises there are basically over 50 fries. Is So one of telling is everybody that's in this room is gonna walk out with something. And there's a grand price. The grand prize is It's a San Francisco Design week type of file of the year award. And what that is is a full monotype open type library on CD. That's 900 fonts. That's $5000. We had this under lock and watching the Price Waterhouse was going didn't care of it. We have a runner up and the runner up prizes Evening is the 2015 Herman's after Memorial Award. Those of you are type of files will know that Herman's off passed away last Thursday at the age of 96. Herman was for four generations, was the man in typefaces. I, uh, very, very long time, maybe not knowing quite so of the last you for years of his life. But he was a giant in our community. So this is the 2015 Hammond's after Memorial Award provided by creative life, and it is a crew of complete creative live scholarship. That means an entire catalog of design classes at no cost. Okay. Are you ready? Test your typographic acumen. Oh, Come on. Are you ready to tie Test? Are you ready? Better. Okay. Remember your proctor. That's me is a sole arbiter of correctness and know blurting. If you blurt, you will not get the right answer. Because if it is a run, I'm gonna give it to somebody else. Okay? No blurting. First question. Here we go. Part one for his question. What is the name? And this is multiple choice, so don't blurt out yet. What is the name of Google's new font family that will support all? Oh, of the world's languages? What is the name is a Google world. Is it multi God, Is it Noto, or is it Pan Land? Does anybody know? What is the name of Google's new fund family? Does anybody want it? Hazard a guess beside the person that knows? Yes. Is it molding a lot? How many figures? Multi. Glad how many? Don't think it's multi gallach emotion of You're right. It's not Multi. Okay, so we're two out of We're now down to three. Okay, that would be Google World. Noto and Pan Land. Anybody want to guess? Yes, Google World. We're down to two. So you got a 50 50. Chance of getting this one right now. Who's gonna be brave and take a chance? And if you're wrong, you're gonna feel really, really bad German right here in the plaid shirt. And? And the answer is OK, do something. Want. Take a guess. Another guess? Yes, sir. I'm gonna go. You're gonna go with Noto? Damn, you got it. Okay, Per second. Great prize. What? We're going to dio the monotype for many, many years Issued what it was called the monotype recorder was a really nice publication that they get sort of periodically. And the last one they did was probably about 10 years ago. This is one that they did just last year, and there were a very few copies made. So you have yourself a monotype recorder now. Okay, so it's Noto. Bonus question. Anybody know the significance of the name? Anybody know the significance of the name Noto? Anybody want to guess? All right. Anybody know what the significance of the name is? Does it mean note in another language? Does it mean note in another language? No, it does not. I'm going to give you a really, really big hint, you know, when you're typing on a keyboard in a font and you're typing along and you get those triangular boxes. It says there is no character there. Okay, that's called tofu. So it's no tofu. Now, who is God? Who is a new kind of knew that? Who is going to get that coming? Somebody here was right. Lie. Thank you. Okay, Um, you get a just my type books. See how you see that works. Okay. Okay. What was the origin? Who knows the origin of the original din typeface? Remember, it's multiple choice. It's came from German pharmaceutical labeling. Now the original Didn't typeface goes back to like, I think 1914 1915. Tracking of German trains, Bauhaus design experiments or a Kaiser Wilhelm decree. Who knows the answer to what the origin of the original din typeface is? Be brave. You have nothing to lose. Did you You one before, didn't you? You that fried microphones so I can keep answer these questions. Uh, tell me. Take that mike away from her. I really was gonna guess. OK, go. Is it about the tracking of German trains? It is about the tracking of German train and how Would you like the complete Didn't next typeface family on Sadie? Ok, quite all right. Next question. Who invented Monnet? The monotype hot metal composition system. For part four questions as possible answers. Was it Morris Fuller Banton? Was it Tolbert? Lanston? Was it Theodore load of any? Or was it Ottmar Mercan Thaler who invented the monotype hot metal composition system? Anybody who hasn't already guessed? Oh, come on. It's a good prize. I can't give it to somebody. Lets you raise your hand. I'm not gonna give it to somebody who I know has the answer. Either story. You wanna take a guess? It's obviously Morris filler. Benton is obviously Morris Fuller invented. How many think it was? More A full advantage. Ah, many thank you. Sure is wrong. Okay, you guys have it. So we're down to three. If you kill Bert Lance in theory, Or do a load of any Or Ottmar Mergenthaler who invented the monotype composition system? Uh, I guess here in over load see a door lo divinity dealer load of any commodity was a type of story an and a typographic critic and knew absolutely nothing about composition systems. So we're down Teoh. I'm are Morgan Thaler and Tolbert Lanston again? It's a 50 50 tops up. Does anybody want to take a guess? Um, August, Autumn Arbor. Word that I can't say. That would be Morgan Faller kit that way. Okay. Who think you is on Marr American Dollar? Why? Okay, I'm Armor. Gonzalo did invent a type netting setting machine. He invented the line a type machine. Now, then there's only one answer left. Hey, Skyler, do you think you know what might be? No, There's only one left. I'll bet your dad will help you. Who is it? Tolbert Lanston. You are so good. And what we're going to dio. I saw your drawing. So we're giving you two. No books to draw in and a T shirt. That's probably too big but will make great pajamas. Told her Lanston. Okay, Who knew? Matthew Carter, great typeface designer is also an avid sports fan. Do you know that average sports fan? What sport? The eyes. Matthew Carter like the most? What is he? An avid sports fan off? Would that be baseball? Would that be cricket, perhaps golf or maybe soccer or football? Giving on where you're from off What sport is Matthew Carter? World class typefaces, Ire and ABBA fan. Anybody want to take a guess? Yes, you might think so. In A couple of other people have said that he is British. It's not cricket. So we're down to baseball, golf and soccer. You make me go all the way to the end on this one. Anybody else way Have three choices. Yes, Soccer. You might think so. So now we're back to baseball and golf, and we're right back to where we were before you got again. A 50 50 chance. And you guys are doing so well on those. Okay. Have you one before? Okay. Sounds streets with, um baseball, baseball. How many think it's baseball? You are so right. It is baseball Now. I was thinking about a prize for this, and it should be something baseball related that Well, I could get bring, you know, a Red Sox baseball cap. And I thought, Well, this is San Francisco. You know, not everybody is going to be a Red Sox fan, and I thought, Well, maybe I bring a Giants cap, but then I didn't know where to get a Giants cap. So what I did is I got something I think everybody would like. I hope you like it to. It's a Boston strong baseball cap, and it's Boston Strong. 61761 2007 is the area code for Boston telephone calls. There you go. Boston strong. Okay, what is a manic You'll? I'm gonna give you some choices. A manic You'll not a manicure. Amanda Kyul. It's anti calligraphy, maybe of a form of lettering. Is it an anti didn't ding bat? Maybe it's eight antique term for small caps. Or maybe it's an antique typesetting machine. Anybody know what a manic Ulis Anybody want? A hazard? A. Guess What? A manic Ulis. Yes, I'm gonna guess it's an antique ding bat who thinks she's right. You think she's wrong? Here we go. It is an antique thinking back that some people call a pointer. That's what a manic you'll is, and your prize is a dapper Dan rubber stamp kit to 20 would mounted rubber stamps included, and one of them is a manic You'll oh, bonus question. Multiple choice. Anybody want to hazard a guess when a manic you'll was first used? Was it in 900. Was it in 1100? 1500. 1800. When is the first sighting of appointee hand in some kind of document? First sign of appointee hand. Anybody take a guess? Yes. 1500. 1500. Pretty close, but no. You know, I think of your only off by 304 100 years or five, you know, But it's pretty close. Anybody want to get another guest? When was the first use of a manic You'll? Yes, 1800 back to to do it again. Okay, so it's either 900 a D or 1180. Is that right? Okay. Hm. What do you think? Which day you have? Half a chance. Come on. Right. You got a full chance. Does anybody want to take a guess on when the was first used? Yes. I take a guess. It's a 1100. You think maybe. Well, what do you know? You got it right. You have a genuine monetize mug. Okay, Herman's off. Ready to rest in peace. Herman's off when he designed Optima. One of his first high faces. The commercial typeface is certainly one of his first successful ones. Um did not want to name the type face optimum. You want to name it something else. And the marketing people. It's Temple Overrode Road. What he wanted. Name it. But what do you think Herman's up wanted to name his typeface. Optima? Was it Italianate old style, perhaps. How about new Antiqua? Maybe it was no Vallis. Or maybe it was Zaf chant Sands, who wants to take a stab at what he wanted to name it. And I'm even gonna take some of these questions from you. Monetary people over here Give me a chance to embarrass yourself. These air type these air type people. They've been in the type mrs for years and years. 20 years. Don't shake your head. Does any way you want to take a guess. What? He wanted to name his typeface. What do you got to lose? Yes. Business. FAP Sands Zap Sands. You might think so, but you'd be probably wrong. So it's either Italianate old style New Antigua or no Vallis? Yes. New anti qua. Do you see? No, Antigua. You did? That's cool. You get a prize. You know what? How would you like in memory of Herman? I didn't show this one. This one is not number, but I can assure you there were only 500 made. I have one of them hanging in my home. These are, um, Bruce Rogers. Uncle geek, late friend of Bruce Rogers. Original designs for monotype, for center that he drew when he was living in London. Nice going. Okay. New Antigua. Okay, a lot of these. Some of these questions are San Francisco centric. You might guess, uh, what San Francisco designs a sign shop did this lettering. Is it best dressed signs? Is it the Martin signed company, you know, huh? Is it new Bohemia signs? Or is it Zen sign masters? What? San Francisco design shop did this lettering. You should know this one. You should. So no, this one. I know you know this one? Um yes. Is it new Bohemia? It is new Bohemia. And, well, I went by new Bohemia this afternoon, and New Bohemia is really a typographic treasure for this town. And they dio they have lettering classes on Saturday. And when things they have is a casual lettering style sheet, think it put a piece of tracing paper over and you could do casual brush lettering. So this is direct and it's signed. My goodness. Artists proof signed from new Bohemia. Signs. Nice. Okay. Okay. What country recently commissioned to design of its own branding type? Face own custom typeface design was a Canada. Was it Italy, perhaps Sweden or the United Arab Emirates? What country went to the trouble? The higher typeface designer to create. Ah, branding typeface just for the country. Anybody? Gary Canada. How long you work for monetary? Not long enough, apparently. Okay, so we're down to Italy, Sweden and the Emirates. Okay, Sweden. Sweden. Now, that's okay. I can do this. It was Sweden. Was anybody else going to say Sweden? Besides a monotype? Okay. Was anybody else going to say Sweden? Besides a monotype person that has not already won something fine. Nothing personal. This is great. This is a film, um called Lina type the film. It is not a history of the Linotype machine. So much as, um, sort of what's happening to the line of sight machine and where it's going. It's a really a fun documentary. I would say that even if I wasn't didn't have a bit role in it. So there you go, Lina. Types of film? I think you did. Okay. What type? Luminary type luminary coined the term graphic designers Graphic designer. Excuse me, Was it Morris Fuller? Ben? And we've heard that name before was a Stanley Morison. Mert. Maybe Maybe it was Theodore load of any. Now, You sort of just about him earlier. Maybe it was him. Or was it William Addison Tu Wiggins. Which one of these gentlemen coined the term graphic designer? Graphic designer. Anybody want to guess who hasn't already gotten something? Who doesn't work here and in the great in the shirt. You? Yes. So I'm going to just say listen to him. Listen to him. I'm gonna go with William Addison billions. Wow. You guys got one on the first. You know I am. And because you are so good at this, how about we give you Eileen stressors? Complete suite of typeface courses from creative life. There he is. Okay, according to our experiment, why is Johnny ive finally getting serious about typography? Four possible answers. Why is Johnny ive of Apple finally getting serious about typography? Was it because he longer uses no Helvetica life? Was it because he developed a custom typeface for the apple watch. Maybe it was because he bought BRAC the Chicago typeface Or just possibly it might have been because he hired Eric is a typographic consultant. Okay. Would anybody like to take a guess as to why Eric speak German? Believes that Johnny Ive is finally getting serious about typography. Assuming Get somebody who has one yet anybody. We'll go for it. Come on, You have four chances. Okay? I'm gonna go with the last. He hired I because a typographic intelligent No, that is not the correct answer. Um, I see. Have you won? How many times? What you get? What? Okay, uh, doing? Take a guess. Um, he developed a custom typeface for the apple watch. He developed a custom typeface for the apple Watch. And the price for that is Eriks Pekerman's new book. Hello, I am Eric. Okay, a bonus question. And if you guys don't get this one, I tell you, I'm going home. Okay, um bonus question. Does anybody want to take a chance? Who already hasn't won? What might be the name of that type face that hasn't won. Okay, here, Lena, What? It's called Wow. It is called San Francisco. um, What do we have? I think we have a T shirt. Okay. Okay. Well, we have we have this kind of t shirt or we have this kind of t shirt you like, Which this one black. Okay, black it is. And this is a small, but it's not a woman's just cut. Is that okay? Giving out T shirts has become a really issue lately. You can't just sort of way got small, medium and large.
Class Description
Can you pick Garamond out of a crowd? Been around the typographic block a few times? Then watch and take the 2015 San Francisco Design Week Typographic Quiz, sponsored by CreativeLive and Monotype. 
The answers will be multiple-choice so, even if you don't care that 5-point type was once called "pearl," you'll have a one-in-four chance of getting the right answer. 

Looking for a challenge?  Test your "mettle" at the 2015 San Francisco Design Week Typographic Quiz.