How-To Approach This Class
Briohny Smyth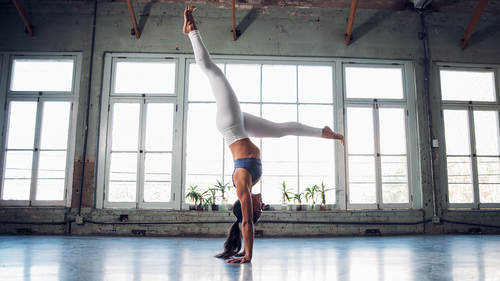 How-To Approach This Class
Briohny Smyth
Lesson Info
2. How-To Approach This Class
Lesson Info
How-To Approach This Class
Hi, Yogi. It's bride. Welcome to power, Vin Yasa. I'm so excited to move sweat and flow with you in your home because this is actually my home practice. In this series, we have five classes, starting with the level one class, which is really a great place to start. If you're new to power. Vin Yasa. We still get a great workout, but I move a little bit slower and introduce to you the important alignment points to making sure that your practice is safe and effective. And if you've never done a Vin Yasa or Serie A or B before, this is where you're gonna learn it because it's important to know these pieces so that we can begin to increase the pace of our movement in the level to class. This is a really great, inaccessible intermediate practice that will still give you a good workout but challenge you a little bit further. I start to introduce to you the most accessible arm balance crow pose Level three Level three can sound intimidating, and I do get into some handstands and other arm bala...
nces, but I still give modifications that allows for this practice to be open to all levels of athletic practitioner. The fourth class, which is one of my favorites. It's called constant Movement. It's 45 minutes of constant, fast paced movement that will really help you find that balance between strength, flexibility and endurance and then push your edges. My 60 minute class in this series and it does exactly that. It pushes your edge, but like any yoga practice, you choose what's right for your body. So all of these classes are open toe all levels of practitioner, and you don't need any props unless you'd like to use props to Taylor to your own practice. You don't have to follow any set sequence for these classes unless you want Teoh. But you can really pick and choose based on what you need on any given day. I'm so excited that you've joined me and I can't wait to share these practices with you. Let's flow soon
Ratings and Reviews
Briohny Smyth is an amazing yoga instructor and human. I highly recommend this course. I've been following her online for a few years and have learned so much. She offers modifications and safe steps to learn more advanced poses. She is knowledgeable authentic and kind, everything a yoga teacher should be. I'd love to practice in person with her someday. Cat Bishop Beach4good .
What a centering and focused series! I had so much fun feeling into these balances because Briohny's instructions were so clear and thoughtful. There's something for everyone here. My arms are going to feel that tomorrow!
Just finished Level 1 and it was so good!! As a beginner/intermediate level, I was able to follow along very well. Very nice instruction!
Student Work