Simulating Rain
Ben Willmore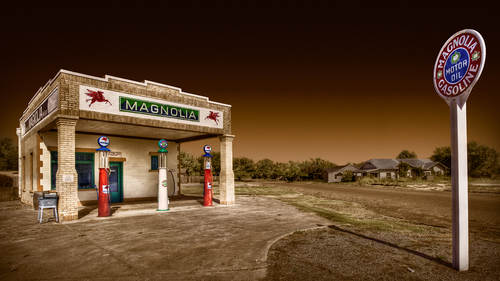 Simulating Rain
Ben Willmore
Lesson Info
21. Simulating Rain
Lesson Info
Simulating Rain
photo shop has a wide variety of filters, and I'm just gonna be have time to cover a few of the effects. But one of which is nice is that you can change the lighting in your photograph. Here I have a photo of Karen going into, Ah, one of our favorite little restaurants in Portland. If you ever in Portland Goto be happy, a happy and they make crepes very good ones. But what I want to do to this photograph is it was raining earlier in that day, you can tell by the sidewalk being all kind of glossy. I want to make it look like it's raining, and I want to make it look more like the scene that's there is being lit by the lamp that is on the building instead of an overall ambient light source like the overcast sky that might have been there. And so that's what I want to try to accomplish. There's a couple different ways we're gonna do. At first. We can come in and try to make it look like it's raining, so I'm gonna create a brand new layer, and for these things, I don't need the tablet so I'...
m just gonna move it out of the way. Just so you know that what I'm doing doesn't need to use that. And I'm gonna get in here. I'll make a new layer. I'm going to fill that layer with black still with black. I just went to the edit menu to find Phil. And after filling that layer with black, so just have empty layer full black. I'm gonna come in and apply Add noise. We used add noise yesterday. Didn't way for making things, And I think I've even used it. Previous seminars. It's just a nice way of creating something out of nothing. And in this case, we're just looking for some specs. Those specs are gonna end up being raindrops, but those specs right now are too darn small. Zoom up on him, their teeny tiny and they're like, one pixel in size. I'm in a next go up to the filter menu, and I'm gonna blur them with a ghazi Ambler, soften him up a little bit. It should be good. Some around there look. OK, so now we just have soft noise. But rain is something where we don't Wouldn't. I hope you don't usually get this much rain, you know, like a gazillion drops. So I wanna isolated. So we only have a few of these little specks because after blurry, um, they should vary in brightness quite a bit. So I'm to adjust this. I'll go up to the image menu. I'll choose adjustments, and I will choose levels in in levels. I'm gonna pull in the slider on the left until I get mainly black and I can see just a few specs. I can move the middle slaughter if I need to really see what I have. But I'm going for trying to eliminate a good amount of those specs. So getting a little bit less in there click. OK, let's see if you see the difference. I'll choose Undo before lots of specs. After only a few. Imagine those raindrops. The main thing we need to do is get those raindrops to be in motion. So to get them to be in motion after we ended up going toe levels and adjusting it to get most of the areas black, we're gonna go back to the Blur menu. In this time, we're gonna use motion blur If I motion blur this look within the preview here are these starting to look like little hints of rain drops there in motion so we could experiment here. Usually 45 degree angle would do pretty good. If you bring it down to low, it might start looking like snow flurries or something. They'll be like little blobs, but I want to get up high enough where it just has a definite direction and the relatively consistent in there length. Somewhere around there, Click OK, and so now if I zoom Apopka, zoom out quite a bit on this image. You see what we're getting. That's 100% view those representative raindrops. And when I photograph an area that has some rain, usually those raindrops ends up lightening up the scene because whatever light is in the scene picks up the raindrop. And so to do that to have this lighten our scene, I'm gonna change the blame mode that's found at the top of the layers panel. I'll click there, and I'm gonna choose a choice called screen mode. Screen mode acts like light. So if there's any area in this layer that would not contain light to make it. It'll just disappear in on Lee, the areas that would need to use some light to make them. Let's say you're making it out of a projector or here on my computer screen. It will add that amount of light to the image that's underneath. So when I said it to screen mode, now zoom out a little bit, sit here and before I caught it after the rain, it was just wet out right, Whereas after you see our rain, the only problem without that I have is it looks a little bit like Photoshopped rain in that it's too consistent. There's just a consistent amount everywhere I wanted to very more. And so in order have it very mawr. I'm just gonna hide certain ports of it. Parts of it. I don't want to do it by manually painting or anything like that. I want Photoshopped to figure out how to make it very so let's see how we could do that in my layers panel. I'm gonna add a layer mask, so just go down to the bottom of my layers. I'll click on the circle inside of the rectangle. There's my layer mask, Then I'm gonna put something in the layer mask that just varies in brightness in with a layer mask. White areas make things show up. Black areas make them disappear. I want something varies between black and white in different brightness levels in between. To get that, I'm just gonna go to the filter menu. Um, you know, choose render, and I'm going to choose clouds. It's gonna put clouds in there. Just be aware that when you run the clouds filter, it does use your foreground and your background colors to figure out what color the clouds and the sky should be. So if your foreground and background colors air set to something, we'd erred. You might get an unexpected result my foreground and background colors or black and white. So when I choose clouds now looking layers panel can see kind of a randomly varying content that's in there. If you actually want to see the contents of that mask, I can hold down the option key and click on the mask. Okay, that's what's in it. So the way a mask works is areas that are white allows the layer to show up areas that are black hides the layer in areas that air shades of gray. Let it partially show up. So that's just going to make our rain very a lot. So it'll show up where we got bright areas. It will disappear. What we have dark option. Click the mask again so you can only undersea it, and instead you see the end result. If you want to see the difference between having the clouds in there and not, I can turn off the mask temporarily by holding the shift key and clicking on it just right on the mask. So here's without where the rains overly consistent Shift click. Here's after where the rain varies more and if you want to make it, even mawr as faras just having control over it. When the mask is active, you're more than welcome. There's an optional step to come here and use something like levels in levels. If you pull in the upper left slider, you'll force more ears. Two Black, which is gonna hide more your rain because black hides things. If you pull in the right side, you're going to show more rain. And if you adjust the middle one, you'll control the transition like how much is in between, and we could kind of fine tune that. But let's see if that gives us a little bit of rain will turn off the layer altogether before turn it back on after to get a little sense for rain. But you're also welcome to paint on the mask if you want rain in a very specific area. So if I ground by a normal brush tool, get out of my fancy brushes and into normal ones, maybe I decide that I want to make sure that there is rain where the window is, so I just big soft brush paint with white. Thanks a put some rain on that window. Maybe I want a little bit on the door. You can always lower the opacity of your brush. Maybe else they bring 40% in to make sure it's on the door makes sense. So noise. Most people think about getting rid of noise and their photos. I use noise a lot for creating rain, for creating fabrics for creating brush metal for doing all sorts of things, and I find it to be nice and useful. I'm but that's not all I want now we have a rain, and I would now like to make it look like the scene is being lit mawr by the light that is sitting right where it says low happy compared to being lit by overall overcast sky. And so it will accomplish that. I'm gonna use lighting effects. Now leave my rain layer sitting up above. Maybe I'll double click on its name that remind me why it's there and call it rain. I work in the layer that's underneath, and I want to make sure that whatever I do to that layer is not permanent. So I'm gonna take that layer, go to the filter menu and say, Convert for smart filters. That's what added this little icon right there, which indicates it is a smart object in. Now, when I apply a filter to the filter will just be a setting attached to that layer. I can easily turn off later
Ratings and Reviews
This is the second class on PS filters that I've taken with Ben Willmore. He is handsdown a fabulous teacher and one I highly recommend. I purchased both classes and I feel that for the price, they are worth their weight in gold. I applied his PS filter techniques to some of my surface pattern designs that were created using my original artwork and I've received great comments. So I owe a great deal of gratitude to CL and to Ben Wilmore for giving me the opportunity to grow my PS knowledge and to apply it with confidence to my artwork. Thank you!
well I would recommend it sort of. I think much of the chapters show you how to use things without giving good examples or reasons such as with the brushes part. The photo on the cover is never worked on or really any of the topics didn't talk about how to achieve that look. I did learn some things as I have a lot to learn. I have been using the textures with great success. He does a nice job of explaining...I just don;t think we saw enough start to finish work.
Fantastic tutor and course content! Ben Willmore truly is a master of Photoshop and has the ability to teach all aspects of Photoshop in such and easy-to-understand manner. Thanks so much for making Photoshop so much more understandable. Highly recommended.
Student Work