Camera Controls: Back Side Control Continued
John Greengo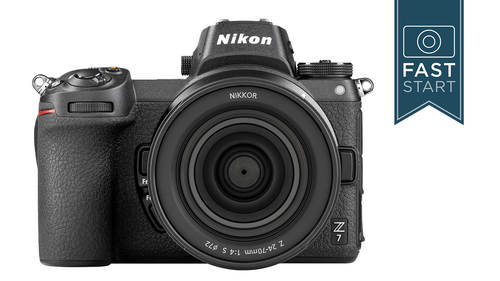 Camera Controls: Back Side Control Continued
John Greengo
Lesson Info
6. Camera Controls: Back Side Control Continued
Continue exploring the back of the camera. Dive into the different options in the quick menu or "i" menu. Adjust colors and contrast with camera picture controls for JPEG images. Set the compression for shooting in RAW, link with Wi-Fi and SnapBridge, turn on continuous shooting with burst mode and more using the quick menu.
Lesson Info
Camera Controls: Back Side Control Continued
All right folks, we're working ourselves on the back of the camera, and it's time to get to the information button on this camera. This is a shortcut menu so that you can have access to some of the most useful features with the greatest of ease. And so by hitting the i menu, you can get to your shooting options. There's gonna be a whole group of 'em down there, and we're gonna go through these one by one. Now, to access them you're gonna use the back control wheel for selecting which setting you're at and then the top dial, the back dial on the camera, for changing that particular setting. And so one's for navigating and then one is for changing that particular feature. We're gonna start top left and work our way around. All right, so one of the things that's gonna come up, this is picture control, and you see that little JPEG warning sign, this means that this doesn't have an effect if you are shooting raw images. And you'll see this as we go throughout the menu system. There's a lot ...
of things that you can select and you can have it do all sorts of things, but if you shoot raw images, you're getting the original information off the sensor and the camera's not gonna interpret that information really in any additional way or make any adjustments to it. So this is mainly focused to people who are shooting JPEGs or who want to affect those JPEGs. So, picture control allows you to change the look and style of your images. It's not changing major controls like shutter speeds and apertures, but it is changing the color and the exact look of your image. And so it might be hard to see on your screen here, but all of these images are slightly different. It's almost like the days of film where you had different types of film that had a different look. One might be more saturated or one might have more contrast. You can see the histogram there, and you can see how the standard versus the flat image has the highlights in a very different place so that you can work with them later on perhaps with the flat setting. You can see between the flat and the vivid where the dark portion is on the camera, those dark spikes on the camera. The vivid one is a more contrasty type image. And so you can select any of these that you want, my preference is to leave it in standard. And my reason for that is it's basic, it fits a lot of different things. The auto one will adjust and change from shot to shot as needed, so you could potentially shoot two shots that look quite different, and that's why I prefer to keep it in one setting like standard. I do enjoy shooting monochrome, so sometimes that can be fun to shoot in if you know you want black and white in something. Flat can be very good for shooting video, and we'll talk more about that a little bit later on. And Nikon has seen what is popular on places like Instagram and so they've decided to add in a whole bunch of more filter type effects so you can do all of these type of adjustments to your images. And each of these has a slightly different color balance, color tone, and contrast to it. And there is a whole list of 'em, we're not gonna spend a lot of time looking at these things, but if you do want to create something different in-camera, this camera does have a lot of those capabilities if you want to play around with those. And so you can go into this and by selecting the mode and then going down, you can customize this. And so this is something I wanted to show you. So let's do another little demonstration on our camera. So let's go ahead and open up the i button, and we can see our picture controls in here. And so we can navigate, once again, with our control on the back of the camera, and then if we want to change the feature, we can change it here, but we can also press OK. And we can now dive in and we can work out way through these options as well. Now, let's say I like standard but I want to just tweak standard a little bit. You'll notice down here at the bottom you press i to return, down to adjust or OK if you just want to confirm it. So I'm gonna go down, and now I'm gonna have a whole list of other controls over here. I'm not gonna go through every one of these and talk about 'em, but they're generally kind of obvious, and so if I wanted to change the sharpening up a little bit I could go up a little bit. If, let's see, which one do we have here? We have mid range sharpening, maybe we're gonna take this one down a little bit and press OK, and so it's a matter of going in here and pressing down and making any sort of adjustment that you want on these. And then you can also use the touchscreen if you want to go in really small quarter bit amounts. So you can use the touchscreen or the controls on this. And you can see you can go a little bit finer control with the touchscreen on here. And then I can confirm all of this by pressing OK, and that is my new kind of customized standard setting. So if you aren't getting images that you like out of the camera because of the look and the contrast and the style of 'em, you can go in here and completely adjust it, fully customize it exactly as you see needed. Next up is the image quality, and this is one of the most important features. This is a feature that we will see again like a lot of the features in this i menu, these shooting modes. We're gonna see these again when we go through the menu system. So we're gonna explain it fully here and then we'll pass by it pretty quickly later on. So let's look at the image quality options here. The basic option is between RAW and JPEG, but we do also have a TIFF option. And I'm doing all these settings for the Z and not the Z 6. If you have the Z 6, don't feel slighted, I'm just trying to be efficient on time, and the only thing that's different is the exact numbers at resolution and megapixels, but this same concept applies to both cameras. So the main option if you want to get the highest quality is going to be to shoot RAW, which is the original file information off the sensor. You're gonna get a file called an NEF file, which is a Nikon Electronic File format, and that's gonna be the maximum resolution for your particular camera. We are gonna have a number of JPEG options, there's going to be fine, normal, and basic, which are different compression settings. And they have these actually broken into two each, so there's actually six different compression settings that you can choose. And when you compress things, you're throwing away color and detail information that you may need later on. So you want to be careful about compressing an image unless you know it's good enough for the needs that you're gonna be using it for. Now, you can see the star indicates that that's the slightly better quality of the two versions, and on top of the three different compression settings you also have a physical size small, medium, and large, which has to do with its resolution. So you can change the resolution and the compression with the JPEGs, and you can end up with different file sizes appropriate to what you set. If you wanted to set the camera to a very high quality mode that is easily read by a lot of different computers, that would be the TIFF mode. I think this is probably gonna be the most unused file type in this collection because the file type size tends to be very large. You can see down there at the bottom, 140 megabytes at least for the Z 7. It tends to be very, very large. It may be needed in some special circumstances, but in general I would probably avoid that and I would shoot RAW as a way of getting better quality, 'cause you'll be able to get more out of it. It's just that you need special software to read the RAW. And finally you can shoot RAW plus JPEG. I don't recommend doing this unless you specifically know you need RAW and JPEG for a particular project. And the reason is, is because you end up cluttering your system with duplicate files. And if you have a RAW file, you could always go back and create JPEGs later on if you have the time. Shooting RAW and JPEG is great for projects where you know you're going to need the RAW images 'cause you want the full information to work with but you need something that's ready, quick, right now. And so if you have that particular need, RAW plus JPEG is good. If you're just getting started and you don't have all your software in place, JPEG is gonna be fine to start with. And then RAW is where most people are gonna want to be on this camera for most of the time. Next up is kind of a funny mode as far as I'm concerned because this camera does not have a flash, but it has a flash mode so that if you do hook up a flash, you can jump in here and you can make changes. Fill flash is something that it forces the flash to fire even though it's bright out and it doesn't think that it needs it. We have red-eye reduction for reducing red-eye. Rear-curtain flash allows you to do some creative results with moving subjects. Flash off seems kinda dumb, because you could just turn the flash off and that would turn it off. But if you want to turn it off electronically in the camera, you can do so here. So this is gonna be one of those modes that I would recommend. If you're not using a flash on a regular basis, you can reprogram this menu and you can put something else more valuable in this particular spot. So we will do that later on in this class. All right, next up is our Wi-Fi connection. And so the camera connects up to a smart device using Bluetooth or Wi-Fi. I'm gonna run you through some of the things that it can do and then we're gonna see if I can actually get it hooked up and take a photo of myself using the Wi-Fi app on the camera. So let's talk about what it uses. First off, it's using something called SnapBridge, and this connects from your camera to your phone using Bluetooth or Wi-Fi. It's a app that you can download for Android type devices or iPhone system. The idea with this is that kinda the primary system in the background, it's using Bluetooth, and it's doing all these sorts of things that you see over here on the right side. It's kind of backing up and communicating with the camera. Allows the camera to communicate back to Nikon and update firmware, get the correct geotag, time syncing, data imprint, allows it to do. But if you really want to do kind of the cool stuff which is downloading photographs, remotely firing your camera, you're gonna need to use the Wi-Fi portion of it. Now, in a very general, backed off skene of this, this is horribly confusing in this and pretty much all cameras. I dive into this stuff all the time, and even though I should be really familiar, 'cause I've hooked up Wi-Fi on dozens of different cameras, it's still a little bit complicated, there's still a lot of steps, and so I think all the manufacturers still have a lot of work to do in order to really suss this out and make it better. One of the big problems is that if you leave this system turned on a lot, it's gonna wear down the battery in your camera and in your mobile device quite a bit, and so it's something that you generally leave turned off. And so if you want to use SnapBridge so that it automatically sends photos to your phone, that's fine, it's gonna consume about 20% of the battery power when it does that. So the way that I'm gonna show you to hook up is the easiest way that I have found to hook up, and there's a number of different steps. And so I'm gonna walk you through what those steps are and then I'm gonna actually do it myself. All right, so with your phone the first thing you need to do is you need to download Nikon's SnapBridge from whatever app store that you use for your phone. Step two is to come on to the camera, you can go through the shortcut menu here or you can take the longer route through the menu which is what I'm illustrating on the slide here is you go into the menu, you connect to smart device, you select Wi-Fi connection and you tell the camera to establish a Wi-Fi connection. After that you can go up to the phone, open SnapBridge, there's gonna be some menus that we'll go through, and you'll see all this. Connect to camera, you select the camera, and then you want to do the Wi-Fi connection, and then you need to go into your phone settings and select the Wi-Fi signal from your particular camera, enter the password if you've chosen to do that, and then tell 'em that you want to use, that it's okay to use in SnapBridge. And then finally after there we can download our photos and we can go to remote photography. And so as far as the images that are downloaded to the phone those are going to be JPEG images. So let's go ahead and give this a try here. We're gonna leave this slide up for me to follow on screen, and so we're gonna get our camera out and we're gonna get our phone out and I'm gonna take it off some of airplane modes so that I can now work with this system. And so I've already downloaded the app on my phone, and so what we're gonna do on the camera is we're gonna go into this Wi-Fi connection right here. And I'm gonna show it to you here, and so it's gonna establish a Wi-Fi connection with a smart device. And so I would normally hit OK, but I want to show you real quickly where this is in the menu system. And we are gonna take a look at this later in the class as well. But in the setup menu, if we come down a couple of pages, I think on our third page, our fourth page, connect to smart device. And we're gonna go to the right on this and we want to do a Wi-Fi connection, and we're gonna establish a Wi-Fi connection. And so now the camera is creating its own Wi-Fi signal, and it's sending a signal out and it's telling us information here. And so what I'm gonna do is I'm gonna go on my phone now and I am gonna open SnapBridge and we're gonna go through the steps here, the entry steps. Okay. So let's see if we've, oh, well, you know what, I may need to go back into the settings real quickly here and make sure that Wi-Fi is turned on. And here is our Z 7, so I'm gonna select Z 7. Now I need to enter the password. So if you'll give me about 20 minutes, I'll be able to enter this password. And so I'm gonna slowly enter the capitalization for Nikon. And the Z, underscore, and seven, and I think I got it right. Hopefully I won't have to do it again. And then we're gonna wait for it to get the little check mark on it. Got the check mark. Okay, so now I know that the two are connected via Wi-Fi, so now I'm gonna go back into SnapBridge, open this up, and one of the options is we can download photos. And so now it's connected up, and you can see all the photos that I've been taking, and if I want to download a particular photo, I can choose to download that photo. That's not too much fun, so we're gonna go back out of this and we'll go to remote photography. Now, because I've hooked the camera up prior there was a step that I did not show you here where it asked me what camera I was using and if I wanted to get connected up with Wi-Fi. And so now if I want to take a photo, I can take a photo using this as my remote viewing device. There are some things that you can do in here, I'm not gonna go through a full-blown tutorial on the apps because it changes and in a year it's gonna be different most likely. We do have a video section here where we can shoot video and switch over to stills remotely. We can come down here to the bottom, control our various features. Currently, my camera is set in aperture priority. So if I want to come down to aperture and select a different aperture, I can select an aperture. If I want to do exposure compensation, this is a little on the bright side, we'll darken it here just a little bit. If I want to change the ISO let's bring this down to 3,200. White balance, I'll leave on auto. There are some things that you can dive in here, you can turn off this live view if you want. You can download pictures, self timer. Not a lot of controls. And the idea is that you can pick this up and get yourself into the photo. And so if I want to get in the photo, I can take this remotely and now I can jump over here and I can see if I'm standing in the right spot or do I want to be over here or maybe I want to be over here and then I can hide the phone down here and take a photo, get myself in the photo while being separated from it. And so that's the basics on how you hook up with the Wi-Fi system. Now, you can also use Bluetooth. There's a number of different options where you can have the camera download images automatically to your camera, into your phone or your computer, and so we're gonna talk more about this as we get into the menu sections, but this is just kind of a quick overview of how to hook the camera up to your phone. So I'm gonna go ahead and shut my phone down and make sure that I am out of the Wi-Fi. Connect to smart device, Wi-Fi connection, so it looks like I am off on that. Okay, so that is the Wi-Fi section. Next up is the release mode, and this controls what happens when you press all the way down on the shutter release. Are you taking a single picture or is it continuously firing? So the first and most obvious option here is the single shot mode, and this is if you want to take one frame at a time for basic photography. For the motor drive we have a couple of options. We have continuous low, which is gonna be anywhere from between one and five frames per second. And if you would prefer it to be three or four, for whatever timing needs you might have, you can press the down arrow on that control pad on the back of the camera to select a subcategory on this. We do have a continuous high setting at 5.5 frames per second, and then we have continuous high extended, which will get us upwards of nine or 12 frames per second. Now, the exposure will be locked between all of these images as you shoot them, so it can't adjust for brightness level changes, which usually doesn't happen that much when you're shooting with a high speed motor drive, but in any case it is gonna be locked and there is gonna be some restrictions with what you can see in the viewfinder. And so when shooting action and moving sports, you may want that extended if you really trying to capture a particular moment in time. If you're trying to follow your subjects, it might be easier to set it at the standard high setting at 5.5 frames per second. And then finally we have a self timer so that you can get in the shot yourself or you can have a delay when you press the shutter so that vibrations settle out if you are working off of a tripod, and so you can select two, five, 10, or 20, once again, by pressing down on that. Let me give you a quick little demo on how that works. So let's go ahead and hit the i button, come over here to the shot mode. I'm gonna press OK so we can see a little bit more clearly what's going on. And so if we want to go into low, we press down, and then we can shoot it one, two, three, four, or five frames a second. I'm gonna leave it at three and press OK. If we want to come in here and select the self timer, we can go down, two second self timer, if I'm using like a tripod and a big telephoto lens, I might want to use a five second self timer in that case. And you can also come down here and choose the number of shots. So if you're gonna do a group shot, what I always do is I always shoot maybe between three and five shots, because somebody's gonna be blinking or they're not looking at the camera on one of the shots, that gives you more chances without having to go back to the camera repeatedly over and over again. And so we'll leave this back on single for now. All right, next up, very important mode here, this is the AF-area mode, and this selects where in the frame are you gonna focus. Are you gonna use a small little point, you gonna use a medium or a large-size point? So let's talk about the focusing system in both the Z 7 and the Z 6. First off, there's a different number of focusing points. If you have a z 6, don't feel short changed, 273 is more than enough points for doing virtually anything. The size of the points are slightly different, I don't really see that being much of a difference for most photographers at all. And so it's using on sensor phase detection sensors, they're gonna be very accurate. They're reasonably quick, it's not the fastest focusing system in the world, but it is very accurate. I have found that they are significantly better with vertical lines and worse with horizontal lines. And so be aware if you're photographing a picture frame to focus on the vertical line rather than the horizontal line, it seems to be a lot better at picking that up. So let's look at the different options that you have between these cameras. The first is a pinpoint option, which is the smallest possible area that you can see in there just about, and this is gonna be fine when you want to be extremely fussy about where the focusing point is. This only works with contrast detection, so it might be a little bit slower, and it's only gonna work in the single autofocus mode. There's single and continuous, I'm gonna talk about that more in the next section, but it only works in the single mode. Very similar but noticeably different is the single-point AF, and this is the one single point on whatever size camera you have, it's good for stationary subjects, will work in single and continuous. Now, the difference between single and pinpoint is, number one, the size of the area. The second is how much the area moves. In a single-point, it's gonna move a full box, and so every time you move it's like let's move to the next box over and the next box over. With the pinpoint area, it moves in sub-box level, it moves just a few pixels at a time. And so if you want to be extremely accurate about where you are focusing, the pinpoint will allow you to be very, very accurate, and that is with the Z 7 or the Z 6. Next up is a dynamic-area autofocus, which is a single area with, what do we have, eight points around it also looking for information in case something is not in that particular box. Now, this will only work in the continuous autofocus mode, so be aware that it's not always available. Depends a little bit on what mode you're in. We then have a couple of little bit larger boxes, and these might be better for general-purpose, not so specific focusing, 'cause it gives you a little bit larger area to work with, and it might be a little bit faster in picking up focus 'cause there's more things in these box areas. So we have a wide-area small for general subjects and then wide-area large. And you can choose whatever one is appropriate for the subject you're shooting. And then finally we have auto-area, which is the entire area, and it chooses whatever is closest to you. And so we're gonna be using all 273 or 493 focusing points, works in continuous as well as single. So when you are in choosing these different modes, you can use the joystick on the back of the camera to control where that focusing point is. And you can also move the selector on the back of the camera for moving the focusing points as well, whatever one you want to do. All right, so the auto-area, one of the things that we can use in here is face detection. And so if you do have faces, it will recognize a face and if there are more than one face, you can go left and right between the different faces by pressing left and right on the selector on the back of the camera. Now, for this to work, the camera has to be in auto-area AF face detection. The face detection only works in this one AF area mode, and you have to have this feature turned on for this to work. It does work very well, and there is an announced firmware update that is currently not available as of today's filming, that it's gonna be able to do eye AF, and I don't know where Nikon is going to put that in the menu system and how you turn that on, it'll probably be pretty similar or next to or a subsection of the face detection focusing system, and so that'll be a future advancement of the camera. And that is actually coming pretty soon, and so if you're watching this live, it's gonna happen pretty soon in the next couple months is what Nikon says. So one of the other cool things that you can do in this camera is tracking. Let me explain how it works and then I'll do a little demo for you. When it is in the auto AF-area mode, you can enter into a tracking mode by pressing the OK button. You will then get this white box which you can place over your subject and you can engage it by pressing the OK button again or by pressing the shutter release. And then it will track the subject around the frame as you move around. It's pretty quick, it's not super, super quick, and so there are limitations to how to do this. You can also use just touching the screen for it to work as well. So let's go ahead and give this a try. So I am going to make sure that my camera is in the large area, the auto area AF, and so I'm gonna hit the i button and come in here and make sure, and we do want the auto area AF, the one on the far right and hit OK, at the shutter release. And you'll notice that it says okay down here at the bottom for tracking. So I'm gonna hit OK, and there is my box. And let's see if I can move my box up to this orange vase up here on the top. So right there, now I can either hit OK or I could hit the shutter release. And I'm gonna do the shutter release. And now it's locked on to that box. And as I move that frame around, you can see that it is locked on to that box wherever it is. Now, it's a little bit slow, it's not staying perfectly on there, but it's pretty good at keeping it in the frame wherever I have it. And then I can shoot a photo with it focused on that subject, as you can see when I press halfway down, it's tracking it and focusing on it as well. And then if I want to exit, we can see down here, we hit the minus sign, and that exits us out of the tracking mode. Now, the thing that I have found about this camera is that it does a pretty good job at tracking subjects in the frame, left and right. Now, as far as tracking the subjects coming towards you and moving away from you, that's gonna depend a little bit on the lens that you have and how fast the subject's moving. It's good but not fantastic at tracking fast action, and so if you're photographing a football player that's weaving around, coming straight towards you, may not work 100% in all cases. And so you'll have to test it out with the types of photographs that you like to take to see how well it will work in that situation. Next item we're looking at is the white balance in the camera, and this is making sure that white objects are correctly color balanced when they're photographed. And this deals with a Kelvin scale that goes from red to blue, and there are a lot of different settings depending on the type of light and the color of that particular light. So there's gonna be these very common settings that you can use in your camera. There is an automatic setting which will automatically set it for you, and there are actually three automatic settings that will correct for the light in different amounts. If you set it to AUTO zero, it makes sure that the white things are absolutely white. With the one and the two setting, it keeps a little bit of that natural light if you would like to keep a little bit of that ambient light, which can be nice depending upon how technically perfect you want the color balance in your images. There is a Kelvin setting where you can set a particular Kelvin temperature if you know exactly what the Kelvin temperature is or you're trying to match up multiple cameras, you can do that as well. And finally there is a preset manual where if you don't know what the correct color is, you can figure it out and let the camera help you out. Now, the way you do this preset manual, gonna show you the steps here, is that you can be shooting under unusual light sources and get very clean results, you might say correct color results, under those unusual results. Now, this is the steps that you're gonna need to do, and I'm gonna walk through this here in just a moment 'cause I'm gonna do a little demo on it. But you're gonna need to select a preset, there are six different memorized settings. So you can have six different environments preset to know exactly what the white balance is. And what we're gonna do is we're gonna go through this, and I'll do this right now on camera for you. So what we're gonna look at is we want to get the correct color balance for working here in the CreativeLive studio, we've got lights that are different than sunshine and they have their own color balance in here. So I'm gonna hit the i button and work our way down to the white balance. And what I'm gonna need to go is to the preset white balance and so I'm gonna move along our different options until I get to preset. And then I'm gonna be able to go down, and I can select a particular area. And you know what, we're just gonna do D six, and that's gonna be the CreativeLive studio for this. Now, we can do adjustments by going down and we could actually tweak the color in here if we wanted to, but we're gonna do it by taking a photograph. And you can see, actually let's go back in, make sure that we're in D six. And we're gonna hit OK. And what we're gonna do is you see okay in this line, that means we're gonna do a measurement. And I'm gonna hold up a white piece of paper, and I'm gonna throw my camera into manual focus 'cause I don't want it to try to focus on this. And I'm gonna hit the OK button for a couple of seconds, and now we're engaging the system for checking it out and we're gonna press OK to measure. And if I wanted to, I could move the box around. But I can also move the paper around, that's pretty easy. But if you're on a tripod, you can move it around. And so to measure I'm gonna press OK. It takes a test photo, the data is acquired, and so now in this setting I have the white balance set to this particular environment that I'm in. And so if you work in unusual environments, that can be a very good system for making sure that you have the correct color and you're getting appropriate color for everything you're shooting. And so that's the preset manual option. Next up is the image size. Before, we were talking about file type, like JPEG and RAW, this is referring to the number of pixels that we are recording. And it's gonna refer to them, whether you're shooting RAW or JPEG, you can shoot in small, medium, or large size options. And so for either of these we're gonna have slightly different numbers for the Z 6 and the Z 7, and in general you want to be shooting with the largest file type if you don't know what you're gonna be using that image for. If you're trying to take high quality images, you definitely want to shoot it in the large setting. The reason to shoot it in medium or small is if you know what the final use is of a particular image. Let's say you're gonna sell your car and you're gonna take a photograph of it and you're gonna put it on a bulletin board, whether that's a physical bulletin board or an online bulletin board, and it's a basic picture of your car. You probably don't need six or 8,000 pixels on the long side for a photo of your car if you're just gonna sell it and you just need a snapshot to show what it looks like. And so if you know you need a final image that's relatively small in size, you can save some file space by setting it smaller. But in general if you're trying to take high quality images you'll want to set this on the large size. Next up is the metering mode, and this is how the camera reads light coming into the camera for exposure. The main option on this camera is matrix metering. It breaks the scene up into a number of different areas and compares and contrasts the highlight and the shadow areas, and it's good for mixed, all purpose lighting. Most people that I know that shoot Nikon leave it in matrix anywhere from 99 to 100% of the time, it's very, very good. Now, kind of interesting, 'cause having been a Nikon user for a long time, there's very little information about exactly what's going on in matrix. Before, it used to be five segments or 1,005 segments, or a 3D matrix, and this is just back to plain matrix. And there's no clear information that I could find about, well, how many segments is it broken up into and what's going on? And it's a little bit Nikon mystery, but it's good stuff, 'cause they do a very good job with it. Next up is a more traditional system, it's called center-weighted. It measures the light most heavily right in the center of the frame. If you want to be a little bit more precise, you can use the next one which is spot metering. And this was very popular with some portrait and landscape photographers who want to be very exacting about their metering and they want to measure the light in one particular area. And so if you have a very light or dark background, this could be a good way of getting an accurate meter reading of your particular subject. Highlight-weighted is a somewhat new one to Nikon, it's kind of interesting. What it does is it tends to look at the entire exposure and tries to make sure that you don't have a lot of overexposed area it. And this could work out quite well for many people in many situations, and so you may want to experiment with the highlight-weighted system. And so it's just trying to prevent highlights. And so in some ways it's looking at the histogram and trying to make a smart decision about that. So I think that's probably one of the ones that I would want to experiment with and to see if it works well for you in your photography. Our next option is active D-lighting, and this refers to working with JPEG images and adjusting the color tones and the curve of the lighting in it. And so quick example here, we can disable it, we can turn it on different settings of low, normal, high, or extra high. And what it's doing is it's typically brightening up the shadows and preventing the highlights from getting too light. If you're familiar with histograms, you can see how the histogram is altered and it's trying to push all that information more towards the middle of the area so that it does not have quite as wide a range in the dynamic scale. And so I was doing some tests out actually just yesterday with this, 'cause it definitely works on JPEGs, and it works in RAW but only very, very limited amount. And so you can do it, you're probably just fine shooting RAW and adjusting the light levels and shadow levels and highlights afterwards. But there's a smaller effect in RAW than there is in JPEG. And so main reason to use it is for JPEG images. The camera does have a five axis stabilization system built into the sensor, and so it works on the X and Y, and so if you move the camera up and down, left and right, as well as roll, pitch, and yaw. And there is an off mode, there is also a sport mode, which does make it a little bit easier when you are tracking action because it doesn't move around as much and you're able to follow the action a little bit easier. And this will work with older Nikon lenses and even manual lenses and other adapted lenses. So it's a little bit different when you adapt 'em, we'll get into that later when we talk about lenses, but it's a great system to have in the camera. Ideally when you are working from a tripod you would turn this off because it could potentially move on its own, causing blurriness. I haven't seen it to be a major problem, but still under best practices it's best to turn it off if you know you're shooting from a stable tripod. The final item in our i menu is our focusing mode, and this controls how our camera focuses when it's focusing. The first option is single autofocus, and this is where the camera will focus once, figure out the subject, and then lock the focus in. And this is gonna be good for basic photography, allows you to focus and recompose on the camera in an easy manner. The continuous system is for tracking subjects. And so when you press halfway down, it starts tracking the subjects. A word of caution, for very fast moving sports action this camera is a little bit slow in keeping up. It's not as fast their traditional DSLRs at this time in keeping up with that fast action. So for professional athletes moving at top speed, be careful with your results. There's limited ways in which this can keep up with those very fast-moving subjects. AF-F is a full-time autofocus, and this is gonna be used in the movie mode. And so when you have this turned on, just as you are just holding the camera recording video, the camera is constantly adjusting focus. And this is gonna be appropriate for kinda what we would call mom and pop weekend videos, just very general, basic videos. For the professional who's shooting a much more exacting video, you're gonna probably want to be in manual focus and racking the focus yourself. But for simple, basic video, this will do a good job. And then finally, of course, we have manual focus. There are switches on the outside of the lenses as far as we've seen what lenses they've introduced so far, but you can also select to turn it off in the camera as well and that could be handy if you're working from a tripod and you want to be very precise about manually focusing on a particular point. So that is our i menu. Once again, we have lots of different quick options we can get to. If you do not like these options, they can be fully customized by going into the custom setting menu under f or g, the controls or movies setting, and you can replace all of these with settings that you might like. You can also have 'em different between when you are in the movie mode and in the still mode. And so we'll go in and I'll show you how to customize all of that when we get into the menu section later on in this class. There is a little tiny light right next to that i button that lets you know when the card is being accessed. Generally you're gonna see this once you take a photo and it's writing that information to the card. If you shoot through a large series of photographs, that's gonna light up and you're gonna know that the camera is writing all that information from the card. You probably don't want to turn the camera off, although the camera will just continue to work. The worst thing to do is to take the memory card out of the camera when that light is turned on, don't do that. We have our multi selector which we use for navigating the menu system, moving the focusing point around. The OK button, used for confirming things. Also if you want to move the focusing point back to the center of the frame, you press the OK button. The menu button takes us into the deep menu of the camera. So there is literally about 200 different features in the camera, and we will be going through all of those in the second half of this class. The camera has a direct button for the drive mode. We talked about it in the i menu button. So we're not gonna go through all the options here, but single, continuous, and self timer. Next up we have a zoom in and zoom out options. We saw earlier in the playback how we could zoom out to thumbnails. There's also a question mark by this. So when you're in the menu setting, you can press that for additional information about some of your images. But this is a very good way of going in to check to see that you have proper manual focus. So I'd like to do a little demonstration here, and what we're gonna do is we're gonna manually focus on our scene. Let's go ahead and get it set up. And you can see as I turn, I've already put the camera in manual focus, you can see a little scale down here on where we focus. But if we want to focus, what you want to do if you want to check focus really sharply, let me get this kinda centered up in the right spot, is you want to zoom in. So you hit the plus button, and you can zoom in and you can move your focusing point around, and now I can focus. Okay, does that look pretty close right there? Okay, so let's zoom in a little bit further. And we can see that's still not quite right, and so I'm gonna adjust focus a little bit more and so I can get focus exactly right. And so if I was set up from a tripod and I absolutely had to have perfect focus, I would manually focus using that zoom in, zoom out option. And you could, of course, use this in playback to check your sharpness of your images, but you can do it live before the shot and then manually adjust focus if you want yourself.
Class Materials
Nikon Z7/Z6 Recommended Settings
Ratings and Reviews
I love all of John Greengo's classes. Now he is a Canon man but he gives the Nikons a fair review and his lessons on them are excellent. I have the Z6 and I picked up a several pointers I had not run across yet, so this course has paid for itself already. The only negative I have, and hopefully this is because the course was streaming, but the camera focus was off when the video was zoomed into the Z camera. John may need to give the creative live camera operators a lesson on focusing. Great informative course at an excellent price.
Thank you very much, John! I've been using Z 6 for 18 months, so far, and now I've got Z 6 II as well and your training about these cameras is just an excellent job. Of course I've been following you in other trainings as well, like "Photography Fundamentals" (or something like that) and I've got some of your books too, all excellent, but with this Z 6/7 training have been useful to learn some new things and to remember others already forgotten. Thanks a lot!.
Loved the class. Just bought the Z6ii (waiting for it to ship) , so this is a great introduction. Would greatly appreciate it if John could add one more chapter to this class - Tell us about the Z6ii and Z7ii updates. It seems Nikon has addressed a lot of the concerns (particularly 2 card slots), so it might be very helpful for folks trying to decide on which camera to buy. Thanks!!!
Student Work