Master Video Marketing for Your Business
Lou Bortone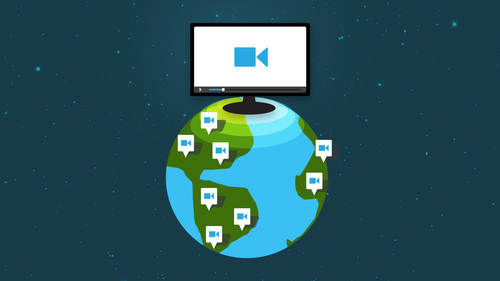 Master Video Marketing for Your Business
Lou Bortone
Class Description
Video can bring your business to life. When you produce a video to market your business, you can connect more deeply with your audience. Join video marketing expert Lou Bortone for a course that will cover everything you need to know about using video to grow your business.
In this course, you'll learn the basics of easy, seamless video production, and how to create video that's reflects your brand and resonates with your audience without requiring advanced gear. You'll also learn the most effective ways to distribute and share videos online and how to convert views into customers and fans.
Join us for a comprehensive workshop on marketing your business by creating video that is compelling, distinctive, and profitable. 
Class Materials
Lou Bortone - 10 YouTube Hacks CL.pdf
Lou Bortone - 5 Pillars Worksheet.pdf
Lou Bortone - Engage Prospect and Create Raving Fans.pdf
Lou Bortone - Leverage Ladder Worksheet.pdf
Lou Bortone - Video Content Planner.pdf
Lou Bortone - Video Marketing Rules.pdf
Lou Bortone - YouTube Booster Effect.pdf
Lou Bortone - YouTube Optimization.mov
Lou Bortone - YouTube Tour.pdf
Teaching and Presenting Handbook 2nd Edition.pdf
Lou Bortone - 10 Places to Post Your Video.pdf
Lou Bortone - 10 types of Videos.pdf
Lou Bortone - Lous Video Tools and Resources.pdf
Lou Bortone - Video Script Template.pdf
Lou Bortone - Video Vision Worksheet.pdf
Lou Bortone - Syllabus.pdf
Ratings and Reviews
One of the best video marketing courses! Lou presented a comprehensive overview of the best and latest technologies that make video more accessible and doable - for beginners and advanced users. The course is filled with terrific resources and how-to guides that save hours of searching on your own. I watched the live broadcast and purchased the course for ongoing reference. Lou's expertise and years of experience really make this course an amazing value. It's well organized, fun and includes fantastic guest speakers. Thanks CL and Lou!
This was a really great course. I am definitely going to apply what I learned. It was so much information that it will literally take me months to apply it all, but building a business is a long game. I loved how Lou mixed high level strategy with the specifics of how to use key tools and recommended a variety of useful resources. This course was very practical. I've already started applying it and have a basic blueprint for my way forward that I will flesh out as I make more progress. I definitely know I'm going to add a lot of success to my business through what I learned in this course.
Hi Lou, I bought the replay up sell so that I could listen and watch when it fit my schedule. So far I've watched the first 3 videos. It's great and I'm so glad you put all this together. The handouts and bonuses are useful, too. It's obvious you are a master at video and I'm happy to learn from you.
Student Work