FAST CLASS: Fund Your Business for Growth
Worst Starter Debt Deal: Payday Loans
Susan Schreter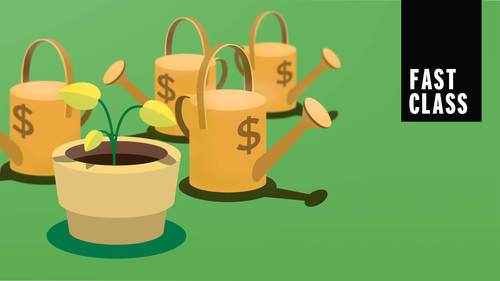 FAST CLASS: Fund Your Business for Growth
Susan Schreter
new-class
Get access to this class +2000 more taught by the world's top experts
24/7 access via desktop, mobile, or TV

New classes added every month

Download lessons for offline viewing

Exclusive content for subscribers
Lesson Info
5. Worst Starter Debt Deal: Payday Loans
Lesson Info
Worst Starter Debt Deal: Payday Loans
let's talk about quote payday lenders. All right they may not call themselves payday lenders recently in my neighborhood, a payday like loan company opened up and had a big sign that said business loans. Uh I'm going to go around the pacific northwest to all the different sources of business payday like loans where I can get $1000.7000 dollars from my for my business on a short term basis. Usually these loans roll over every month so they're going to give me the opportunity to pay back the loan at the end of the month. They are going to quote you a rate based on one month. Now what happens in credit card land? They quote interest rates on a year basis. Right so right then and there comparison shopping gets tricky. So when I went around to these payday lenders I would ask them questions and say what does that mean? What's the A. P. R. On your loan? What's the annual percentage rate? And they wouldn't answer me? They say oh oh it's just It is just 2. a day. It is just so when you're deal...
ing with these services and they would not go off script. Oh well you have to calculate that. But it is just this just so you're working with people behind the desk who are not going to be candid they're not gonna do that. Your work for you. But I'm gonna teach you how to dial it back. So you can be that comparison shopper. This is your money chart. This is a chart that you can use for any kind of lenny relationship online lenders. Offline lenders or even comparing credit cards. So if you need $ I want you trying a lot of different places but I want you to shop for the best deal now my neighborhood payday lender. Are they requiring a personal guarantee? Yes. Will you be able to negotiate out of it? Probably not. They're probably gonna ask do you have customers and they may want to ask how much you know monthly revenue you do with those customers. Okay. On credit cards, if you already have a personal card, nobody's asking you your monthly revenues on the professional credit cards, there probably is going to be like a little box for you to fill in your monthly or annual business revenues. But again since you have to personally guarantee it, you're not getting anything more from the professional credit card. You don't even have to offer information about what you're, you know, monthly business income. You may have to write down what your personal income is. Right average closing fee. I went online to compare different credit cards. If you're asking for $1,000 cash advance. It is not uncommon for them to charge an upfront fee. It may be called an origination fee or just a fee. Highest rates I've seen pretty much 4%. You may get a special deal of two or 1%. But I want you asking how much that is. So on the $1,000 cash advance that's $40 out of your pocket with the credit card. Now let's turn over to the payday or this Lender be option. And again, we're looking for $1,000 in cash for one year, right? Because it's likely you will not be able to pay back that money as fast as you like. All right. But still The payday lender and this is a very common rate. 10%. So right off the bat It's 10, you know, For your $1,000, that's 100. But what happens in the second month? Remember they are only loaning you money for 30 days, but the person behind the desk will say if you can't pay it, that's okay. Well just automatically renew the loan. What happens the first day of the second month bingo, another origination fee or another fee added to your total, You now owe an extra $100 with the credit card on the cash advance. These are one time charges, average interest accrual. I like it when you can mark and determine the daily rate an annual rate payday. So if the credit card company is charging you an annual rate of 25%, what do you do to get it to the daily ring? Exactly. Exactly. You divide it back to a daily rate. There is 365 days. Some lending organizations, we use a 360 day basis, but it's pretty close, right? So .06%. But our payday lender Is .25. Only 25 a day. Beware when somebody says quote a daily rate and only daily rate, it is going to be monster big by the time you're done. So now right away we're going to do the math. That daily rate, let's reverse it back now becomes 91%. What's our effective one year rate? 28.6 for the credit card versus 210 for the payday lender. I must say that online, even if they're not around the corner, some of the resources you may find online quote rates like that, that's okay. And some of them may have the best rate for you. Not likely. I want you to be aware of it. Good shoppers work the daily rate and the annual rate. If you've got one, you can always back down to the other comparison shop, make it apples to apples. Don't let somebody snooker you when you hear it's only this strike the only, Let's even drive down further, the 30 day rate six vs 17%. The secret of your success is found simply. I know this is a chart of numbers. Trust me and try it yourself. Ask about the closing rate, is it a one time fee Or does it renew every 30 days? You can ask that question, Find it in the agreement, look for it Origen, they may call it a closing feet and Origination feet, whatever kind of look for it. Are they charging you a daily rate or an annualized rate? What's wonderful about credit cards is there are so many resources online that will pop up and show you what the daily and you know, the best credit card deals out there. Now. You were an empowered shopper. This stuff is easy to find because on personal credit cards, what must those companies do? They must tell you what this is. This is the big, scary slide. I don't know if everybody in the audience has seen it. What does the cash advance? You might need $1,000 cash advance, which is your better deal is great shoppers. The credit card $2,100 is the cost through the payday like financing source, what could you do with about 18 $1900 difference in your company to buy a lot of google ads, right? But that's lost cash. And what's worse is you didn't get a customer for it, It didn't buy you much. It's cash down the drain. So this is where numbers can be so empowering. Here's the difference in a pr Yeah, I like your expression on your face right there. It was the shocking view. Alright. If somebody said I never came across in all the research when I was interviewing and going to these different payday lenders by the way, we're gonna charge you 390%. Nobody ever said that to me, I kept trying to get them and I'd say Boy I'm doing a little bit of math, I could that be a couple of 100%. No no no no we only charge .25 of you know, they kept to the script.
Class Description
Ready to master the principles of business funding without frustration? Join financial expert Susan Schreter for a deep dive into debt and equity.
Susan covers everything you need to know to fund a business from inception onward. You'll learn about how to safely borrow start-up funds from friends and family, and how to research and apply for loans, including micro-loans and SBA loans. You'll also learn about a wide variety of funding types and the requirements or restrictions attached to each of them. From angel investments to venture capital to crowdsourcing, Susan demystifies potentially confusing funding concepts, giving you the skills you need to confidently grow your business.
Whether you're just setting out as an entrepreneur or a long-time business owner, this course will help you ensure your business's long-term financial health and profitability of your business.