FAST CLASS: Fund Your Business for Growth
Getting In VCs - No Mba Required
Susan Schreter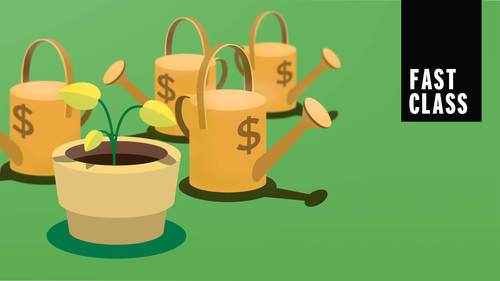 FAST CLASS: Fund Your Business for Growth
Susan Schreter
new-class
Get access to this class +2000 more taught by the world's top experts
24/7 access via desktop, mobile, or TV

New classes added every month

Download lessons for offline viewing

Exclusive content for subscribers
Lesson Info
16. Getting In VCs - No Mba Required
Lesson Info
Getting In VCs - No Mba Required
getting in the door, We're going to focus On get a personal introduction. Here's one thing that has changed as far as VCS and their websites than 10 years ago. It used to be you'd see a little click saying, send your business plan or you'd even see the email address of the fun partner. But that's been taken away. Why? Because everybody's email addresses are spammed by, you know, scam artists and so forth. And we've actually raised the bar. It's too easy for you to just say click and send. And then what do we get? We get a business plan. Let's raise the bar. How do we, if we get couple dozen new business plans every week or every month, how do we narrow everybody's got great ideas? How do we separate the men from boys, so to speak? How do we create a hurdle that will say something to us about you and your level of persistence? How much you really want our cash. And so here's the bar. We want you to find a way to get to know us. We want you to do some homework. We want you to find somebo...
dy in our world somebody we've already done business with to get you to get them to give you our email or a personal introduction. No, that's my gosh, how But you're cold calling? Aren't most of your customers going to be a cold call experience? Aren't you gonna have to research to find the names of the buyer? The top buyer at Corporation X Y. Z. So this is a good little asset test. We want to see how great you are at sales and muckraking and how determined you are. Are you like a howard who will keep digging and finding, you know, I'll take 10, you know, 100 knows to get one. Yes, that's the entrepreneurs we want to invest in. So who's in their network. Start out, focus on finding the partner at the website that invests in your deal. We talked about that before. Okay. Guess what is usually next at that same website is a list of companies that that company that partner sits on the board of directors. Why not reach out to the founder? Especially if they live in your community? Why not follow those partners on twitter now? Don't hound them. Only reach out when you're ready to go. Why not find out what the name of the corporate counsel that that fund uses all the time to negotiate their term sheets. Be even more creative. Um, there's one VC I know who's an Uber, you know, participates in 100 mile runs. Okay. Go find out where he's one. Right? Engage them do some homework. You can probably send your deal in, but you will be received better with a personal introduction and it doesn't have to be where they have to say, we think this investment is great, but say just try and meet with somebody in their world and create that connection. You will find where they went to school. If they got an M. B. A. What they like, what they care about where they came from. It's easier than it was five years ago to find out about people. I don't want you to hound them. I want you to get a gentle introduction through somebody that they value already. And at the same time, you can say, can you tell me more about that fund, your experience with this person? You can learn a lot more in that process so that you hit it off with that fund manager? Yeah. This is a must if you want VC funding, no way around it. It will put you in the possibility versus maybe we'll eventually get around to this. Don't underestimate the value of the analysts in funds to. Usually I get people who say, well I'm only going to the general partner of the fund. Okay. When the general partner be the absolute busiest person in the fund with the most responsibility, the most deals, the most things that that person has to watch out over. But yet there are some analysts who have tremendous power a little bit farther down the food chain whose job it is to actually read the entire business plan. And if you engage that person, you are taking a big step forward. Don't necessarily have to start at the top to generate that deal momentum. The other thing, I really caution people from targeting one fund at a time. I want you to fund or target every single funding potential angel level V. C. Level and go after all of them great guns at any time. Things entirely outside of your control can slow down progress at one fund. Suppose one of their portfolio companies has a major trauma that will require that fund manager to just drill down on that existing investment. Existing investment traumas rank higher than new investments because they've already deployed their capital cover all ground, find out what's on that person's plate. It may be a month later, two months later that VC may have more time, keep them engaged but keep working on other people. I want you out there and you don't stop soliciting new funds until you sign a term sheet that forbids you to solicit new funds ideally. I want you to have five term sheets that you have which are proposals of what each fund will invest in your company. Because guess what? At that point you can start picking and choosing you get to be the bigger shopper. You have a little bit more negotiating power. Or you may feel you just have a better feeling that this particular fund understands more about what you're doing and is a better funding fit than the other one. You don't stop even if the V. C. Compliments you loves you is asking great questions. Don't stop looking elsewhere. You don't have to and I don't recommend you telling this fund who else you're going to? They will the smarter you are and the more the VC respects you, they will expect you to be shopping elsewhere. Um Personalized short emails. I hate it when I get long emails that just go down pages and pages that just ramble. And usually the last paragraph is the only thing worthwhile to be said. You know, especially think about what we see on our cell phones. We see a headline, make it wonderful. Make us want to click and actually read what you're sending to us. Do not regurgitate everything about your business in an email with an attachment document, keep it short. If you have progress to report, make sure it's meaningful progress. I don't 20 progress points. No. Give Me three and make sure they matter. Have you booked a customer? Have you completed something? Don't tell me about something that may be happen. Maybe will happen. Don't tell me if somebody tweeted something favorable about you. Yeah, you're wasting my time. Am I gonna want to read more of your emails like that? I show me you get it. Show me you don't waste time. Tell me important things briefly and succinctly show me, you know how to prioritize and know what's valuable progress competitors. We touched on this a little bit before. Usually first time entrepreneurs, they don't want to talk about the competition, but yet I find wonderful value in your competitors and understanding the weaknesses and strengths of your competitor. Usually everybody's knee jerk reaction is to focus on the strongest competitors in the market. I love it when I brainstorm with entrepreneurs to find out the weakest existing competitors out there, the ones that annoy and piss off their own customers, they are likely to be the low hanging fruit, the ones that you can easily steal their customers and bring them into your fold. The more you spend understanding where people are buying now for something similar or close to what you will be selling may have the gold for you to get new customers in faster. Pay attention to this, I said earlier. It may be a competitor, much larger competitor that becomes your ultimate buyer or instead of a competitor just following your lead and doing replicating what you do that competitor may say you're a great candidate to come up with a strategic partnership. There is gold in here. We love it as investors when you can partner with other companies, even competitors to get your business to a higher level sooner. With less risk. Look for those opportunities here, especially at the seed stage. Don't take it as a criticism. If we keep drilling down about your competitors, listen to how the VCS size up your competitors, you might learn something new. This is the way entrepreneurs who get funded. That's their brain. You know, their mindset. A healthy attitude about the competition. Do not ever say to A V. C, we have no competitors. You do. You do your product or service is not that extraordinary that the landscape is completely empty. And if it is really true that there are no competitors for what you're buying or selling, it may not be worth investing in. We want it where customers are now willing to write checks. This is huge, especially at the seed and early stage level. Your numbers, your products are not proven yet. So where you fit in against them will matter in how then venture investors size you up. Don't repel, engage on these conversations. Also think about in a healthy way some of your competitors are going to copy what you do. They might change it up in a different way. You might end up being the Trailblazer. Don't fear those conversations. Okay, embrace them and say to the VC, this company, I'm guessing maybe the most likely to jump into the marketplace to follow our lead. How can we stay ahead? What can we do to lock down companies or customers to long term contracts? What can we do to make it harder for them to get in? That's the kind of language like problem attitude of a solution. Every problem has a solution, but a scary aspect of to investors is investing in entrepreneurs who very the problems they wait too long to address them and that won't be you. What you need to succeed. A shout out to our bonus documents, right? Especially for video subscribers. They get action steps and tips on structuring their executive summary. Usually the first documents you need to present, a venture capital funds or I would ready have them ready to go is an executive summary. Certainly some level of projections and usually a slide deck, 10-15 slides that outline what you want to accomplish, what the significance of your product or service is, how much you want to raise, who your competitors are. Really easy dex. The projections are going to be important because we want to know that, you know something about accounting. Make sure the numbers match up. You'd be surprised at how many projections I get where the balance sheet has nothing. No relationship to the P and L. Statement and it's all amok. And what you can't do is finger point. Oh, my accountant did it wrong. My controller did it wrong, shouldn't you have looked at the numbers and made sure the math was there. Yes. What are some of the tips of what we're looking for when we read through those executive summaries? What throws us off base and in these segments? I hope I've tried to emphasize that the projections and the executive summary that you might give to lenders should be different than investors adam and I were talking during a break and it was funny during his presentation this morning for the cash. He was talking about issues that would have excited lenders, You know, the receivables and load recovery rates and so forth. But those aren't the things that excite investors. So let's match it up. Try and hit those high notes whenever you deliver a document, know that whatever they're investing, they only make money B8 years down the road with the growth in the value of your company, which is going to come from very fast growth of your customer base. It could be for an online entity. You have to show very rapid online engagement hits unless you know, unless you're coming up with, um it is important to show that you have a social media presence, but don't think that is the only benchmark of a success. Eventually, it will all come around to who is writing checks, Who's your customer, Who's paying the bills. So don't necessarily always stay in the world of social media. People love us. Make it more real and tangible, Show us how their money will turn into customers. That's the heart of everything we're doing. If you make it to product focused in your executive summary, you may be pushed aside because I may think he's too in love with this product. She's too in love with what she's doing, is she or he really willing to listen to what the customers want and adapt to what customers want. These are subtle things, but really important things in the things that you emphasize in those first meetings with investors. You know, they will look at your, if you have existing customers, they will ask those customers and find those customers and ask them what they think. I love it. If you've got some reorders from that same customer boy that tells me they love the experience. They want more. Mhm. If we and we may pretend to be your customer and you may not know it, we will measure how you respond, how you communicate with us and we will size up. Or we may find people who represent your ideal customer experience and send those people in to act like customers, be ready for them and be careful about discounting any objection. It could actually be one of your investors truly don't discount it. It happens. The bigger the dollar amount you're asking for, you should assume they are out there looking and trying to find your strengths and weaknesses. Without you telling us one of the biggest areas, I find that start up entrepreneurs absolutely missed the boat on. They do not put any attention to the customer service at startup and early stage pre funding or post funding. In fact, I have a presentation coming up to a V. C. About how to improve their own perform performance and what to look for. And big there is force entrepreneurs to pay attention to customer service. Why does this make sense? You've just got money from the V. C. Now. You're out there serving customers for a brand new product, a brand new service. That's when you're going to hear about what doesn't work about your company, Who where on your website is that feedback? Where can they hear from you boy? If you are not building that into your business plan, you're missing the boat because if you, as the busy executive are the last to hear about what's not working about your product boy, I wouldn't want to talk to the board next. You need to hear it very fast and adapt to it and react to it, especially if it's an unproven product. You want to fix those things fast, fast, fast, fast. I'd like to see five year projections with emphasis at the seed stage and early stage on your first two years. I want you to then present what I call a use of proceeds statement. If you're asking for $1 million, where are you spending $1 million? If 200,000 is going to be allocated to R&D let me know a general sense of where my money is being deployed. I said earlier that don't put in your use of proceeds that you're paying off debt. We get that you may be paying off some payables, but the lion's share of our money should go to building more assets or more customers. We want things that will demonstrate value growth. That's what we warm up to. That's the good judgment we want to see from you. I think we took a question earlier from somebody who I suspected needed a hiring plan. This is big. Usually people forget about it while it may not consume a lot of cash. It is. And certainly coming up in the next segment, we're going to talk about the biggest mistakes entrepreneurs make that keep cutting their equity stake in their own business. Hiring is part of that earlier stage companies should have. It could be a diagram of the types of people you want to employ and at what stages will you employ them? You will hear, we invest in management over and over again. You're the jockey, as they say, we invest behind the jockey or we only size up people by the team members they bring to the table, show them, give them some comfort. It's so important. I don't want you to think it's all about you anymore. It's about the team. You can't do everything. You may be the Uber code writer if you present yourself at the V. C. Stage where million dollar checks are being written as the person who writes all the code because you are the most brilliant person. There probably not going to get funny. You have to delegate, you have to trust your team because we have very big expectations for you. It's a really hard mindset to get out of. I really am sympathetic because I know at the point everybody in this audience is wearing a lot of hats you are so busy, you have too much to do and all of a sudden you have a big check, you've got to unwind and delicate things that you had to make sure we're perfect. You have to trust others to do an awesome job and you have to really lay out what you want them to do. You don't start talking in a team approach in terms of accomplishments, it's, you're probably going to get to know or we may wonder if you're really fit to be the boss. Where is this the baker? So when we talk about those fears losing control of the business getting fired, it's funny how that one always rises high. We only try and there's only a need for a change at the top when things are running amok. So you have to be that boss. One of the ways when I say, what are the docks, you need to succeed? It is a hiring plant. Would that have ever been on your list before? In level of importance? Probably not. Maybe a little bit not the detail show us that you will start hiring those people fast but not foolishly. And how might your skills and the people around you change as you grow. I don't want to see um just because somebody comes out of a big corporation marketing that they necessarily will be right. They may not have been there, done that experience for where you want to go working in a VP role at Nike may not be the perfect person for a tech company. Marketing, all marketing is not marketing, dial it back, understand what are the specific skills and deliver roubles that will take your company at this very vulnerable stage from here to here. And that's when you're starting to think that way in a very granular way, what's going to get my product done, what's going to get it out there and hiring the talent, who has already done that kind of work, that's your hiring plan, that's the diagram of who you're out to hire because what we were hearing is execution. That's the buzz word of warning. Somehow that entrepreneur had not yet convinced the VCS who had the potential of right $500,000 check that is success. But that entrepreneur heard execution, we need you to go back and work on your execution. Unfortunately we use stupid words like that, but that meant who's implementing, who's getting, you know, who's keeping the trains on time. They were not convinced this is part of that. The R and D plan, the commercialization plan, this is your execution line right here. I wish I could say, I can't take credit that that was a plant, but it wasn't how's everybody think about this. It's not so black and white, you can develop all of this
Class Description
Ready to master the principles of business funding without frustration? Join financial expert Susan Schreter for a deep dive into debt and equity.
Susan covers everything you need to know to fund a business from inception onward. You'll learn about how to safely borrow start-up funds from friends and family, and how to research and apply for loans, including micro-loans and SBA loans. You'll also learn about a wide variety of funding types and the requirements or restrictions attached to each of them. From angel investments to venture capital to crowdsourcing, Susan demystifies potentially confusing funding concepts, giving you the skills you need to confidently grow your business.
Whether you're just setting out as an entrepreneur or a long-time business owner, this course will help you ensure your business's long-term financial health and profitability of your business.