FAST CLASS: Fund Your Business for Growth
Borrowing From Friends And Family
Susan Schreter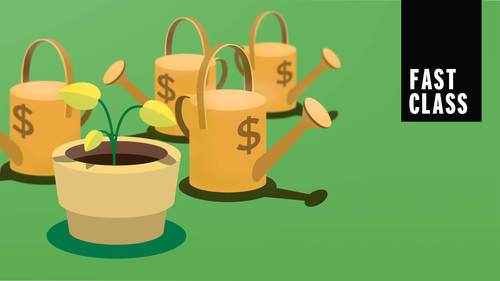 FAST CLASS: Fund Your Business for Growth
Susan Schreter
new-class
Get access to this class +2000 more taught by the world's top experts
24/7 access via desktop, mobile, or TV

New classes added every month

Download lessons for offline viewing

Exclusive content for subscribers
Lesson Info
6. Borrowing From Friends And Family
Lesson Info
Borrowing From Friends And Family
borrowing from friends and family members, it can be a good thing or it can be a really bad thing that will forever wreck thanksgiving day. When do you go to family members who can remember just like you, Family members can invest their cash in the form of equity or they can be a source of borrowing money. So maybe that other option is going to friends and family members for a loan for your business. So let's start out with how to make it a good working relationship. When might it make sense to turn to them first? Remember the chart of how long you're gonna need their money? How long does it take for you to turn over a customer? If it is a long period of time, don't mislead your friends and family members that it's really a short time. I really believe in karma in business and I've seen it in a strange way where if I'm working with struggling entrepreneurs and they've kind of snookered friends and family members by not really telling them the real deal. For some reason I see that they ...
have more and more troubles, right? I believe with your lenders, your investors, be it friends and family members are complete strangers. Everything. Great, awesome partnership starts with being honest, not misleading them that you pay them back tomorrow or next month when there's no way you can. So that's a starting point, what cash you need and for how long should be a part of that discussion with your friend and family member, Otherwise you're gonna start ignoring them. You're not going to show up at thanksgiving they're gonna ask. So you tell them and add in some extra time. So you know, I'm not sure I know when I can pay you back here is what I'm going to use the money for, treat them with respect and they will trust you more. The pros obviously if you can't pay them back, they're probably not going to come in and take away your house or your couch like other lenders when you signed on the dotted line. I do believe that friends and family members really want you to succeed. The reason why they're giving you money or investing in your company is so that you succeed. If you're thinking about your big idea and borrowing money from your friends and family members and saying as soon as I get investors, I'll pay you back. I'm saying no. So what will happen six months or a year from now? You will be in this situation where you have to call up your friend and family member and say the investors are saying, no, they won't let me do it. They want you to sign this document that converts your loan into equity. And by the way, if you've lent money to your business, the same thing document converting debt into equity as a condition of investment. So this is the wrinkle that is most likely going to upset thanksgiving dinner. The investors may say, oh, just convert to common stock now in an upcoming section and in some of the bonus materials, we're gonna dive much deeper into this. But because we're here and I know there are people in our audience who have taken money and from friends and family members in the form of debt and are hoping investors will pay that off. They'll probably the investors will suggest convert into common stock, which you should ask for is to convert this there investment under the same deal terms as the investors. If you don't ask, you don't get the investors are going to have a better deal. So why not ask for the conversion under the identical same deal terms as the investors. It will be the best thing for your friends and family members If you're going to borrow money or ask for money from investors, I want you to spend it on things that come back to you in something more and earlier on. I said tell me how much money you want. $1,000 $5,000. You pick a number. But then the next step in doing that is am I using it? Well, a lot of times the first chunk of cash people get from lenders or investors is blown on stuff that doesn't bring back a customer. You waste your cash. So that's why you know, I'm Susan start on purpose. You start every initiative with a real purpose and then you do it with precision.
Class Description
Ready to master the principles of business funding without frustration? Join financial expert Susan Schreter for a deep dive into debt and equity.
Susan covers everything you need to know to fund a business from inception onward. You'll learn about how to safely borrow start-up funds from friends and family, and how to research and apply for loans, including micro-loans and SBA loans. You'll also learn about a wide variety of funding types and the requirements or restrictions attached to each of them. From angel investments to venture capital to crowdsourcing, Susan demystifies potentially confusing funding concepts, giving you the skills you need to confidently grow your business.
Whether you're just setting out as an entrepreneur or a long-time business owner, this course will help you ensure your business's long-term financial health and profitability of your business.