Adobe Photoshop Fundamentals
Daniel Walter Scott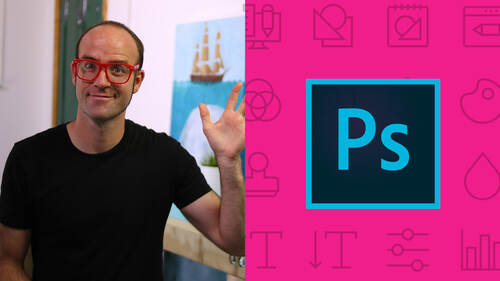 Adobe Photoshop Fundamentals
Daniel Walter Scott
Class Description
AFTER THIS CLASS YOU'LL BE ABLE TO:
Easily enhance images by correcting the light and color.
Add, remove, and change colors in an image.
Select, mask, distort, transform, and manipulate images.
Work with text confidently and create flyers, posters, and banner ads.
Create graphics from scratch using simple Photoshop techniques.
Professionally retouch a portrait and work with filters and effects.
Master color modes and understand resolution thoroughly.
ABOUT DANIEL'S CLASS:
Adobe Photoshop is the ultimate tool for editors and designers wanting to create breathtaking designs and enhance images to achieve their maximum potential. With an array of advanced capabilities, creatives worldwide know that Photoshop skills are a fundamental asset to any professional's toolbox.
Now, you can learn expert techniques with this in-depth fundamentals class designed to get you from absolute beginner to creating pro-level outputs. Work through a variety of popular visual styles and learn the tools and tricks required to create them easily.
You'll learn how to use Photoshop's core set of tools and how to export for print, web, and social media. By the end of the class you'll also know how to present your Photoshop work that you've created in a professional portfolio. No previous experience in Photoshop, photography or design is required so you can enroll and get started today!
WHAT YOU WILL LEARN:
How to remove people, text, and backgrounds like an expert
How to create and work with layer masks including masking hair in portraits
How to work with layers and combine images
How to correct and enhance color using levels, vibrance, gradients, black and white, and color selection
How to draw shapes, create shadows, and measure the size of your document
How to create and warp text as well as get text to follow a line or circle
How to work with text including outlines, bevel, emboss, and drop shadows
How to crop and image and straighten the horizon line
How to make complex selections and use blending modes correctly
How to work with Smart Objects and use Artboards in Photoshop CC
WHO THIS CLASS IS FOR:
People who have no to little experience with Adobe Photoshop
People who need a refresher class on Photoshop's features
Photographers who want to start editing their images in Photoshop
Editors who want to fortify and enhance their existing skill set
Professional artists who want to move their art to a digital platform
Creatives who want to add Adobe Photoshop to their offering
Anyone wanting to learn how to use Adobe Photoshop CC
All levels of experience
SOFTWARE USED:
Adobe Photoshop CC 2018
ABOUT YOUR INSTRUCTOR:
An influential media designer, Advanced Adobe Certified Instructor and dedicated teacher to thousands of students for over 15 years. Daniel is a speaker and multi-award winner at the prestigious annual Adobe Max conference.
Ratings and Reviews
Adobe Photoshop Fundamentals is very useful for a photo editor. I learned very important tricks from this course.
Student Work