Object Selection Tool
Ben Willmore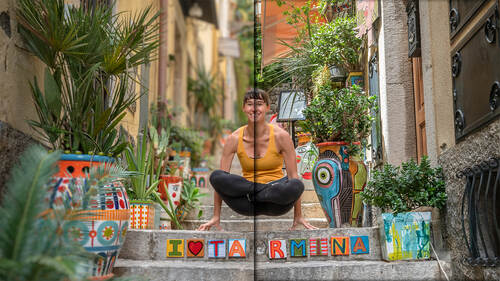 Object Selection Tool
Ben Willmore
Lesson Info
5. Object Selection Tool
Photoshop's selection tools keep getting smarter and the latest advancement with the Object Finder option which can allow you to select various objects with a single click!
Lesson Info
Object Selection Tool
Take a look at what they've done to make it easier to make selections. There's been a tool in Photoshop known as the object selection tool. Well, they've added some new options that can vastly improve what it's capable of, so let's take a look. In my tools, just below the lasso tool, you're gonna find the object selection tool. If you don't see this tool, then click and hold down because there's more than one tool that lives in that slot. But I'm using this, the object selection tool. But notice when I chose that tool, this little rotating arrows started moving around. And what that is is that's only gonna happen if we have this check box turned on, called the object finder. With that turned on, it's gonna search my image to see where does it think there are objects. And if I wanna see where it found them, there's this icon which would put a blue overlay on top of wherever it thinks there's an object, but you don't have to have that thing turned on. In fact, most of the time, I don't b...
ecause if you just move your mouse down here onto the image and hover over an area, you're gonna find a blue overlay whenever your mouse is on what it has found to be an object. And so, let's say, I want this object. Well, first, notice the blue overlay and realize it is not a precise preview of what you're about to get. For instance, look at the outboard motor that's there and notice that it's not really selected. Also, the little green rope extending into the water and other things don't appear in that overlay, and these little notches over here are not properly selected. But when I click, the end result will be different. It will not reflect what the blue overlay had. If you wanna see the end result with a similar overlay, just type the letter Q for quick mask. And notice it did get down into those little notches that were there, although it didn't get the end of the outboard. I'll type Q to turn off quick mask. Well, what I would do is come up here to mode and change it to lasso, so I can draw a little bit more precisely. Then I can hold down the shift key and just say I would like this part too. Or if I hovered over that and it highlighted just the motor like it did here, I could just Shift + Click right on it and it would've selected it. I'm not sure if I'll be able to get the rope but I can try. I just hold down the Shift key and I make a kinda lasso shape around it, so it has an idea of what I'm looking for and then it will suck it into the edge and try to select that object. If I wanna come over here and select another, I just hold the Shift key if I wanna add to what I currently have. And let's see if it gets its motor. It doesn't and I've see no overlay. But I can still hold Shift and draw around it like this to force it to look inside that area. And if I don't hold Shift down and I click over here, it's going to completely replace my selection with a new one, so be careful. You can always type Command + Z to undo. So, that's the main new functionality here, the object finder. You're gonna find it in more than one place though. Let me get rid of this selection by typing Command + D. I'm gonna go to the select menu and I'm gonna choose select and mask. And in there, you also have the object finder tool right here. And you're gonna find that same option, object finder. And over here, we can set it to a lasso and we can hover over our image just like we did before and click to end up masking that particular area. There's even more. I'm gonna click cancel. If I go up here to the layer menu, you're gonna find a choice within this menu that's just called mask all objects. And watch what happens over in my layers panel. Notice right now, I just have a background layer. But when I choose mask all objects, it only takes it a second and suddenly, we got a bunch of stuff that showed up there. Well, what do we got? These are a bunch of groups with layer masks attached to them. And if you open the groups, which they're already open, there's nothing in those groups. Well, if I wanted to work on a particular area, I could click on one of these layers. And if you wanna see what it's isolated, you could press the Backslash key that's right above the Return or Enter key and it would turn on quick mask kind of view to view that particular mask and you can see that this is the front boat. Then I'll hit that Backslash key once again to turn it off. Well, if I'd like to adjust that area with this particular group highlighted so it's active, I can create an adjustment layer. And let's say, I came in here to hue and saturation and now what I could do is say, "Hey, maybe I wanna change all the colors in this boat. I'm gonna make them blue instead of red." Then I could go to another one of these and let's say, click on this one. I'll hit that Backslash key to see what it's isolating. It's this far boat out here. Then I'll turn that off. And if I wanted to adjust it, I could, again, use hue and saturation or any other kind of adjustment and change maybe the color of that area. So, you could simply put things in these various groups and it's already got a mask to limit where you'd end up working. When you're done, you could always throw away any of these groups that you didn't use. Just select them and drag them to the trash if you didn't need them. You can also Right Click on a layer and you'll find the choice of mask all objects and that does the exact same thing as what you saw in the layers menu.
Ratings and Reviews
Holy cow! I hope you already know everything about these programs before you start this class, and are ready to be off to the races! I watched the first part twice and still didn't quite catch everything. Ben slowed down a bit afterward and was fairly easy to follow throughout the rest. I appreciated the updates, but would like to be able to take a few notes next time.
Student Work