T-Shirt Quilting: Warm Up With Your Life Story
Diane Gilleland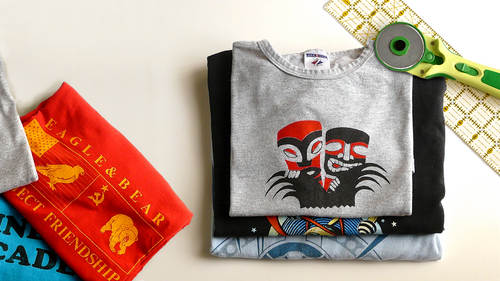 T-Shirt Quilting: Warm Up With Your Life Story
Diane Gilleland
Class Description
Are the t-shirts you saved for their sentimental value starting to pile up? Making them into a t-shirt quilt is an incredible way to preserve memories of the marathons you've run, family reunions you've attended, theater productions you've appeared in and more. Join Diane Gilleland and learn about the coziest way to share your life story.
This course will cover everything you need to know to create a t-shirt quilt from start to finish. You'll learn three methods of simple quilting: tie quilting by hand, machine ties, and simple straight line quilting. You'll learn two methods of finishing the quilt: a sewn edge and a binding. You'll explore the tools professional quilters use, but also learn how to incorporate the sewing materials you already have into your quilting. You'll make accurate cuts using a ruler and a rotary cutter and construct a simple patchwork. You'll also learn best practices for sewing straight seams and working with knits.
No matter how many t-shirts you have saved up or how much sewing experience you have you'll leave this course with the skills you need to create a lifelong keepsake.
Class Materials
Bonus Project Cozy Pet Quilt
Bonus Project Pocket Graphic Pillow
Bonus Project Scrappy Trivet Potholder
T-Shirt Quilt Class Workbook
Ratings and Reviews
This was a really fabulous class with an excellent instructor. It took us from a pile of t-shirts through every step to a finished quilt. There was a lot of time spent in design which was great, since t-shirts are highly variable in color and design. The second half of the class was all about basics, including information on backing, batting, and quilt top. Then making the "sandwich" with several options on basting. And then quilting (fancy, which was discussed but not included), hand tie and a couple of machine quilting options. Then binding. Each step was explained and demonstrated. Options were very often given, with easy, non-stressful techniques encouraged. This was a excellent class and the instructor was really awesome. Questions were anticipated and thoroughly answered. The instructor was always helpful and pleasant. This course expects some basic sewing machine knowledge, but you definitely do not have to be an quilting expert to enjoy this class and end up with a wonderful quilt.
Diane Gilleland is a fantastic teacher. One of the problems I always face with quilting classes is that the teacher seems to forget that everyone is at a different ability. I love the way Diane goes slowly enough for beginners while at the same time adding tidbits of information that even an experienced quilter could appreciate. Her "laid back" approach is appealing and non-threatening, which made for a very comfortable learning experience. It is such a wonderful idea, to be able to save the memories of your t-shirts, by making them into a comfy quilt.
Diane was fantastic! I am fairly new to sewing and have taken a tee-shirt quilt class before, but Diane's class was so much more informative, helpful, easy to understand and professional. I can't say enough good things about the class and how impressed I was. This was my first visit to creativelive, you can be sure it will not be my last. Thank you
Student Work