Seeing and Shaping Light
Lindsay Adler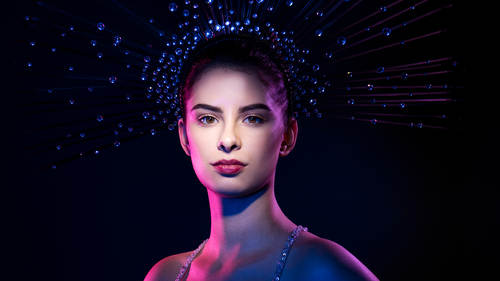 Seeing and Shaping Light
Lindsay Adler
Class Description
AFTER THIS CLASS YOU'LL BE ABLE TO:
Recreate the light from any image you see
Work with traditional studio lighting patterns
Design your own creative, complex multi-light setups
Understand how to use a studio lighting kit
Work with several different lighting modifiers
ABOUT LINDSEY'S CLASS:
Decipher the complexities of light. From working with studio lights to using modifiers, Lindsay Adler helps photographers develop the ability to see and shape light. By the end of this class, you'll be able to look at any image and determine how to recreate the lighting in your own work.
Using clues like catchlights and shadows, Lindsay demystifies photography lighting setups. Learn how to create classic lighting setups, from a single light to multi-light setups. Build the skills to be able to recreate the light from any shot you see -- and the ability to design your own creative lighting system. Work with studio strobes, light modifiers, window light, and natural light outdoors.
Stop fearing studio lighting and start using your light kit to design create powerful portraits.
WHO THIS CLASS IS FOR:
Any photographer ready to learn light
Beginners ready to learn essentials like hard and soft light
Intermediate photographers eager to learn to create their own lighting setups
Advanced photographers ready to learn the clues to recreate light from any photo
ABOUT YOUR INSTRUCTOR:
Fashion photographer Lindsay Adler is one of the most respected photographers of the genre, known for a clean yet bold style. The New-York-City-based photographer has work in some of the most prestigious magazines, including Marie Claire, Elle, InStyle, Noise, Essence and more. The Canon Explorer of Light shares her knowledge on digital cameras, posing, light and more with other photographers through speaking engagements, books, classes, and workshops.
Class Materials
Seeing The Light eBook Download
Ratings and Reviews
Wow wow wow- I finished the entire class in a day! I feel like owning and buy right away all her trainings... this is what a real trainer is al about.. I went from zero in light understanding to really looking to lights/shadows etc.. awesome thanks Lindsay .. the best purchase ever
Lindsay, you're an absolute genius!! Such a terrific teacher. You are so talented- not only as an out-of-this-world exceptional photographer, but also as a person who clearly is so passionate about her craft and has that very rare ability to teach your art in such a unique and structured manner! I have learned so much from you previous courses too, Lighting Bootcamp 101, I think was one of them. I look forward to more of your tutorials. On a side note- John in the background is such a stand-up guy! I love the rapport you have with him. I've seen him in on a few Creative Live courses now and he's a kind of guy I just want sit down and have a coffee with, and pick his very informative brain! Such a cool fella!
Lindsay is a talented teacher. She is very knowledgable of what she teaches, but also can teach it well (which is not something all talented people are gifted with, whatever the field). She is humble, dynamic and her courses are interesting to study. The one small improvement I would have liked would have been a little more emphasis and theory on the shaping part. However, this not being the most important, it is better that more emphasis was put on seeing (if you can't see it, you can't make it). Finally, I will say that to study and understand this course, or Lindsay's methodology, you are then equipped with an understanding—you could even say partly knowing the language—of light, which gives you a huge set of tools and advantage, allowing you to progress quite substantially with your studio or out-of-studio photography.
Student Work