Powerhouse Yoga
Kristin McGee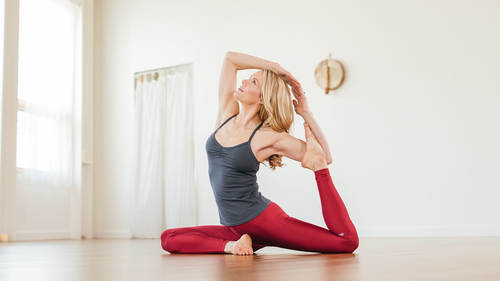 Powerhouse Yoga
Kristin McGee
Class Description
Skill level: Intermediate
Classes: 5
Time: 30-60 min
Cycle: 5 days
Spending long hours sitting, standing, bending or crouching in service of your creativity requires a strong body. In fact, creators can benefit greatly from exercises that strengthen their core and improve their posture. Powerhouse Yoga is Pilates and yoga combined, designed to activate and strengthen your "powerhouse," which is the core group of abdominal, lower back and pelvic muscles that are the foundation for all movement. These classes will help you:
Create a dynamic, full-body workout
Improve your posture, body alignment and stability
Unlock newfound strength
Develop heightened control over core muscles
Build an understanding of the most connected part of your body
Kristin McGee is a celebrity yoga and Pilates teacher, speaker, author and mompreneur who's considered a pioneer in the yoga movement. Kristin is known for making fitness fun and accessible for students of all ages and stages. She's appeared on a variety of TV shows, including "The Today Show," "The Jay Leno Show" and "Good Morning America." And she's produced her own DVD series covering power yoga, yoga for preteens, Pilates for beginners and more. Kristin will teach you how to:
Perform stretches and standing postures
Engage, activate and stabilize core muscles
Support balancing postures, inversions and other yoga poses
Increase overall strength, flexibility and control
These five dynamic, full-body fusion workouts of 30 to 60 minutes are perfect for intermediate yogis. They are ideal for those who want to harness deeper core awareness and activation to enhance their daily yoga practice.
Workout Descriptions:
Wake Up the Core
Wake up your core with essential Pilates moves for your yoga practice. No props are needed, but you may want a strap or blocks for stretches and standing postures.
Burn Baby Burn
It's important to have a stable and strong back as a part of your core muscles. This class will focus on Pilates glute exercises and hip exercises to make sure your powerhouse is as strong as can be.
Full Body Sweat Session
Get your heart rate up and ignite your core! This class focuses on Pilates oblique exercises and twisting actions, which are crucial to everyday movements.
Core Balance
This yoga balance sequence will explore standing postures, arm balances and inversions. We'll understand why a strong and active core is so crucial to these types of poses and get a good workout in, too.
Powerhouse Stretch
This class offers a calm, restorative sequence to release all of your muscles, especially your deep psoas. You'll focus on using your core to go deeper into poses and increase your flexibility as you go.
Ratings and Reviews
This ​is a great class. I like Kristin's energy and way of teaching. A few years ago I attended Bikram Yoga Classes, and that is all my experience with yoga so far. Before I started to view this class, I watched Dylan Werner's class "Yoga Strength Basics for Beginners" here on Creative Live, and this was super helpful for understanding how to move correctly during this class.
I took the Full Body Sweat Session lesson and thought it was a great overall yoga class. Kristin walks you through all the basic moves and I loved how she incorporated ab workouts too. I didn't sweat as much as I wanted to but it was definitely a great home workout!
Student Work