Basic Post Processing for Landscape Photographers
Matt Kloskowski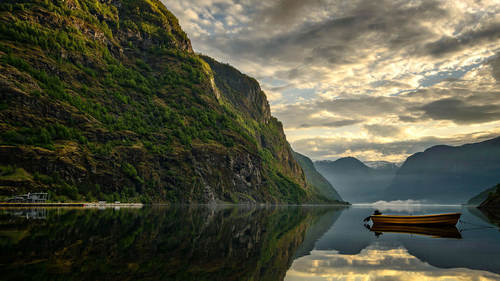 Basic Post Processing for Landscape Photographers
Matt Kloskowski
Class Description
Do you want outdoor photographs that reflect the beauty and mood of the landscape that you see with your naked eye? In Basic Post Processing for Landscape Photographers, Matt Kloskowski will show you how to use Photoshop to enhance your outdoor images so they reflect the world as you actually see it.
In this class you'll learn the latest techniques that give those beautiful places the same color, atmosphere, detail, and feeling that they had when you took the photo. You'll learn how to Photoshop landscape photos, and efficient post processing techniques to bring out the contrast and color you saw when you took the photo in the first place.
This course is part of the Lightroom tutorials series. 
Software Used: Adobe Photoshop CC 2014.2.2, Adobe Lightroom 5

Class Materials
Matt Klowkoski - PS and LR for Landscape Photographers - Reference Guide.pdf
Ratings and Reviews
The course description led me to buy into the class. Like a lot of people I had some reservation as to how it would be presented. I've taken other types of online course before. And I have say the presenter may have knew his material. But it was delivered in such a manor I retained far to little to be of any real benefit. But in this case. I can't tell you how impressed I am with CreativeLive and Matt Kloskowski. Matt breaks this information down into basic functions. And gives you real world scenarios as to how to best utilize the techniques. All the while reaffirming the notion that these rules and techniques can be varied for each users individual style and needs. The fact I can go back online and review this material from time to time, big bonus. As a result I've signed up for two more classes. Matt's personable and engaging personality makes this a winning combo for novice photographers like myself. I couldn't be happier with CreativeLive and Matt !
Terrific Class! One of the best I have taken from Matt. Mostly good, basic material, but there are some real gems that Matt shares here. Highly recommended.
Loved it!!! Great information that was very USEABLE to me. Matt was is a great instructor, throwing in some humor as well as bits of information that may not be dead on point but really helpful just the same. I was able to bring the quality of my editing up considerable just from this class alone. Thank you
Student Work