Improv Quilting Basics
Cheryl Arkison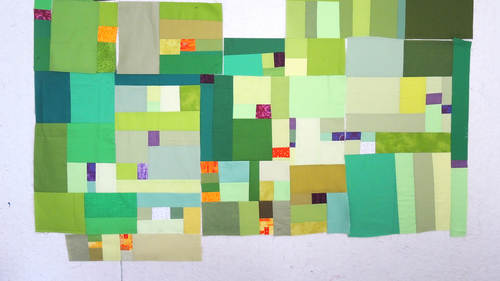 Improv Quilting Basics
Cheryl Arkison
Class Description
Improvisational quilting invites you to experiment with unexpected textures, designs, and colors. Learn about this playful quilting technique and sew along with Cheryl Arkison as she creates a completely improvised quilt top in Improv Quilting Basics
From fabric selection and prep, to sewing and puzzling blocks together, to making a quilt top, Cheryl will demystify the improv process. Cheryl will help alleviate any fear you have of this technique and bring a new level of fun to your quilting. 
You'll learn how to:
Select, prep, and cut fabric
Plan using a design wall
Assemble pieces together
Cheryl will show you how to troubleshoot common obstacles and you'll learn how to turn the fun of improvising into beautiful, quilts.
Class Materials
Cheryl Arkison - Improv Quilting - Tools and Supplies.pdf
Cheryl Arkison - Improv - From Here To There.pdf
Ratings and Reviews
I have taken all three of Cheryl's classes and she is an excellent instructor. Amazing. She is clear, engaging, non-judgmental, informative and has a ton of quality suggestions. Can't say enough about her! I hope that she does more courses in the future. Thanks very much, Cheryl and Creative Live. Very inspiring.
Great class. Cheryl is a very capable designer. quilter and teacher. I thoroughly enjoyed (and benefited from) the emphasis on design in this class, where Cheryl presents how to achieve balance in improv quilting design making best use of fabrics. I like that she covers using low volume fabrics. I'm very impressed with this class.
So I've just watched this whole course in two evenings, and can say I got my money's worth. Cheryl is engaging, experienced and reassuring, and has enough information and samples to offer to make things interesting for those not sewing along in the moment. I do not have the opportunity to attend classes, so seeing others sew with shared intent is new for me; sometimes having only a teacher's example leaves more room for my creativity, but this "bee" atmosphere prompts other kinds of jumping-off. I had some trouble with the platform (longer segments took up to 20 minutes to load and crashed if I tried to start somewhere other than the beginning) and would like the camera operators to be more aware of each others' shot lines so they're not standing in the middle of the viewer's screen. Sturdier design boards would be great. Now my only question is who got to keep the collaborative class samples!
Student Work