Experiment with Abstract Collage Art
Amy Wynne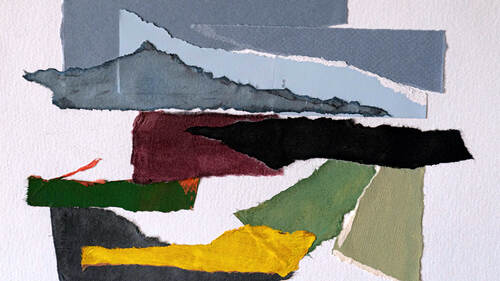 Experiment with Abstract Collage Art
Amy Wynne
Class Description
AFTER THIS CLASS YOU'LL BE ABLE TO:
Confidently choose the best supplies when producing collage abstract art
Simplify your process in creating amazing work
Understand the psychology of color
Find certainty and confidence when removing or adding to your abstract collage
Challenge yourself to take the next step whether art is your profession or hobby
ABOUT AMY'S CLASS:
All art is collage: music is a mesh of notes, sketching is a tumble of lines and curves, even dancing is a collage of movements. And all art, no matter what the medium, can benefit from the freedom and principles of abstract collage.
Join veteran creator and artist Amy Wynne as she uses the tactile act of ripping and cutting paper to create abstract collages that explore:
Working beyond realism
Infinite color variations
Unexpected pairings of shapes
A fun push that takes you beyond your habitual image-making process
Deepen your artistic process with techniques that help us let go of detail, try new color schemes, improvise and track the beautiful remnants of process revealing new directions and inspirations in abstraction.
Let's ignite your inspiration and let the process of abstract collage be our greatest teacher.
WHO THIS CLASS IS FOR:
Skilled artists in a specific area of art looking for a new challenge
Curious individuals who would like to learn how to add interest and professionalism to their hobbies or side hustles
Long-time artists looking to add a fresh take to their products
ABOUT YOUR INSTRUCTOR:
Amy Wynne received her MFA in Painting and Drawing from the New York Academy of Art in Manhattan and her BA from Smith College in Art History and Cultural Anthropology. She has been teaching painting and drawing for over 25 years. For 10 years, she taught full time at the School of the Museum of Fine Arts Boston.
Class Materials
Collage Value Map - Inverse
Ratings and Reviews
Fantastic class! I am a beginner when it comes to abstract collage, and Amy demonstrates a generous number of techniques—all accessible and with clear instructions. She shows how each step can yield exciting variations, and she inspires play. Many of the techniques utilize a photo as a "muse" or "mother image," and it's fun to discover new possibilities for my photos.
Student Work