Building and Using DIY Lighting Gear
Kevin Kubota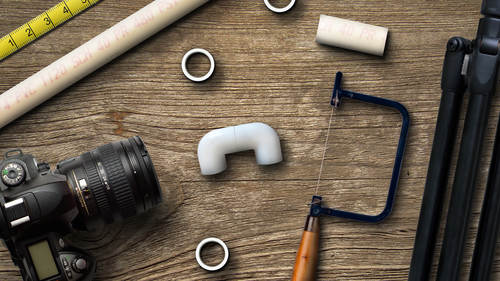 Building and Using DIY Lighting Gear
Kevin Kubota
Class Description
You don't need expensive gear to make professional quality images. In Building and Using DIY Lighting Gear, Kevin Kubota will teach you how to create lighting and photography tools with affordable and readily available materials.
Kevin will walk you through every step of building your own light modifiers and photo gear and show you exactly how to use them, with live models, for beautiful effects. You'll learn how to:
Work with speedlights and mix natural light with flash
Shoot portraits in the studio or on location with DIY gear
Set up a simple commercial lighting shoot
Kevin will share essential lighting concepts that will improve all of your lighting choices. You'll learn techniques you can apply to all the gear you use – whether it is from a manufacturer or your tool shed.
The right gear makes getting your best shot easier. Whether you use natural light, speedlights, or studio strobes this class will show you how to augment your gear with affordable, handmade tools to get even better results.
Class Materials
Kevin Kubota -- DIY Lighting Tools Manual.pdf
Kevin Kubota - Special Offers.pdf
Ratings and Reviews
Super good course highly recommended it will help you get started on a low budget, yet creating wonderful images. Is there a link to west got?
This was an awesome fun class! So many great ideas on how to achieve various lighting effects on a smaller budget. You will save the price of the course most likely by making one softbox (or whatever) yourself. Highly recommended!
Going into my 4th year of photography, I finally built a photo studio in my home and after purchasing some lighting gear and other accessories, I decided to buy this course for additional ideas - GREAT class! I learned a LOT and was very inspired to be more creative. I especially liked that Kevin didn't joke too much or stray away from the course very much at all. Yet, he was still very entertaining and very informative. I'm putting so much of what I got form this class into action right away! This course DEFINITELY pays for itself - right away!
Student Work