Adobe Lightroom Classic CC: The Complete Guide
Ben Willmore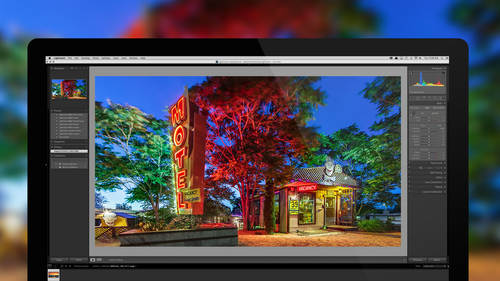 Adobe Lightroom Classic CC: The Complete Guide
Ben Willmore
Class Description
Note: For a newer long-form bootcamp version of this class, click here.
AFTER THIS CLASS YOU'LL BE ABLE TO:
Develop the confidence to use your imagination and create images you'll be proud to share with your clients
Thoughtfully use the Lightroom suite to streamline your workflow and add flair to your images
Organize your entire photo collection
ABOUT BEN'S CLASS:
Adobe® Lightroom® Classic CC can streamline your workflow, add drama to your images, and organize your entire photo collection -- but only if you know all the hidden features. Lightroom CC is one of the best non-destructive editing tools out there, designed to handle tasks from importing off an SD card and organizing to editing, printing, and exporting for social media. But the extent of the photo editing tools likely means that, if you are self-taught or just opening Lightroom CC for the first time, you're missing out on some key features.
As part of the Adobe Creative Cloud, the Lightroom Classic photography plans also include Photoshop and cloud storage, creating a complete image editing toolkit for photographers.
When you purchase this course you'll gain access to an enduring resource to build your skills. You will also receive a workbook that acts as a reference guide, Lightroom presets, and Lightroom keywords, all included with the class.
Join well-known software instructor Ben Willmore to learn how to process and organize your images more efficiently, leaving more time to spend capturing amazing images. In this 20 lesson course, Ben covers everything from importing to troubleshooting and everything in between. As a boot camp, this course is set up so professional photographers can spend about an hour or so each weekday to learn the ins and outs of Lightroom in just four weeks.
WHO THIS CLASS IS FOR:
This class is designed for Lightroom newbies as well as self-taught Lightroom users ready to uncover the hidden features and Photoshop experts ready to try Adobe's non-destructive RAW editor and organizer. As a recent class, the workshop also explains Lightroom's latest new features.
SOFTWARE USED:
Adobe Lightroom Classic CC 2018
ABOUT YOUR INSTRUCTOR:
Ben Willmore is a member of the Photoshop Hall of Fame who has taught over 100,000 Adobe® Photoshop® users on all seven continents. His bestselling books, DVDs, and hit seminars have established Ben as one of America's favorite Adobe Photoshop instructors, and he is often the top-selling speaker at design and photography conferences throughout the world. He writes for numerous digital imaging publications, including Photoshop User magazine, and his award-winning books have helped helped hundreds of thousands of design and photography professionals make the transition from blindly following step-by-step techniques to "Ah-ha! I finally GET Photoshop!"
Class Materials
Lightroom Keywords Sampler
Lightroom Classic Q&A (very large 3+ gb zip file)
Ratings and Reviews
Just wow! Ben is such an amazing instructor - he is able to explain everything very succinctly and in just enough detail that your eyes don't start glazing over. I've used Photoshop for over 20 years and have been afraid (and didn't really want to learn yet another program) of using Lightroom, until I've heard how awesome it is from my fellow photographer friends. This course is extremely comprehensive and if you're a more experienced user, you can skip some of the lessons and just watch the ones you want - but even experienced users might get at least a few nuggets of information that they didn't know in every lesson. Highly recommend! And thank you, Ben. P.S. You're wife and her yoga poses are amazing. I just got into yoga a few months ago and can only hope to be half as good as she is! :o)
I was taking a lightroom course from another provider and decided to give Creative live a shot as I wasn't happy with the other class. This class blows that one out of the water! I love the detailed instructions, he goes at a good pace and I love the transcription (I didn't even know that was there until I scrolled down). I would definitely recommend this class to anyone wanting to learn lightroom. Thank you Ben for giving this great class!
I have been searching for something to help me with my images. I am fairly confident with my ability to take nice photos but sometimes they need help. I might actually enjoy editing now!
Student Work