Art Photography: Capture Beautiful Artwork
Sean Dalton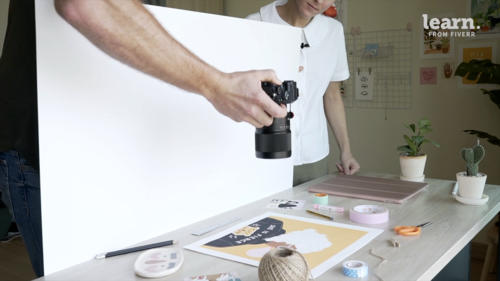 Art Photography: Capture Beautiful Artwork
Sean Dalton
Class Description
AFTER THIS CLASS YOU'LL BE ABLE TO:
Know exactly which gear you need to capture your desired shot.
Navigate the settings on your smartphone or camera like a pro.
Achieve bright and even lighting in your image.
Shoot professional images of artwork inside and outside.
Compose, style, light and capture the perfect flatlay, straight-on and detail shots.
Perform basic editing in Adobe Photoshop CC and Adobe Lightroom Mobile CC.
Add filters and presets to your images to make them pop.
ABOUT SEAN'S CLASS:
If you want to capture incredible photos of your artwork to dramatically elevate your social media, website or online presence, then this class is perfect for you! Filled with practical tools, inspiration and example images to help you along the way, the class covers a wide range of topics including gear choices, setting up your camera, lighting, composition, styling and basic editing on Adobe Photoshop and Lightroom Mobile. You can use a smartphone, DSLR or Mirrorless camera for this class so you start taking professional photographs today!
WHAT YOU WILL LEARN:
The anatomy of a good photograph of art
How to use the grid on your smartphone to ensure that an image is balanced
How to find inspiration for your images
The basic principles of lighting, composition and styling
How to work with natural light, diffusers and bounce light
How to edit and create mock-ups in Adobe Photoshop CC
Straighten and edit your image in Adobe Lightroom Mobile CC
WHO THIS CLASS IS FOR:
Artists wanting to capture their work to elevate their social media or website
Intermediate photographers wanting to branch out into artwork photography
Digital marketers and influencers looking to create their own visual content
Freelancers wanting to learn a new professional craft
Editors and other creatives looking to learn the basics of artwork photography
Anyone wanting to learn how to take professional photographs of artwork
All experience levels
SOFTWARE USED:
Adobe Photoshop CC
Adobe Lightroom Mobile CC
ABOUT YOUR INSTRUCTOR:
Sean Dalton is a lifestyle & travel photographer with 65k+ Instagram followers and an obsession with capturing the essence of a live scene on camera. He is always looking for interesting stories to tell through his lens with raw emotion and visceral storytelling as the pillars of his craft.
Ratings and Reviews
Student Work