SkillSet: Best of Lighting
Sue Bryce, Scott Robert Lim, Mike Fulton, Tony Corbell, Clay Blackmore, Mark Wallace, Zack Arias, Joey L, Felix Kunze, Joel Grimes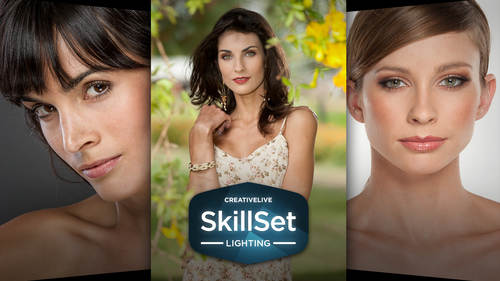 SkillSet: Best of Lighting
Sue Bryce, Scott Robert Lim, Mike Fulton, Tony Corbell, Clay Blackmore, Mark Wallace, Zack Arias, Joey L, Felix Kunze, Joel Grimes
Class Description
This comprehensive collection of CreativeLive's most informative and hands-on lighting segments will prepare you to walk into any lighting situation and take a great photograph. 
 In SkillSet: Best of Lighting, you'll watch clips from classes taught by leading photographers as they tackle a whole range of lighting challenges. Featuring some of our best moments, you'll learn about: shaping natural light, working with unpredictable wedding lighting, managing speedlights and getting the most of out of your studio lights. You'll also get a run down on lighting theory and fundamentals. And you'll hear it from industry influencers: Sue Bryce, Scott Robert Lim, Mike Fulton, Tony Corbell, Clay Blackmore, Mark Wallace, Zack Arias, Joey L, Felix Kunze, and Joel Grimes. 
 If you just started dabbling in photography and want to kick-start your lighting education, or if you're a seasoned photographer wanting to add new tips, tricks, or tools to your toolbox, you'll find just the thing you need in our lighting compilation.  
Love what you are learning? Go to the instructor's page to purchase the original class.

Class Materials
Studio Set Up - Learn to Light
Ratings and Reviews
I am pretty new to Creative Live and this is my first purchase so for me I am loving this! So many good gems of information and having some of the repeated content from different speakers with different perspectives really helps drill in these concepts. I say for anyone who's looking for an great all around drill it into your head lighting bootcamp this is a winner. But if you're like the others here and have purchased videos from these authors before then you will probably want to look elsewhere as this is a bundle of highlights from previous sessions on lighting.
If you're just starting out with photographic lighting (especially studio lighting), this set is a steal. I already had the set by Sue Bryce and Felix Kunze, and I've bought all of Joel Grimes' tutorials. Since I've watched them recently, I didn't watch their videos again. If you're into commercial photography OR darker moods and low-key lighting, anything by Joel Grimes is well worth buying and watching. If you're into glamour portraiture, everything by Sue Bryce is worth buying and watching (although I haven't been able to acquire all of her tutorials yet). However, the videos by Sue and Felix are not where I would begin. The two videos by Joel Grimes in this set cover aspects of lighting that aren't often discussed. However, most of his knowledge of lighting (from his other sets) isn't covered in this set. If you're thinking about going into commercial photography, Zack Arias' discussion of how to gear up to open a commercial studio is a must-see (as are Joel Grimes' two sets on commercial photography, neither of which is represented in this bundle). I agree with virtually everything Zack said. Although there are a couple of areas where I might have gone a bit deeper than he did in this video, it's a much-needed reality check – with great advice before you start spending money on equipment to start a photography business – and he gives a LOT of great advice. While his lighting style and mine are very different, his thoughts on equipment for a startup photography studio (or just beginning to learn studio lighting) are right on target. (Zack's and Joel's videos on the business of commercial photography cover different areas, and there is very little overlap between them.) One of the reasons why I bought this set was the lighting wisdom of Tony Corbell. Tony is the closest thing to the late Dean Collins at this time (I have all of Dean's videos on VHS tapes AND DVDs), and Tony holds nothing back. Great stuff! Joey L covers material that I've seen covered in many other tutorials (on CreativeLive and elsewhere), BUT he gives a MUCH clearer explanation of why he does certain things than I've seen elsewhere. For example, he gives more information about feathering light than I've ever seen in a video, and few people besides Joey and Joel Grimes (but not in Joel's videos in this set) give as good an explanation of WHY they're changing the position of a light by two inches. Clay Blackmore was a protégé of the late Monte Zucker, and he's as close as we can get to learning from Monte (aka the master) these days. I have Monte's VHS tapes, but they're worn out, and there's nothing to play them on. While they apparently were also issued as DVDs, the sites I've found that are supposed to have them all lead to 404 (page not found) errors. Clay covers both posing and lighting – and how to fit the lighting to the pose – in great detail. I haven't watched any of the videos on speedlights. I still have about a dozen Vivitar 283's, 285 HV's and 4600's that I used in combination during my photojournalism years (back in the film days), but you're much more likely to see me lugging 1,000-watt second strobes outdoors to overpower the sun than using speedlights in studio (or on location) these days. I've seen some of Roberto Valenzuela's work and tutorials, and I'd say he is the Joe McNally or David Hobby of wedding photography at this point in time. He knows his stuff. One or two of the videos are slightly dated in terms of the equipment being used, but that doesn't make the information about lighting less valuable. Equipment may change, but the principles of lighting, the things that determine the quality of light, and the elements of "good lighting" have changed very little if at all since the days of the Dutch Old Masters painters. There's a lot of great lighting information in this bundle for the price.
Student Work