Retouching & Adobe Photoshop Techniques
Lindsay Adler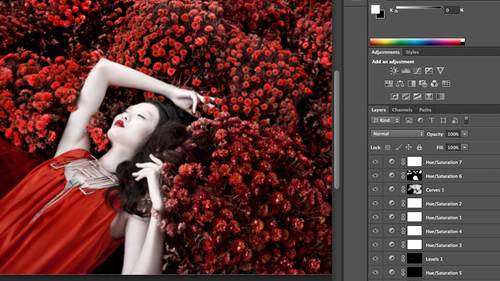 Retouching & Adobe Photoshop Techniques
Lindsay Adler
Class Description
Learn in-depth techniques for retouching images to perfection, helping your clients look their best, and expressing your creative vision! Whether retouching skin, whitening teeth or reshaping body features, Adobe® Photoshop® allows you to perfect reality as well as express your creative vision. In this workshop portrait and fashion photographer, Lindsay Adler will cover essential retouching techniques and teach how Adobe Photoshop allows you to make the impossible possible! Lindsay will cover countless creative Adobe Photoshop techniques: creating porcelain skin, changing colors, displacement maps, adding textures, adding makeup in Adobe Photoshop, quick retouching plugins, and dozens of other techniques you can apply to your own photography.
Let Adobe Photoshop become your next realm of creative expression through this workshop. Lindsay will also include a couple live shoots and live retouches so you can see an image start to finish and learn the nuances between a portrait, beauty or avant-garde retouch.
SOFTWARE USED: 
Adobe Photoshop CS6

Ratings and Reviews
Fantastic Photoshop course. I knew Lindsay was great at Photography, Lighting, Posing and Public Speaking, but I am really blown away by her mad (great) skills at Photoshop. Lindsay really is a fantastic teacher. She turns what might be a more or less dry topic into a fun and entertaining topic. Thank you Lindsay and thank you CreativeLIve. You have a real superstar with Lindsay Adler.
This is a great workshop for photographers wanting to learn and hone in on their retouching skills. As a photoshop user and photographer of 10 yrs I have been able to take away some further techniques to help better my skills and more or less tailor them. I would suggest you have some adv beginner knowledge of photoshop because I don't think some of the techniques you will be able to keep up with unless you buy it. There are two things that I wish she did better in her teaching and that is to teach new users to label all their layers and what they are as you are working. As you can see Lindsay ends up with 20 layers and unless your the one doing the editing you will have know idea what is what when you have to go back to it. So its best to teach this in the beginning so people get into the habit of organization early. Also I wish she used a Wacom. It really does cut your editing time in half and you have more solid movements in precisely selecting areas of a photo. From a photographer to other photographers. Use a wacom. You can start with a basic baboo for $89 and when the apple wireless mouse cost $69. Time is money, and a wacom truely save time! I used to use a mouse and my trackpad and once I switched I was like OMG what was I thinking before! So I wish she just emphasized that point more. Overall I think it was $99 well spent.
Not only is Lindsay very knowledgeable and a very good teacher but I REALLY TRULY appreciate her no-BS, straight-forward style.. No time wasted on long tangents talking about herself (or what have you), on cute remarks or on off-the-mark humor. She has showed us many great techniques, has presented to us various creative/different ideas AND she has also really been able to explain "how she thinks of a solution", how there is a bit of trial and error, "even" at her level.. All in a all, a truly excellent course and worth every penny!! Thank you Lindsay and thank you to the CreativeLive team for a great course!!
Student Work