Learn to Draw: An Introduction
Amy Wynne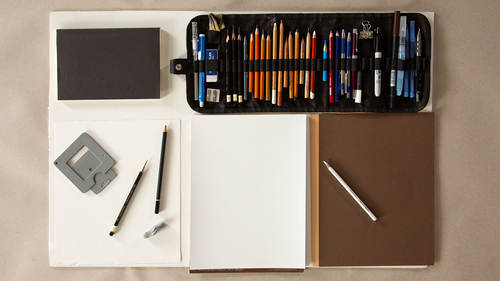 Learn to Draw: An Introduction
Amy Wynne
Class Description
Do you want to learn how to draw but don't know where to start? In this class, professional painter and artist, Amy Wynne, shares fun, beginner-friendly drawing techniques that can turn anyone into an artist.
This class will help you overcome your fear of the blank page and focus on putting pencil to paper.
In this class, Amy will cover:
Different materials for drawing
Using a viewfinder
Establishing your composition
Exploring varied mark-making and textural effects
Practice measurement and proportions in your work
A drawing challenge to help develop your skills
Amy has been teaching painting and drawing for over 20 years at colleges across New England including the Rhode Island School of Design. In this class, she'll help you embrace your ability to see and connect to our world through drawing. Join Amy and get started drawing today! 
Ratings and Reviews
Amy is a talented artist and a very effective teacher. I have the pleasure of having her as a professor, however these online classes show her passion and expertise just as much as in our in-person classes. If you are intimidated by drawing, like I was, her teaching helps to simplify the process of learning how to draw while also inspiring her students to take more risks with their artwork. She will help you realize that studio art really can be for anyone, and that drawing can be a meaningful tool for expression, relaxation, and growth. I highly recommend any course that she teaches, online or in-person!
Great introduction to drawing and sort of the key skills to develop if looking to improve or starting. Not a lot of hard and fast skills but definitely a great first building block to what someone can expect. Great job Amy!
This was an excellent class. As a beginner I learned a lot of great techniques that I hadn't even considered. It really changed the way I view drawing! She's great, I'll definitely watch more of her classes!
Student Work