Guitarist's Tech Workshop
Kurt Bloch, Ben Verellen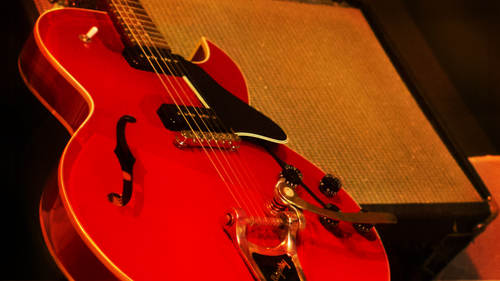 Guitarist's Tech Workshop
Kurt Bloch, Ben Verellen
Class Description
Performing a proper setup for your guitar can seem like a dark art requiring a copper chalice filled with incense. Reading a schematic of a tube amplifier can seem like you're staring at ancient Sanskrit. Guitar and tube amp masters Kurt Bloch and Ben Verellen are here to help.
In this two-part workshop, Kurt and Ben will show you exactly how to get the best sound out of your gear.
In part-one Kurt will teach the basics of setting up your guitar – you'll learn about:
Truss rod adjustment
Bridge and nut adjustment
String gauge and playing style
Guitar maintenance and upkeep
Guitar electronics and pickups
Part-two is your primer on tube amplifiers. Kurt and Ben will explain how they work and show you how to keep them sounding great. You'll learn:
Tube biasing
Block diagrams and understanding schematics
Basic amplifier maintenance
Capacitor, resistor, and transformer replacement
Speaker repair and power-matching
Kurt Bloch is not only Gibson Guitar's in-house guitar guru, he's a legend in the Seattle music scene. He plays in The Fastbacks and Young Fresh Fellows and has a producer credits for his work with The Presidents of the United States of America and Tokyo Dragons. Ben Verellen started Verellen Amplifiers in 2000 and now has a full-time staff churning out hand made custom tube amplifiers for some of the most respected artists in rock and metal. He also fronts Helms Alee, a rock band based in Seattle.
Don't get caught with crappy tone and blown out speaker – let these two masters show how to take care of your gear and get the best possible sound.
Class Materials
Ben and Kurt Syllabus.pdf
Ratings and Reviews
This is a fantastic course. I was forever looking up Youtube videos on how to set up all of my guitars for different things, and opinion varies wildly on-line, so it's really great to have these videos detailing the entire process in clear and easy terms. The information on the amplifiers is intensely interesting too. Fantastic!
Excellent course. Slow start with the guitar set up but Kurt knows his stuff so worth watching it to the end before deciding you don't like it. I came across valves (tubes) at the age of 12 (I'm 66 now) and it was a great refrresher for me. Ben really knows his stuff but he can put it into layman terms that are easy to understand. I definitely recommend this course.
I bought this course for the amplifier section and skipped straight there. It's fantastic. Right at the perfect level for me, a newbie DIY-er with a few pedals, a kit amp and an Electronics 101 course under my belt. Well done! I'll update my review if I have time to watch the guitar section.
Student Work