Managing DSP
Jesse Cannon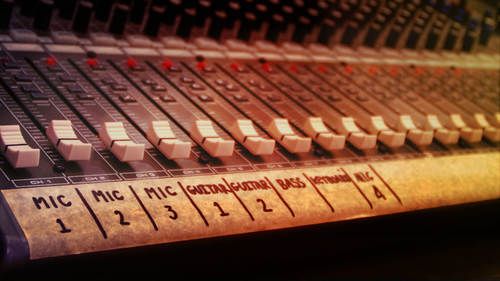 Managing DSP
Jesse Cannon
Lesson Info
9. Managing DSP
Lesson Info
Managing DSP
The next thing that you are not doing right is you are not managing your dsp properly, so this also goes hand in hand with some of the preparation, and one of the things we have not talked about, that I'm going to make a very, very big stink about in this class, is that the editing in tracking process are not the same processes the mixing you need to separate and say, at some point I'm done tracking, at least until I hear this mix back, did some form, and I'm done editing you should not be auto tuning and changing notes while you're mixing, you can and there's nothing wrong with actually like when you get inspired and going into hitting an idea, but you want to have as much done has been possibly can before and for two reasons. One, greg wells, who has produced everybody from michael while those big katy perry hits to adele's, big hits, um, I really like some stuff he did on the news taken sarah record and he's, a really wise guy has two great episodes on penn asada's places this great...
saying about how you can never here, a song from the perspective that your producer mixing from the perspective of a first time listener again, so you've got to try to think about how you make this exciting to someone who is only just heard this song first, like how many times in our lives we heard a song five times, then we're like, oh, I like that song that I heard it five times, but we really all want to make this song that everybody loves when you first hear it. And so some of this some about it is how you keep may take that excitement and the more you listen, the farther you would get away from that experience of the first time you heard a song. Um, so my big thing is you want to be done with the editing all together and you want to have everything prepper prepared and printed down so you could just concentrate on mixing and being creative and not have to think about jumping around all over the place and still having at it on the line dick drums while you're in the middle of the mix. The other thing about it, there was a great moment in yells ah trump production class rielle played an edited drum track, and one of the students said, how did you change? The curia is like, no, it just sounds a million times better when it's edited and that is the thing you learn like I used to not get that allied go why does all the tracks I this record sound bad that record so bad that as I got older, I realize some of those early records I did was just the bad was tighter, and that was all there really was to it is that tight, and it did not even know edited just well played performance is what they have to get that through editing or, you know, I'm a big culture, I get a lot of my people to play things right? I don't want to add it hate editing, I still do it, but I try to coast to get there. That sounds better, and if you're mixing badly performs material and stuff that you're going to edit more later, you're going to be trying to seek you and compress out those unedited performances. If you're dynamics are all over the place, you're going to trying to compress it to get where those dyas get them right in the editing in the performance, I work really hard so that, like, you know, one of the things you'll see in the these mixes is that, like, I'm not doing a ton of drum fader rides because I push my drummers to hit flames harder, I pushed them to hit fills harder, I pushed them to get all the dynamics, right? So I'm not trying to do this artificially, I want to do it naturally and that's what the producers I admired grew up doing and that's what I decide to do that may not be your decision, but that is my decision and no matter how you get there, you don't want to be making that decision after you've been dialing in tones for a while. So how does that really to not managing your dsp properly putting on plug ins you don't need wears down your mix and then you get that error that you've run out of dsp now when I say this p I should also clarify dsp is plugged in power how much ram, how many processes your computer has and how many pull guns you are makes that run down and makes your computer give you that awesome error or the clicks and pops like we were getting before that say, hey, you have too many plug ins on that is obviously something we don't want. So, um what the first thing we want to do is is we want to print everything you're sure of if you have like me in this mix a slate sst after you've heard it, you know that your toads air good, you know that the editing is good printed by the tracks, the other thing you want to do is like y'all showed this is that you want to look at the way forward to make sure they're all live properly it's great to have that printed out your dot weighed down your plug its auto tube there was no reason to be radical auto tuned live at a mix recorded down from one truck onto another without any of the other pockets on and then start working off of it with that all your soft sense there's something really good like you he read it if you read any interviews and like trying musician future music or on the internet you see all the big guys talking about project their soft sits down tto audio tracks so that way you're not still tweaking the filter a little bit you're just thinking about e q compression of making this right and you could save your computer's power for all this as you could see here you know another humble brag it's like I use for pro tools dsp cards I have thirty two gigabytes of rab eight processors I still need to sub mixed out like I showed bef for those odds on this track I had put them down to what excuse if I put all my vocal plug ins on that I would run out of power we'll have our own cross to bear jesse yeah it's a hard knocks life everyone at home there's a single tear rolling down their cheeks I know but the point is and here's the other funny thing about it is every time I upgrade my computer I go well, now I'm said and I'm never going to run out of plug in power and the neck then I start using one that I wasn't using I use a river but takes up a little bit more power because it sounds a little better and I find something else to do that takes up that power um so the first thing I'll say that if you are if you are running out of your dsp is that as well you want to blend down any multi mike blends you khun dio if you're running three room mike's white up when that down to a stereo or mike is to get that under new to when as we saw before, I truck to guitar amps at once for everything so for every track I'll blend those down the one once I know the blend is so I'm using less power you could do tons of subjects they were going to get into a really great example of sub mexico later that I brought with me there's tons of ways to do this here's a great example is I'm gonna open the file this is a bad called the color nothing and what it's actually really cool about this is if you go to the color nothing dot com um the stems of the song are actually available for you to remix and play with cause the band is that cool? Um so the color nothing dot com they're great uh, interesting metal band out of new jersey and I think it's like a cool explain this part is to is so like one of the things while this file opens is, you know, on this record we had two different directions that we really want to go we wantto one, these guys are a really matthew metal band, and we wanted, though, kind of bringing indie rock guitar tone to it, but the other thing is, is they wanted a lot of the common metal post production stuff, lots of effects on things, lots of weird glitches and everything all throughout the record, we do lots of cool, crazy river bs and all sorts of things, but the one problem is with all that is all that takes a ton of dsp, so I noticed that by the time I even just got the band sounding good a raw band that this was barely working, so what I basically did is I took this pro tools session and I printed down some mixes of every single instrument and made steps so in kurt's class, you heard them talk a little bit about stems as a way of when you're doing analog mixing of how you could do recalls for people, so what I basically did this session is I would take all the drugs I would sold him and I turned off the master bus so that we weren't getting those affected by the master of us so first things I buy I turned up we protect all the drums as a whole than the two base tracks is all that the two rhythm guitar track sizzle the guitar weeds is a hole and you know also with any effects they have if they have reverb etcetera on them and then a vocals them all without the master failure on so as you could see this is my you know, big forty track with tons of plug ins and going all sorts of crazy on this just getting this to sound the way we wanted but it doesn't have effects like so if you even listen to like I think this part's really illustrate of of it is that you know there's so you hear that and right now you're like ok cool sounds like a metal bed so what I then did is I made another file which I named I'm very bad with song names so I call everything by the number we track it because I can remember numbers bear the name so you'll see me the way my brain works here sad thing to see in action anyway so I've called this file five stem so what five stem is I then imported all those stems without the master fair and I imported then at that same master fader back on since as on the processing and I wanted to hit the master fader that I developed exactly the same way as it was in that full forty eight track mix of the song so what we get here is as you can see there's a drum sub going into the master everything's coming out the outputs um here's the weed guitars whenever they come on they're just some down to two tracks no effects on him because I didn't need to affect those same thing with the base the rhythm guitars I did one little effect that I had to print down before I came here because we didn't have one the river bs here on dh then you could see this little train this is because I did all sorts of new affects the vocals that I didn't have enough dsp for and so you know, if I click through you know this hasn't where is in the mix it didn't have that echo and so if I play the part I played you before what I didn't have the dsp to do before it was something like this uh my shortcut on come on you want to go on on and I'm just going to hit play here all those fancy effects I couldn't fit on the mix because even with all my power I did not have the room for that I also didn't have the proof for waiter in the song there's a part that he played on drums and I was like, you know, this because the drum machine so I put the drum thief there's no reason you can't do this yourself to get even crazier with this is a lot of the time when I'm doing mohr pop stuff and it's not about a special effects is I will make two separate files and I'll mix off different ones. So this file that I'm opening now that I just opened the wrong way, I might add it on yeah, there's that thing I told myself I wouldn't dio and is from a band called streets on fire I talked about before out of virginia beach, and so the problem with this songs, we just mixed a thirteen song record, and the issue we had here was that by the time we're done mixing all the tracks of instruments, I went cool about a dsp you guys have sixteen trucks of vocals, don't you? So because we needed a whole lot of processing for these vocals, what I did is I mixed it instrumental version, and I put that instrumental version in the file with the vocal and I mix the vocals down. Then when I would do is I could put the vocal back in to that and I can make any tweaks the instrumental do a bounce again and just bounced the two of them together and go back and forth is this a pain to do absolutely is this what you want to do not at all but is what you have to do sometimes because if there's too many tracks that the salt is working you've got to make it work somehow so as you can see here um this year was the instrumental and I have many expect this out a little bit over to the left in act of this is all the instrumental tracks of the song which is also why I didn't have any room for all these vocal trucks so and even yesterday I had to take if you look at this is there any active trucks the's air little things like echoes and stutter effects that I had a whole ton effects on but because I knew I nailed those I then printed those down two tracks so I wasn't using up the dsp little things like that odds are you're not going to tweak the echo that much once you're happy you find something you're happy and then put the plug in down now some people say you lose something to us yes they're usually is some little jenise a quad that you lose in the tone of something but I'm also a firm believer you can get that back with a little bit of q works, I better good mixing and as well, the big problem becomes is usually your computer can't handle it so it's either printed down or you don't have that part. You're song, which isn't very fun. So to show you what I'm doing this song. So this stereo track is just the instrumental track I made theo well, since we're getting glitches because this is still overloading this computer, even though I tested the last night, as you could see, this is an instrumental track, this is all the vocals, I did the same thing, and the other track is I made a bounce the vocals without the master failure on, so I could always be menton blending the song into these failures so I can get the sound get the mix it's not the funnest thing, but this is also how you can get a mac mixto happen if you I really can't get your your computer to use the dsp properly and get all the pumpkins on you'd like, or even all the tracks. As you could see, this is a lot of tracks, and almost every one of them a sterile and almost all of them were really stereo, I might add, and we needed the stereo.
Ratings and Reviews
I just want to say I have watched a lot of the tutorials on the creative live site, all dealing with audio. And I was so impressed with the knowledge and professionalism of Jesse. This guy walks the walk and talks the talk. Anyone who is an engineer or who wants to become and engineer this is a treasure chest of knowledge.I went to an audio school and we had seminars all the time. A workshop like this will really advance you. And I mean that from an engineers point of view but also that of a consumer because I watched the course for free and a couple of days later I bought the course. You may be thinking to yourself I just can't afford it. You can't afford not to invest in yourself and education. Creative live is a great site and a wealth of knowledge. Thank you very much to Jesse Cannon. Great workshop. You guys at creative live need to bring him back again.
Excelent class! Suitable for all levels of mixers & musicians. Jesse is real pro, and knowledge what he gives cost much more than 149$! CrativeLive, please make recording & producing tutorial from Jesse, i'll praise you!
Student Work
Related Classes
Electronic Music Production