FAST CLASS: Studio Lighting 101
Lindsay Adler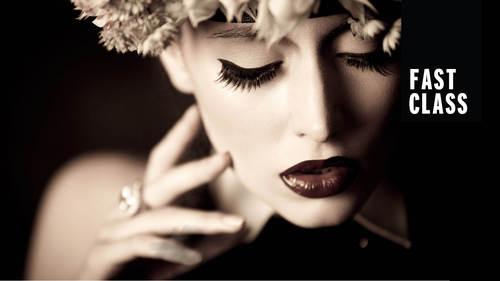 FAST CLASS: Studio Lighting 101
Lindsay Adler
Class Description
FAST CLASS:
Try a Fast Class – now available to all Creativelive subscribers! Fast Classes are shortened "highlight" versions of our most popular classes that let you consume 10+ hours in about 60 minutes. We've edited straight to the most popular moments, actionable techniques, and profound insights into bite-sized chunks– so you can easily find and focus on what matters most to you. (And of course, you can always go back to the full class for a deep dive into your favorite parts.)
Full-length class: Studio Lighting 101 with Lindsay Adler
SUBSCRIBE TO CREATIVELIVE and cue up this class and other FAST CLASS classes anytime.
AFTER THIS CLASS YOU'LL BE ABLE TO:
Expertly light a portrait using just one light and one modifier
Work with more complex two and three light set-ups
Create light for portraits, beauty, or drama
Light a group photograph
Learn to troubleshoot the most common lighting questions
Confidently purchase the right lighting equipment for your work
ABOUT LINDSAY'S CLASS:
Intimidated by studio lights? In Studio Lighting 101, fashion photographer Lindsay Adler deciphers the complexities of studio light, breaking it down into simple concepts for beginners. In this class, you'll learn everything from basic lighting terminology to creating multiple light set-ups. Start with the basics like how to adjust your digital camera settings for studio strobes and layer in the details you'll need to light your first photo studio portrait.
Photographers on a budget will learn how to light a portrait using a single light, modifier, and photography light stand. Then, learn to work with two and three light kits to create drama, background separation, and more. You'll see dozens of studio lighting set-ups, from start-to-finish, behind the scenes in this live recorded class. Develop the skills to troubleshoot several common photography studio lighting problems, like lighting large groups and correcting reflections on glasses.
By the end of this class, you'll know how to buy your first studio lighting kit and how to shoot that first in-studio portrait. This class is ideal both for beginning photographers that don't understand much beyond the exposure triangle and experienced natural light photographers ready to try a studio setting.
WHO THIS CLASS IS FOR:
Beginners with a grasp of the exposure triangle
Intermediate and advanced natural light photographers new to studio lighting
Ratings and Reviews
Awesome class. Lindsey Adler is an excellent teacher. She explained some basic concepts that I couldn't figure out on my own. The section showing 1, 2, and 3 light setups moves pretty fast. So I'll watch that again. This Fast Class was nice for me because I don't have time to do a full lengthy course.
Student Work