Explorations in Metalsmithing: Creative Chain Making
Megan Auman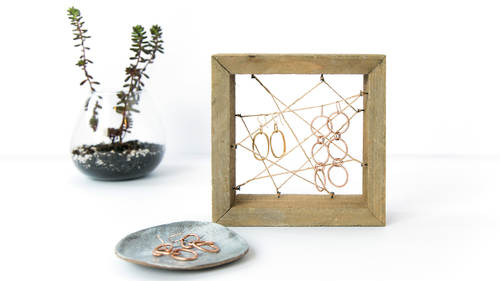 Explorations in Metalsmithing: Creative Chain Making
Megan Auman
Class Description
Go beyond the basics of handmade chain making and discover your own creative voice.
There's no need to buy boring, store-bought chain. In Explorations in Metalsmithing: Creative Chainmaking, you'll learn the basics of creating your own handmade chain (including how to get comfortable soldering with a torch) and how to take the basics of chain making and add endless variations to create designs that are uniquely yours.
Designer and metalsmith Megan Auman has built her own jewelry line by discovering her signature style in chain making, and now she wants to help you do the same!
In this class, you will learn how to:
Make and solder jump rings into a basic link-in link-chain.
Create variation in your chain making through wire gauge, link size, shape, and more.
Hone in on your aesthetic to find a style that's uniquely you.
Finish your chains so they're sturdy and stunning.
Turn your chain making explorations into amazing earrings, bracelets, and necklaces.
Whether you're just getting started in metalsmithing, or you're looking to inject some creativity into your jewelry designs, you'll leave this class with the skills and ideas necessary to create your own unique chain. Plus, you'll explore your ideas by creating a series of chain-link statement earrings - perfect to wear, share, or sell!
Ratings and Reviews
Megan' an excellent instructor and lays things out very clearly, with a lot of good tips based on her extensive experience. I've experience making wire wrapped chain and have taken a beginning metalsmithing class before, and this class had some good refresher information. I particularly appreciated seeing her techniques and process for streamlining production.
Megan is an awesome teacher! She is genuinely enthusiastic about sharing her metalsmithing skills with us. I am really looking forward to trying my hand at designing and making a chained necklace on my own soon.
Another excellent class! Thank you Megan!
Student Work