Design, Print, and Build Your Portfolio
Bonnie Christine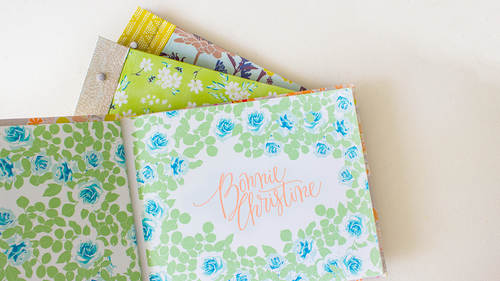 Design, Print, and Build Your Portfolio
Bonnie Christine
Class Description
No matter how beautiful your work is, it won't sell if it's not presented in a polished, professional way. In Design, Print, and Build Your Own Portfolio, Bonnie Christine will take you through the complete portfolio design process, so you'll feel confident about showing your work.
Bonnie Christine is a surface pattern designer and mother hen of the Roost Tribe, an inspirational community for creatives. 
In this class she'll teach you how to:
Design your portfolio and develop your pages
Print, build, and bind your portfolio
Stand out from the crowd and contact companies
Designers, photographers, and artists will all learn about what belongs in a portfolio and what to leave out. Bonnie will help you design a portfolio that reflects your true style and helps you attract the kind of clients you really want to work with.
If you've been putting off putting together your portfolio, this class will help you get motivated to assemble a portfolio that showcases your work and demonstrates exactly how talented you really are.
Class Materials
Bonnie Christine - My Creative Story.pdf
Bonnie Christine - Course Syllabus.pdf
Bonnie Christine - Industry Resources and Supplies.pdf
Bonnie Christine - Design Challenge Info.png
Bonnie Christine - Student Discounts.pdf
Bonnie Christine - Pattern Mockups.ai
Bonnie Christine - AI Template for Pages.ai
Bonnie Christine - AI template for Double Sided Pages.ai
Ratings and Reviews
Bonnie, I want to give a super big Thank You! You have helped change my life. I was recently laid off from my full time job. Due to your courses, I have dedicated my time to continue designing. You have helped my heart come out on the pages. Thank you sooooo much! :) thankful & very happy, Dawn Stratchko https://www.behance.net/dawnstrat5b137
I thought this class was engaging and informative. Bonnie Christine has such a natural way of presenting the information and never seems to lose her concentration. I really wanted to learn more about how to put together a professional but handmade portfolio and that is what you get. Thanks for the great class!
Absolutely loved this course! I learned so much and feel confident now on how to present my company in a consistent and professional way.
Student Work