Creating an Authentic Design Career & Life
Meg Lewis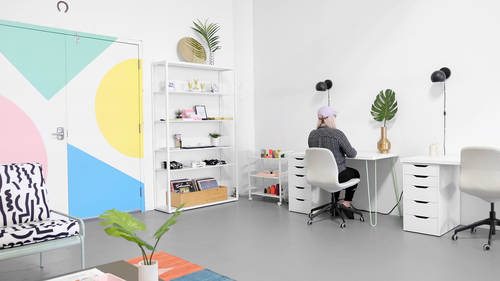 Creating an Authentic Design Career & Life
Meg Lewis
Class Description
There's no one like you on this planet, so why have a career like anyone else? Traditional career paths, such as climbing corporate ladders and allowing higher-ups to determine our success, is a path that doesn't work for everyone.
What if there was a new path that was paved just for you? Let's ditch the separation of work/life and embrace a new life where you get paid to be yourself! Champion your authentic self to grow your life and your career as a creative!
In this fun, interactive class Meg will cut deep into your squishy core and find what makes you, you!
In this class you'll
Identify the qualities that make you unique and translate them to a career only you can have
Define a life's purpose that will drive your career and personal decisions
Create social media and relationship guidelines that help fulfill your purpose and advance your career
Grab your metaphorical lantern and head into the depths of your true self as we create an actionable plan for your future life and career.
Class Materials
Creating An Authentic Design Career & Life - Workbook
Ratings and Reviews
I just absolutely love Meg's style. Cheerful, fun, unapologetical... And her insights really helped me have a clearer vision of where i want to go, how i want to travel on life's path (so poetic haha) and be PROUD of who i am and most of all, what i do. Even though i'm not your average creative girl. LOVE THAT. Merci beaucoup, thanks a LOT Meg. And YES, do yourself a favour, buy this class !
i love this class. I was inspired, encouraged and applies the information to my life. learning what makes your unique and special should be law. This was a refreshing and fun loving course. watch this and enjoy
Meg's class was really pivotal for me at this particular stage in my career. Traditionally I have been taught to be a jack-of-all trades in order to be employable. While this does work for a lot of people, this put a lot of the power balance into luck and timing (is there a slot open for you in a competitive market, or a company?) because it's hard to stand out from the crowd if you are just a set of hands. Meg's class encouraged me to dig deep and figure out how I could be more than a set of hands and how my unique personality traits can actually be used as part of my personal brand. This is so refreshing since I have always been worried about how I can fit into a company, but instead, I can think about how to broadcast my particular style and brand so that the clients that are looking for ME, can find me! This is a great class for people that want to live in a more holistic way where you can blend your work with your personal interests and beliefs.
Student Work