Yoga for Photographers: Part 1
Vanessa Joy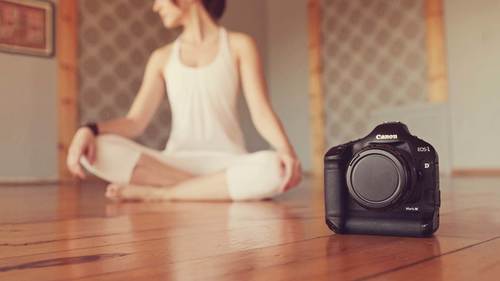 Yoga for Photographers: Part 1
Vanessa Joy
Class Description
AFTER THIS CLASS YOU'LL BE ABLE TO:
Feel healthier and stronger than ever before.

Improve pain levels on the key pain points that photographers deal with.

Better your eyesight with exercises designed to improve your vision.

Know key breathing methods to alleviate stress and improve concentration.
ABOUT VANESSA'S CLASS:
Are you a photographer with an achy back? Painful neck? Eye Strain? Tired easily on the job?
Join Vanessa Joy for four morning yoga sessions that's suitable for all levels. Whether you're at the top of your physical game, or can't even bend over and touch your toes, this course will be exactly what your photographer body needs.
Photographers suffer from many of the same bodily ailments — photographers are constantly either hunched over a computer, or hunched over taking pictures while holding heavy camera gear.
If you're ready to start fighting against the pain, then this course is for you. With easy yoga poses you can stretch, strengthen and realign your back, hips, neck, shoulders and give your body what it needs to be a photographer.
We'll include tips on snacks that will give you energy when you don't have time to eat on weddings, exercises that can improve your eyesight, and even mini-poses to do on the job and at the computer that will help manage pain. We'll also go over some myths about yoga (like you have to be flexible to do yoga – not true!) as well as breathing tools that will help control stress.
You might also like Yoga for Photographers: Part 2 with Vannesa Joy
WHO THIS CLASS IS FOR:
Beginner through advanced yoga students.

Photographers who are ready to find better ways to deal with heavy photography gear.

Photographers wanting to feel less run down from doing what they love.
ABOUT YOUR INSTRUCTOR:
I'm Vanessa Joy, a wedding and portrait photographer in the Austin and NYC area. I love photography, but MAN That gear is heavy! Even knowing the best ways to hold a camera, I wound up visiting a chiropractor three times a week, going to physical therapy, trying acupuncture, massage, and even steroid injections. I'd had enough. Enough of being sore after a wedding or shoot day. Enough feeling my nerves pinch and muscles tense every time I picked up my camera. Not anymore.
The way I beat the pain, found loads of energy, reached my physical goals, and gained confidence was easier than I thought. And it was way less expensive than the thousands I was spending on doctors and therapy. After speaking to photographers all around the world at places like FStoppers, creativeLIVE, WPPI, Photo Plus Expo, ShutterFest, Imaging USA, and many, many more, I know I'm not alone! I'm committed to helping photographers eliminate typical photographer aliments and feel great about themselves and their careers.
Class Materials
Yoga Poses for Photographers.pdf
Yoga Poses for Photographers.zip
Ratings and Reviews
I really really enjoyed this! I love how Vanessa was great about telling you not to push your body more then it could go and to not only breath but how to breath this is so important! I've done a lot of Yoga video and classes too and the teacher never seem to mention (at least on the video) other ways to accomplish a pose! Great job Vanessa!! Thanks Creative Live for putting this type of course on the calendar keep them coming love all that you offer!! I'm so busy in my job/life that I need to remember to stop and take care of me!
Awesome! I like doing yoga at home, whenever suits me..Vanessa explains very well and do lot of different poses and gives tips on how to avoid or heal body pain on the field..Breathing exercises are clear too.. Her lessons can really teach anyone, from beginner to advanced: she always takes care to explain each pose for beginners and she will go all the way to advanced stretch..(wonderful to watch!) I got into yoga more seriously since I've started with her, she's really a good teacher!
Love this class! I always wanted to learn yoga but never had the time to commit to a class. This lets me do it when I have time and is great at explaining how to do all the poses! Perfect for someone that wants to learn!
Student Work