Turn Your Talent Into a Business in 12 Steps
Beate Chelette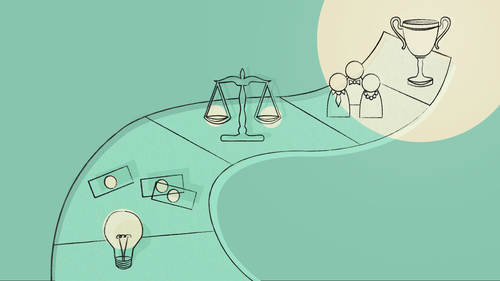 Turn Your Talent Into a Business in 12 Steps
Beate Chelette
Class Description
Short on time? This class is available HERE as a Fast Class, exclusively for CreativeLive subscribers.
It is easy to get lost in the sea of resources available to fledgling entrepreneurs, but it is harder to connect with the concrete tools that will help your business be the best it can be. Join Beate Chelette for an introduction to the step-by-step process of building a thriving business.
This course isn't just general advice or inspiration — it's an intensive immersion into the essentials for your small business. You'll learn about laying the groundwork that gets your business through the difficult first year and beyond. You'll explore the legal and financial aspects of funding your business and keeping it afloat. From business licensing to pricing to marketing strategies to techniques that boost your bottom line, you'll gain confidence in handling the day-to-day challenges that come with small business ownership.
Stop waiting to start the business you've always dreamed of running! This course will give you the foundation you need to make it a reality.
Class Materials
My Creative Business Plan
Ratings and Reviews
HI BEATE! I love your German straight forwardness being German myself. ....watching your creativelive course i had to almost laugh when u talked about the job test when u where still in school. i had exactly the same experience. i wanted to become an artist, goldsmith, or photographer. same reaction of the woman of the "arbeitsamt" with the same great idea to offer me apprenticeship to become a secretary in a dusty office. %) not really ME! i would love to see you to accept my invitation on linked in because I love your kind of teaching ... very direct - down to the point, without loosing time! i respect your work and i am very glad that creativelive found you to share your knowledge with creative people who are very good in their creative area but maybe not so much on the business side. YOUR COURSE IS AMAZING! congratulations and a big "THANK YOU!" KRIS P.S. BOUGHT THE COURSE !)
They must have not had the review feature up yet when this course originally broadcast, because no other way I could be the first person inspired to leave a review. This is simply the best actual business building course I've come across in a long time. It teaches you how to build a business, not just market one. Every other course I come across that presents itself as "business" or "entrepreneur" this or that is really just a marketing course for small businesses. Now don't get me wrong, marketing is certainly key if you want to be successful, but there is a lot more to successfully running a business than marketing. Lipstick on a pig, comes to mind. This is a course that will teach you how to become a successful entrepreneur, with part of the final day focused on marketing, which is the right balance given the responsibilities and requirements of a true business venture. So much out there is really just teaching people how to market themselves as if they were an employee without any company around them.
As an analytical person with creative spirit this was the perfect class for me. Beate has the passion of an artist coupled with a sharp, almost engineering intellect. I sometimes find with courses, online or not, that topics discussed do not apply to my journey. Not the case here. Everything was useful and the course materials provided invaluable. Highly recommended.
Student Work