Transforming Day Into Night in Photoshop
Ben Willmore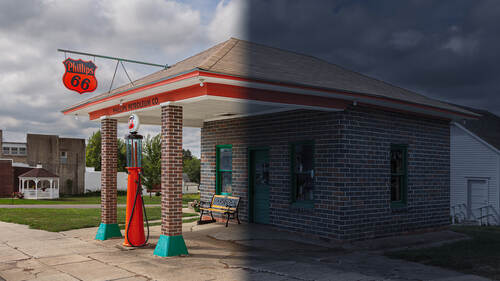 Transforming Day Into Night in Photoshop
Ben Willmore
Class Description
AFTER THIS CLASS YOU'LL BE ABLE TO:
Know the adjustments needed to transform day into night

Turn on light sources in the scene

Render exposed lightbulbs so they glow

Limit the brightness range affected by light sources
Create a custom Color Lookup adjustment preset

ABOUT BEN'S CLASS:
Shooting at night is a challenging situation that often produces noisy images that lack detail. Capturing images during the daytime and then adjusting them to appear as if they were captured at night gets around the limitations of night time shooting. This is a standard process used in movies and TV shows and now you can learn how to accomplish the same effect on your still images in Photoshop.

WHO THIS CLASS IS FOR:
Anyone who uses Photoshop and wants to repurpose their daytime captured images

Someone who wants to learn to create custom color lookup tables that can be applied to video in real-time

Those who want to know how night time scenes are produced in most Hollywood movies

SOFTWARE USED:
Photoshop 2022

ABOUT YOUR INSTRUCTOR:
As a photographer, Ben Willmore has shot in all 50 states and explored over 80 countries. He has been pushing Photoshop and Lightroom Classic to their limits since the beginning. Ben is part of a select group of non employees that Adobe trusts with pre-release beta versions of their software so he can have a voice in the future direction of their software. He has written more than a dozen books on digital imaging that have been translated into 9 languages, has written over 100 articles for major magazines, and was inducted into the Photoshop Hall of Fame. He has been a featured speaker at events on all seven continents where he has taught well over 100,000 people. 

Ratings and Reviews
Student Work