Creativity Hates Complacency with Maria Brito
Chase Jarvis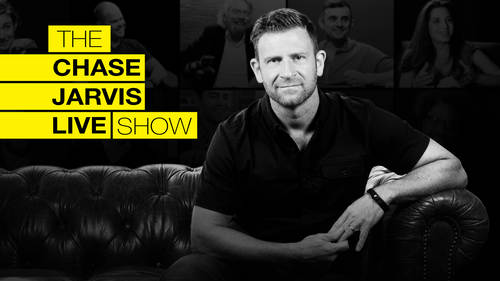 Creativity Hates Complacency with Maria Brito
Chase Jarvis
Lesson Info
21. Creativity Hates Complacency with Maria Brito
Lesson Info
Creativity Hates Complacency with Maria Brito
Hey everybody, what's up, it's Chase, welcome to another episode of The Chase Jarvis Live Show here on CreativeLive. You know this show where I sit down with the world's top creators, entrepreneurs and thought leaders and I do everything I can to pick their brain with a goal of helping you live your dreams. Our guest today is Maria Brito. Maria is a New York-based contemporary art dealer, collector and advisor and an author with a great new book called "How Creativity Rules The World, The Art and Business of Turning Your Ideas Into Gold". We talk about everything in this episode from brick-and-mortar galleries to the future of NFTs, how everybody is creative, yes, that's you and how you can actually turn your ideas wherever you are right now in the world, the gap between where you are and where you wanna be, how you can turn that into your future. It's an amazing episode, Maria, originally from Venezuela talks about not just art history, but making your ideas come to life in the presen...
t day. It's a fascinating discussion that goes from again, from collecting to creating and back again. It is a fantastic episode. You're gonna love it, I'm gonna get outta the way and let you enjoy our guest today. Again, Maria Brito. (upbeat music) ♪ Wow ♪ (upbeat music) (audience applauding) They love you. Maria, thank you so much for being on the show, welcome. Thank you Chase. I'm so pumped and thrilled to be here with you and hello everyone who's listening. I'm so excited to spend this time with you. Awesome, awesome, well, we have a lot to cover because when I originally got attuned to your work, I felt like you were speaking directly into my brain. You have a long standing place in the art world. You've written an incredible new book that I wanna talk about. You've helped so many others put their creativity to work in the world. You have inspired a ton of people, me included, so suffice to say, without me introing you, what I always love asking guests to do is for the people who aren't familiar with your work, other than what I just shared with them, explain sort of who you are, how you came into, maybe even being on the show, what you refer to yourself as and how you sort of orient in the world? Thank you again. So I am an art advisor and what I do is I am the eyes and ears of art collectors and I teach them how to diversify their assets through art, but also I teach them how to live with contemporary art and get a window into the hearts and minds of artists and it's an incredible, interesting, and fascinating world that I actually build for myself because I used to be a corporate attorney, that was 13 years ago and that was the time of my life that I label as my dark ages. So I transitioned into something that was meaningful and continues to be meaningful to me and in the process of becoming an art advisor and building the business, I also became a curator and so I have curated exhibitions around the world, I also was called by a lot of different companies to teach their employees how to see things from a different angle, how to think like artists, how to mine their ideas and build confidence in their creativity because everybody really is creative and creativity is not just for artists or just for tech, it is for everybody who want to materialize their ideas and benefit from them and in the process of doing that in my art advisory too, I decided that I wanted to bring the teachings that I had learned from artists and the things that I had learned from entrepreneurs into a more comprehensive program that is online and people can take it and do it at any time and whatnot and so the typical student is either, a freelancer or a manager or an artist or I even have had attorneys, I have had doctors, people who actually want to benefit from the power of seeing things from a different perspective and position themselves from a different angle and that is actually what inspired me to write the book because I saw that they were getting so many incredible breakthroughs and they were shifting careers or enhancing theirs or finally crossing that bridge that they were longing to bridge in terms of money or recognition or whatever and I thought, wouldn't it be interesting if I actually double down on the studies that I have gathered, the data that I have put together, the information, the historical passages and organized it in a book and that's what I did and so that's why we're talking today because I love what you do, I respect what you do tremendously, both as an artist and as an author and as a podcast host, I don't know how you do all this, but you do it and you do it beautifully and I'm your fan and I'm thrilled to be here today, sharing what I have learned in my life from artists and how I have also translated that into my business. Incredible, well, you are not the last, sorry, you're not the first, many have self-proclaimed recovering attorneys or someone who got into one career or profession only to find out that they wanted to do something else. So I wanna start there because there are so many people right now who are listening to the show who are on a path that they know either doesn't serve them or isn't their end-all be, some for very good reasons and others for not such good reasons, but I'm curious to hear your personal journey in recognizing as an attorney, corporate attorney, self-described, what helped you recognize that this was not your future and how did you go about that transition? And I wanna call out that whether you're an attorney or not, I'm not trying to make this about attorneys, whether you're a school teacher, a break dancer, a chef, whether you're doing anything and you wanna be doing something else, tell me your story of recognizing that the thing you were doing, how it wasn't serving you and what steps did you take to transition? That's an excellent question and I was an artist child and I wanted to be a performer and a singer. A lot of kids want to do that, but they don't have talent and I actually did. So when it was fun in like the school plays and things like that, my parents thought it was very cute, but when it started to become serious and I was a teenager and older and I started getting calls, auditions, people, record labels, tours, I don't know what, getting paid for that, my mom told me that was a job for hookers and she said, if I wanted to pursue that, remember I was born and raised in Venezuela and so... Like, you cannot imagine how backwards the whole thing is and at that time how backward it was, right? And so my mom said, "No, that's a job for hookers" and I did not have really many options 'cause she said, "If you wanna do that, you just have to pack up your things and never come back", but she was dead serious, okay? And she was a frightening woman, honestly and she still is, but now I'm an adult. So, sorry mom. So I did not have an option to go and wait tables and things like that, which I would've done, yes, like, okay, the hell with this, I'm going to like wait tables and make money or bartend or whatever, right? So... My parents had actually indoctrinated me into the idea that people, if they want to succeed in life, they have to go for dependable careers and those things that are like, you are a doctor, you are an attorney, you're an engineer, something like that, right? And I love to write and read, so I said, I'm gonna go to law school because honestly the other ones, I'm gonna fail tremendously, I can't even get accepted into medical, I was like, (indistinct), you know me, I have nothing to do with that and so I went Harvard Law, believe it or not, I mean, that's how far I went and I graduated, I passed the bar exam, I moved to New York City which was a big dream of mine and I worked in law firms and at the beginning, everything is new, it's hard, but it is new and you get paid really well, so I was extremely young and I was making a lot of money and I was living in New York City. So whenever I had my free time or whatever, I had all the money to spend in restaurants and whatever, I could not even spend it because I was working so hard, right? And in my very like little spare time, I would go to galleries and museums and sort of like collect little things for myself and whatnot and obviously I had like four different jobs at four different law firms because always thought that the next one was gonna make me happy, that oh well, this one wasn't necessarily so exciting, the next one is gonna be and the next one was not and the next one was not, right? And so I had already started thinking, this is just not gonna last for me, even though I lasted for nine years doing it, I said to myself, this is really horrible, it's so horrific. There is no way I can spend the rest of my life here and I had gotten married and I was pregnant with my first child and this was a thought that consumed me. What am I going to teach my child, children, model their parents? Am I gonna tell him that I sold out on my dreams and that I went to law school because my parents said that and look how miserable I am. So this was something that was constantly in my head and one day I was like, God, help me, seriously. I was like, I can't do this alone. I need help, please come and help me and I had this flash of intuition that reminded me that my husband and I had bought an apartment in Manhattan and we bought it and we sold it like within a year and a half because a broker came, she was working in the building and she stumbled upon us and you know brokers, like how they are, like they're hustlers, so she made her way into my apartment and she's like, "Wow, this is unbelievable, this is so beautiful. The art that you have on the walls and how you've positioned your things and oh my God, I can sell this like tomorrow", right? And my husband and I were like, hmm, is she real? So we gave her a listing, we were not even thinking about anything, right? Like we gave her a listing and the woman did sell the apartment for like 40% above what we had paid like a year and a half before, really way much more and she said to me, like in front of my husband, "The only reason why I did this is because of how beautiful you made this apartment look and the art you have on the walls elevated everything". This was a flash of insight I had and I said, I'm gonna go and pursue this thing because I'm not gonna go to another office and I'm not gonna go to work in an in-house council. I'm not gonna go and do like consulting for McKinsey. I'm not gonna do any of that, right? And I wrote a business plan and I told my husband, I don't need anything 'cause I have savings and all I wanted is your support here because I'm gonna have a child and we have a mortgage and because we sold that place and we bought another one and I really would love for you to back me up and he looked at me and he's like, "When are you planning on doing this?" And I said, well, when like when the baby is like a little, like I'm gonna go back to the law firm to claim my bonus and whatever and he's like, "Wow!". So I actually did that and it's been 13 years since that day and I have never been happier or more fulfilled. I have never made as much money, not even when I was an attorney and I think that, that incredible jump which was so hard and I have had to think in like what I felt at the time, the fear, the things that I had to tell my parents, even though I didn't really care that much, you still have respect for your parents. I had respect for my parents, right? And so after all the effort to pay for law school and the years and the blood, sweat and tears that it takes to get the degree and then to pass the bar and then the hours and hours working and getting to build your knowledge and your reputation, your reliable, your good, the partners at the law firm trust you, things like that and I was like, I want nothing with this lifestyle. I want nothing with anything that has to do with law and lawyers and nothing. I went out and I did. You made it. Well, you've done so many different things since then, including as an art advisor which is one of the things that you said it in your self-described, say title there. I know you have... You consulted on Diddy's Collection and Gwyneth Paltrow's and so many sort of favorite celebrities, helping them collect art that inspires them, that is valuable, that is oriented, has value in the market. That's just one thing. I do want to make sure that we get into your new book, "How Creativity Rules The World", but interestingly enough, this earliest part of your life, before you had a book deal and before you were working with Gwyneth Paltrow as an example to build up her art collection, you had to go to work on day one, right? You left the law firm, new mother, what did you do to get started? Because so many people, again, listening right now are like, great, I also left my law job, but now I'm scared shitless. Yes, yes. And yes- Zero to one, getting from just some deciding that you're leaving, the leaving process, but what do you do on day one? You're like, okay, here I go, you stack some papers on your desk, you make phone calls, do you hit the streets? Like what's day one for- No, what I do is that I had in my eye on someone who is a woman who works on messaging and communications and PR and things like that. So I called her up and I said, I have this idea of what I want to do and I would love to sit down with you because I have seen that you have worked with the entrepreneurs and different people and so I went to visit her in New York and I explained to her what I wanted to do and she said, "Well, I would love to take you on as a client and I'm gonna help you, so do you have an idea of what you want your website to look like? Or do you have an idea of what could be the most interesting thing that you could offer that nobody else is doing?" And I told her, I believe that the most unique thing that I have to give to people right now is my willingness to demystify the mysteries of the art world and show people that anybody can collect and that it can start at little money or big money, like it doesn't matter. I would love to start blogging and using social media because nobody else in that space is doing it and this was again, 13 years ago, pre-Instagram, pre-YouTube, like everything is online and available to everybody if they wanted to, right? And she said, "Oh my goodness, I find that so interesting because that's true. It's such an intimidating world and it's so snob". So we both sat down and we crafted messaging and once you start getting this ideas, you start coming up with more ideas, right? Because that's the thing, you have to take action, so that action begets more action and I hired the web designer, she thought it was gonna be good for me and I had a photographer and the messaging and boom, we put it out and I started messaging and emailing people were in other blogs, right? Like asking them to help me cross promote and so that was day one and so in two and three and like the first month or whatever it was of setting this up and I started asking people for referrals and say, I'll charge you half of what it is, I'll go for a lower fee, but I honestly think that what got me the most traction was my willingness to do all this blogging and let work and go to all the galleries, shake hands with all the owners and talk to every artist and do every art fair because the truth is, since I was an outsider, I didn't have preconceived notions of what I was going to find out, like in that world, right? I mean, once you are an expert, you've been doing the same thing for a long time, you start to develop blind spots because things are so easy in a certain way that you miss what's happening in the periphery of things and also once you've been for a long time in an industry, it's normal that you're gonna have beefs with people, enemies, things, you know what I mean? I had none of that, right? 'Cause I didn't know anybody and so if anybody would say, well, don't go to this person because they are this or that, right? Or... Don't even try to approach this artist because he is this and that and I said, okay, well, if that's what you think, that's great, but I'm still gonna go and figure it out myself. So I had this hustler mentality, but at the same time, it was very pure and naive and... There was no plan B, right? This was plan B. So it had to work out or else, I was going to see myself in this horrific situation of having to potentially go back to being an attorney and I could not do that. It was like for the years that I was an attorney, it was like I had a fake identity and when I decided that I wanted to do this, it's I became my own self. I really started inhabiting the Maria that I was meant to be and that is incredibly powerful. As corny as it may sound, I entered into the person, it's like everything worked out for me, seriously, because I had the intention of doing something new and different. I had the willingness to differentiate myself. I was fresh, I was new and I had ideas that other people had not considered because they had already been too ingrained and too entrenched in their ways and whatever and they were rigid and I was not and this was a huge advantage and that's why if anybody is considering shifting careers, do not think that your lack of expertise in an industry is a negative, on the contrary, it is an advantage because you have that vantage point that other people do not. So if anybody's scared shitless of doing something like I did because of a reason that they don't know how that specific industry works, I mean, first of all, yes, get to understand how the industry works, but do not be afraid that because you are not an expert and you don't have 20 years of expertise and also Chase, there's no such a thing as a 25-year career anymore. Yes. Like that is good for an artist, yes, because you are born like that, like nobody stays 25 years in a corporate job or things like that. The world has changed and because of that, people now have permission to do things that were unthinkable 20 years ago. You're in many ways a career counselor right now and so I wanna say, thank you. Right now, there are people who are taking notes. The idea of being a neophyte in the new industry is so scary and to be able to position it as such a positive, as you also were very clear, you do have to get to know the industry. I went through this exact process that you're describing, when I wanted to start my career in photography, meeting people and this idea, this willingness to learn, this sort of willingness to start at the beginning, those are all both scary and empowering at the same time. So I appreciate you for helping shape that and if you're listening right now or watching, this going from zero to one, there's so many stories that we've told ourselves, it sounds like, you would agree here that nothing can replace action because what you are telling yourself and the reality that you experience are often going to be very different. So again, thank you for sharing with us this idea of basically just going for it and trusting yourself enough to learn and there is also some really important stuff in there, you had a savings account. It's not like you just lit your job on fire and jumped. You had a savings account as an example, but if we can now put that on pause and you talked earlier about navigating your way into the art world, about meeting people, the players, being willing to... Be new, but also that you had this sort of freshness, obviously, you're one of 20 power players in the art world according to Complex Magazine and that didn't happen overnight, you've been doing this for, you mentioned I think 13 years now, but what are some of the things that across that... 13-year experience that you found differentiated you from other people in the industry? How did you lean into those things and were those attributes that were attributes you didn't have before or was it something that you doubled down on who you were? Like help me to understand how in this 13 years, you've been able to stand out. I think my willingness to educate my clients is twofold. I was educating myself and I was educating them and when you invest time, learning things and go into visit more artists than anybody and writing about them and photographing and documenting their lives, is a chunk of time of your day that goes into an activity that you don't necessarily see as a revenue generating, right? And a lot of people were not willing to do that, right? And they found themselves in the thick of sales which just fantastic of course, but they never decided to develop anything else besides that and so their businesses became highly transactional and that is okay, I'm not saying there's anything wrong with that, but I wanted to educate... My clients and I also had a dream to educate the audiences, right? People who had no access to an artist studio in Brooklyn, people who had no access to an exhibition in Venice, people who had no access to a puzzle, right? So I was there with my phone and my notes and my things and my camera and my willingness to actually put in the time 'cause it's work, right? I mean, producing excellent content takes a lot of time and sometimes it's like, it could be seen as an extra... Chore and I was like, I am doing this because first of all, it's needed and second, I have a knack for it and I like talking to artists and I like explaining to my clients what the artists do and how they do it and I like telling the audiences and writing for all the magazines that I wrote and all the things that I did and having my own blog and my own videos and my own TV show that I actually could bring this one more layer that was not being tackled by anybody else and I think that made a huge difference. Also, the desire to put myself out there, right? 'Cause it's scary in your vulnerable and we live in a world of crazy things happen in social every day and haters and I don't know what, right? So people may wanna not do that to protect themselves. People may not because of whatever reasons they are shy or because they don't wanna get in the midst of things that they feel like it's a waste of time. Look, it's funny because... When Instagram launched in 2011, I think and I only joined in and I was kind of reluctant because I was like, oh God, I already have Facebook and Twitter and a blog and I'm not gonna go to Instagram, like crazy me, but a friend convinced me and I joined and it was still early and I get in a big following because it was the beginning sort of and it was easier to build a following, but I remember when I joined, most galleries were not on Instagram. Most fashion houses were not on Instagram and they were reluctant to actually join for like ages and guess what? 25% of the transactions in the art market originate through Instagram in the millions of dollars, right? And they were like, absolutely not, that is trash. Now they're all on TikTok dancing too, you know what I mean? Because like they learned the lesson, right? I mean, not the hard way because at this point really, they are making money, but what I'm saying is, this things with technology and this things with opportunities and the amount of access that we have and the amount of reach that we could potentially have by utilizing this tools in our favor, right? 'Cause everything can be done wrong and for the wrong reasons and with the wrong objectives, but all these things that are presented to us in our generation and our time are there for us, to help us and they require time and effort like a podcast, right? Like writing a blog, like having a newsletter, anything, but it is the currency of how we live. So creativity is coming up with a ideas of value that are relevant today. So we don't wanna live in the 1980s as fun as they were and we try to actually invent the future with what we are doing in the present and that is really one of the core concepts of my book is inventing the future because I mean, I think for the most part, people who are creatives and no matter the industry, they have an idea of what they want to leave as a legacy, right? And part of that legacy should be always being pioneering something and I am a huge believer that anyone can be a pioneer of something if only they let their ideas to come out and if only they want to execute them. All right, before you mentioned the book, before we get into the book, 'cause I have a bunch of questions and again, there's having also written a book on creativity, there's so many parallels I was inspired by the overlap and I wanna get to those. Before we do though, just a question about, you talked about always use emerging opportunities whether it's with TikTok or social media or I'm just fascinated as someone who is on the forefront of helping... Connect artists to patrons and doing that in largely these high profile, through high profile galleries and whatnot, I'm curious if you could talk about the bifurcation or... Multifurcation of the historically oriented around galleries where... You might connect a patron with a gallery to acquire a piece of art and what we're seeing now, the artist director relationship that someone has with an artist to buy art directly from them and including NFTs, what do you see as this emerging and we're talking to someone who works, you work largely with many of these galleries and that's still where probably where most of the volume comes from, but we're seeing this shift so quick and NFTs and you're seeing people who historically wouldn't have been in the same room, a person like Gary V, who is a business person, he's getting auctioned at Christie's for NFT projects, so I'm wondering if you can paint a picture for us before we shift and talk about creativity the way you've written about it in the book, what are you seeing on the horizon in the world that you've operated in for the last 13 years? Well, it's also an excellent question, of course and I think that there are many ways to skin cat, right? And there are many ways that an artist can be an artist and a successful one, right? And so there are the traditional artists and by traditional, it doesn't really have anything to do with their age, but it has to do with their training and what they want to accomplish in their lives, right? And so these are the people who went to art school or sometimes they can't even afford art school, but they are super talented painters, sculptors, it's mostly painters and they start putting their art out there and they start knocking on doors and getting into group shows and galleries and things like that and one day a gallery says, "I want to invite you to have a solo show, show those amazingly well" and then the gallery extends that contract for representation because the gallery acts as also like this connection with the patrons and the collectors, but also helps build careers in the sense of, I will help you out, being the museum collection and I will help you out paying for the museum shows 'cause those things are not free by the way. Yeah. So it is a very kind of like, it's bureaucratic and at the same time, it requires manpower and help and whatnot, right? So that's one way of being an artist. A lot of young artists still dream of having that type of career and being in the museum and being in the big galleries, because this is what we know and so what you know is usually the thing that protects your brain, we are fearful of change and this is what's interesting, right? And now we're talking about NFTs and so, it is inevitable, right? In a world where we have been digital for so long and then we face a pandemic where things are even more digital, right? And NFTs, the first time they were mentioned and talked about was 2014, so it's not really like anything new, it's just that everything that is been discussed, that is weird, doesn't really immediately get a lot of popularity, like everybody who is creative is not going to get a lot of yay at the beginning, right? Because your ideas take time for people to accept them and... The beauty of this thing of NFT is that artists can now go directly to platforms or they can launch their own NFTs or they can show things on Instagram and say, this is a drop and then, all you have to do is go to OpenSeas or whatever and they don't have to have an intermediate, right? Like they don't really have to necessarily- Gallery or- Nothing for anything, right? Like they don't have to do that. Yeah. So that's fascinating because it's creating a whole hype, right? And like right now is the wild west because it's so new that you have the good, the bad and ugly and it just keeps multiplying. It's like mush ramming everywhere and it's always normal, right? At the beginning of something you're gonna have the moment where nobody believes it, then you're gonna like the peak where everybody's rushing, is the gold rush, right? Everybody moved to California, there was no gold, right? And then it'll start to settle and it is what I find about NFT, is the most fascinating thing, is the ability of artists to program royalties, the ability of artists to have an idea where their art, who's the owner and traceability over time and I think that the way I see it, where I see it getting a lot more of importance over time is that every tangible piece of art will be backed up by an NFT in the future. What five super complicated even as a former attorney really, is to think about ownership, because you can actually play with physical work, but also with the NFT. So while it's going to be more valuable, right? And how is that going to be, is one thing can be actually separated and traded, right? And commercialized from the other and... I respect Gary V, but we really have to talk about Beeple who sold his artwork for $69 million at Christie's and this is something that placed him immediately as the third most expensive living artist in the world. I mean, behind Jeff Koons and David Hockney. So this is something that you have to take a pause to think about this for a second, that like what you said before, people who didn't have this conversations in this important settings or whatever, which at the end of the day is all bullshit, right? Because we're all human and we're all very interesting, so there's people who don't necessarily were like hanging out with Christie's and whatnot, now they are and at the same time, Beeple who was a purely digital artist, now is making the tangible things that also sold at Christie's, right? And so what we're seeing is that there is this intersection of worlds that nothing that's tangible is ever gonna go away, humans wanna have things and... It's like the ruins in Ephesus, in Turkey are filled with murals and frescos because people wanted to have art in their houses, so that's never gonna go away and for those who wanna have a life in the metaverse and have houses there and throw parties in the metaverse with NFTs on the walls, that is also going to be an option and it doesn't have to be an either or I don't like extremes either, like it's all gonna be digital or like the digital people have no space here. No, I think that it's important that we as incredibly rational and smart human beings, that we are, that we appreciate that there are two things happening and that there's gonna be a lot of overlaps at some point, we're gonna have a lot of like experiences that have to do with digital world, that are supported by a brick-and-mortar gallery or an exhibition space and experience and things like that because creativity and human imagination, as you know, is like the most unlimited resource that anybody can possess. So there are things that are going to be happening that we have, I mean, we might envision them, we're just not experiencing them yet, but they will come to pass. So let's shift our attention now to your most recent work of genius, your book, "How Creativity Rules The World, The Art and Business of Turning Your Ideas Into Gold". So there is an opening line in the publication materials that I love, which is that Maria illustrates how creativity is merely a series of habits, actions and attitudes that anyone can develop regardless of who you are or what you do. That's a beautiful line, I wish I wrote it. I say many of the same things in my book, "Creative Calling", I'm curious to hear your take on that, expand that idea, that creativity is a series of habits, actions and attitudes. What do you mean? I think that when people hear the word creativity, they have one of two thoughts. One is that it is just for artists and that's what people do when they sit down with their pencils and canvases and whatnot and the other idea or thought that come to people minds is, I'm not creative because I'm not one of those artists or I'm not creative because I wasn't gifted like Steve jobs was and things like that and all those things are wrong because the truth is that creativity, as I said earlier, is your unique ability to come up with ideas of value that you can implement and that are relevant for your business or career and additionally, creativity is not one thing, is not a God-given, that I give it to you, but not to you. Creativity is an amalgamation of skills and habits and those habits are as simple as being curious, really, as simple as that sound and your ability to take chances and bets on you and on others and on opportunities. Creativity has to do with empathy, because if I don't know what my clients want, I don't know what the world wants and I don't understand what is around me, I'm never gonna be able to satisfy people's needs. Creativity is about being authentic and respecting your ideas and trusting them and not just self censoring every time or thinking that you're gonna be judged because you're gonna be judged regardless, right? So then I mean, people can think whatever they want and you can do what you think is appropriate and what you think is valuable and... This is what I'm looking to do with this book is just to remind people to go back to things that are basic and simple and complexity is the enemy of execution and it's funny because when I was thinking about writing the book, I called a friend of mine whom I really love and respect and I said to her, I'm thinking about writing this book that is good for entrepreneurs and it's good for artists, it's on creativity and she said, "So are you gonna ask people to do some arts and crafts and stuff?" And I was like, no girl, like she had that misconception and then I called this guy who had a consulting company that he had trained CEOs for, I don't know. He had like a company that trained CEOs and trained executives to first of all growth and I don't know what, so I call him and I said, I'm thinking about doing this and he said to me, "Well, girl, but innovation is reserved for those who can improve processes and cut lines" and I don't know what bullshit he said, like, all the words were so big and strange, right? And I was like, they're both wrong, right? Like my friend, my dear friend and this dude are so wrong that I have to write this book because I want to... Offer people a blueprint the same way that I had to build this company, right? And how I did it was by following this habits and by actually trusting myself, my gut. I think people don't talk about having intuition. I think people don't talk about that enough, both in the worlds of business and in the world of art, yet artists are the most intuitive people ever because they spend so much time in their heads and the are in silence and they are alone and this actually is one of the prerequisites to strengthen and develop your intuition and nothing in the book is expensive, hard to get, when you read the surveys that LinkedIn, for example has done in the past five years, is that they are scanning everything that's happening in the network because it's big data, right? And the number one skill that is looked and sought after by the employers is creativity and at the same time, the employers say is the hardest to get and when Adobe always is conducting surveys and doing things around the world is asking people, do you think that you are living up to your creative potential? I think every sixth person or whatever said, "No". I mean, we're not. So it's almost like there is this huge gap between what the market is asking and demanding from all of us and what people actually think they can give and it is not that difficult because this is a muscle that gets to be strengthened or weakened, whether you exercise it or not and little habits compound over time, little actions bring big results, but you have to commit to doing them. If you just read the book, you're gonna have a lot of fun, ideas at the moment and you're gonna think this is so great and ah, haha, I'm engaged, interesting anecdotes and you close the book and you just walk away, I mean fine, but if you actually do the exercises at the end of each chapter that I call the Alchemy Labs because they're really magical, then you're going to start seeing results like my students did, like I did and I think that's what I want. I want to see people succeeding at what they want to do. I'm not sure if you're aware, but the past two years have seen the filing of 10 million new applications for businesses in the United States, which is an unprecedented number, never in the history of this country we have seen so many new applications for new businesses and that is exciting, except that the data also tells you that 25% of businesses fail during the first five years, 40% during the first 10 and so on and so forth and the data also tells us it's not lack of money or funding, is lack of creativity, is lack of ideas, is rigidity, is not wanting to pivot at the right time, is getting so married to what you originally wanting to do and having the... heartbreak of having to shift the business at any given time that you don't wanna do that, you're still, I'm doing this and it's interesting that it's not because people are not accessing capital or it's not that they can't really get the money, it's just that they don't want to change their minds about what they're doing. Wow, let's talk more about this intuition piece. It's a piece that I had flagged in the book here. I'm on page 100 in PDF and... I think the way that you talked about it is how to trust and then, what is it? When your gut knows what your mind doesn't. I'm obsessed with intuition. I'm wondering if you could go a little deeper, how do people hone that thing? And a question that I get asked all the time when I rant and rave about intuition is like, how do we come to trust that intuition? How do we know when our intuition is right, air quotes and when our intuition is wrong? Share with me your thoughts on intuition, when you know you're in your gut, but your mind or your brain does not? Intuition... Is very debated, right? It's a topic that it sometimes may sound a little woo-woo, but it's not because every human being is equipped with intuition, in fact, when we are kids, we trust our intuition, we know how to guide ourselves in and out of situations, kids are highly, highly intuitive because they have not received a lot of formal education, kids are not in like those positions where they're reading news all day long and they are drowning in information and... We as adults, obviously start... Making decisions basically on logic, right? Because you tend to think, well, A plus B equals C and I have done it already and this is something that is been working out for me and it's proven and so I'm going to keep following those formulas or rules and whatnot until they don't work anymore, right? Even if like you have been having that feeling in your stomach or in any other part of the body where you feel your intuition, which is most of the time is in the stomach and that's why you say, gut feeling and you did not pay attention to that and man, it's something went wrong and you're like, I wish I would've paid more attention to my intuition and... Intuition really gets honed in silence and that's another problem that we have nowadays where people can't be alone and people can't be in silence, they are constantly looking for noise, whether is the background of a TV or listening to a podcast all the time or an audiobook or crossing the street at the same and answering an email when the billboards of Times Square, so it's like there is too much happening that does not allow us to be with ourselves and call it whatever you wanna call it, whether it is meditation or taking five minutes or 10 minutes every day to just be and close your eyes and just be and breathe is absolutely necessary. If you do want to believe in your intuition when it speaks to you because those moments of silence allow you to perceive things from a different perspective, basically and they are just building this muscle of your intuition, so that it's not all the time, just like, if you have a machine that is on 24/7, that is going to get overheated and is not going to perform optimally, right? This is the same thing with your brain and it's the same thing with your intuition and so what I like to do is to just ask people and myself to just sit in silence and ask questions that are not yes or no answers because those are usually very tough and our intuition is always right, what is wrong is our human interpretation and this is where things get complicated because since we already have formal education and we have experience and we have logic and we have this and that, we do not necessarily believe when our intuition is telling us something and we dismiss it, like, these are my little thoughts or my little... Obsessions or whatever. What I like to do is to ask questions when I have a problem or when I don't know what to do and I sit down and I close my eyes and I breathe and I ask to myself, what is it that needs to get done, so that this happens right? And so sometimes I don't get an immediate answer. Sometimes I get symbols that have nothing to do with what I asked and I just have to write them down and interpret them and it sounds so strange, but it's almost always right and this is a practice that really has saved me from very bad deals and it also also has brought a lot of money too because I trusted what I needed to do and so if you get hit with a thought, a variety of times, whether you feel it in your body or not, I encourage you to take notes of that thought and to look at it and to keep asking more questions. Sometimes you close your eyes and you say, I don't have nothing, I'm blocked. So write down, what is the block? Does the block have a name? Does the block have a shape? Does the block speak a language? What is it? Because you have to prompt these things, so that they come out from whatever it is, you're subconscious or your intuition or whatever you wanna call it. You have to help yourself and your brain to come up with those answers and an amazing way of doing that is by using pen and paper, which is also, it looks obsolete, but it's so important because there are neuro connections that can only happen when you hold a pen in your hand and you put that on a piece of paper and you start scribbling and a lot of people, they don't use that anymore and they just type things and of course we never wanna live without computers and without our phones, but they are taking away from us this moments of self-reflection that can only have in that way and it's super important that people reclaim those habits for themselves because they not only have a direct connection to our intuition, but also they can be incredible sources of ideas. Once you start writing, you sometimes don't wanna stop because so many things are coming from your intuition into your hands. I am fascinated by this idea of intuition as I shared a moment ago, I'm also interested in, if you go back to the first couple of minutes of our conversation, you listed a handful of attributes around creativity and the attributes that are gonna help make people successful. You listed intuition, I believe and I also heard you talk about risk taking. So I wanna understand what your research, your experience curating... Art shows, collections of the top artists in the world for people like you mentioned, Gwyneth Paltrow already, people who are Diddy, people who are wildly creative in their own, right? So you're surrounded by these folks and I'm curious if you've seen patterns of risk taking in particular and what you've been able to extrapolate from that? Risk taking takes a lot of different shapes and it's not just jump out the window and see if there is a parachute somewhere. It's not that, right? And yes, I think the most successful artists and the most successful people in the world take risks and... A lot of these guys, for example, in corporations who are presenting their ideas to the board of directors, like Elon Musk, they get asked questions that they don't have the answers, they don't know if they can happen and they say yes, right? And as simple as that, they take huge risks just by saying yes to things and that is one of the ways that is the easiest way to take a risk, is like, say yes to things even if you don't know how they're going to happen because that not only will put you already on the hook for something, but you are going to have to come up with the solution and you're going to find a way to get that done and that is, I think I encourage people to say yes to things even more than what they normally do because it's a way of taking chances. Also, if there is something you are dreading, go ahead and do it, right? Like there are people who hate being on the phone. There are people who are super fearful of sending an email. Those are little things that people can do to cultivate risk taking. You don't have to go, I'm not asking go with all your money to Vegas, right? And see if like you can put it on the table and what happened, no, that's not. It is about every day taking a chance, even it's like, listen, just go ahead and wear the damn red shirt. You know what I mean? Like if you are always wearing black, just show up with red one day. As here I am, dressed in black, you got me. No, it's just as simple as getting to understand the getting your brain adjusted for risk taking, right? And this again, it's like a variety of things that people can do that are so simple and so straightforward, putting yourself out there is taking a chance, right? And expressing your ideas and having that vulnerability of saying, this is what I think and here it is, it is a risk because you don't know how it's gonna play out and you don't necessarily have to please everybody, but you already took that step forward and everybody, from Diddy to Gwyneth to Michelangelo to Leonard da Vinci, all those people took risks because the things that you are doing are new. When Gwyneth started Goop, it was a newsletter that came every Thursday from her kitchen in London and people were like, what is she doing? And why is she doing this? And why she has to give me advice? And who does she think she is? And I don't know what, right? And so the company's worth $300 million today and that was the risk she took, right? And when hip hop started, it was an underground movement from the Bronx that it was just celebrated on the streets and people had no idea why they were talking and rapping and there were boom boxes and somebody from the labels saw that and said this, "I'm gonna take a chance on this because it sounds so fresh and new and it's so interesting that I think it has legs", right? That was in the 70s. So I think that... It's so easy to be in our comfort zone, right? But is there any greatness coming out of our comfort zones? Is that what people want to do? There's nothing wrong or right about this, right? Like, I mean, you can be in your comfort zone and do your thing and have your day job and be excellent at doing that thing and that's okay, but is there greatness in that? Is that how you want to be remembered? Is that what you think is going to be your great legacy for this life? And I think that people who are listening are usually people who are very invested in self growth, people who are invested in learning new things and people who always want a little bit of encouragement and I think that the greatest things don't happen in business as usual, the greatest things always happen when you push yourself out of business as usual, out of the comfort zone, out of like, we do this because it's reading a manual, we believe that. If you would've told me, any one of us, 20 years ago that we would be doing this or that, our phones, our TVs and you can talk to someone in China right now and see their faces and their whole lives and it's the music player, the organizer, the whole thing, people would've said, are you nuts? I mean, like, please stop! I mean, like hello and now we do all those things and it's because people took chances. It's because Apple and Steve Jobs, decided to push for something that seemed impossible, but it was not and so here's what I wanna leave people with this thought and ask yourself this questions, if it's not illegal and if it's not against the laws of nature, what is keeping you from doing that? It's so true that the best stuff is on the other side of fear and anytime I hear that one of my least favorite phrases in the world is best practices. By the time something becomes a best practice, whether that's a subject line, an email or a design principle, what it has become is tired. It has become codified and it's in stone somewhere and that never looks like the best stuff, that never is the stuff that gets me out of bed in the morning or that I'm going to stop scrolling on my phone or stop as I walk down the street and see something new and fresh and different. It's just wacky to me that we aren't more aware that best practices and the future, as you said, greatness are so different than one another and yet we think we're going to get to greatness by way of best practices and it just doesn't happen that way. So yeah, the last point I wanna speak with you today about, again, with respect to your book, congratulations, by the way, "How Creativity Rules The World" is the idea of constant change because you've described at several points throughout our conversation, 20 years ago, the art world was only like this and now it's a combination of physical and digital and the galleries and the NFTs and we've seen that change, we talked about just now the evolution from best practices to taking risks in order to be great and what we can extract from those two things is constant evolution. So I want to understand your view as I read in the book and it's very powerful which is why I want to hear from you, the only constant is change, especially in creativity and especially in the art world where you make your way so easily and in such a well known way. Talk to us about how creators, entrepreneurs, should think about this ever changing environment that they find themselves in. I said before how the business owners let the businesses fail, not because of lack of capital or funding, but because they are so married to the idea that was the original idea and the thing that they said that I'm gonna do this and then market conditions change, the world changes, things happen, pandemic, societal, uprising, whatever, right? Like we have seen it all and... I think that adaptability, obviously is part of being creative and flexibility as well and that is not something that everybody has, but I think people can get there and cultivate that and the truth is that my business is not the same as it was 13 years ago and it is not the same as it was five and it's not gonna be the same in and I like that because it keeps me on my toes, but... You have to meet your audience and your clients where they are, not the other way around, unfortunately, right? And so people move in certain directions because there are trends, because there are things that are happening, because they get affected by external circumstances, because people move on very fast. I'm the mom of two gen Z boys and believe me, I see how not loyal they are to anything, right? I mean, it's just like not music, not video games, not friends, it's very strange, but it is a reflection of the society that we have and I'm not actually saying change every day, like gen Z do, but I'm saying it is important to be open to the possibilities that you have to shift your business model, the art that you're making, the things that you're thinking about, that's why and I love this, that's why you see a lot of actors getting into the role of directors and producers because it's really hard to have an acting career like Meryl Streep, right? That means like I've been doing this for 60 years, right? But they already have been in the sets. They already know what things are happening there. They already know everything, right? And that is why they can make those transitions and we actually enjoy them, right? Because they can do magnificent things if they are willing to take those shifts and that's also the same thing, like, why you see... Artists who start in one way and they evolve because artists and art, you know this, it doesn't happen in a vacuum, right? You need to have the world around you to actually reflect and make sense of it and the world is never the same. The world moves very fast and I think... The greatest contribution that anybody can do is to help others transition or move or do things better in this world. So that means that you have to be very present and very attuned to what's happening in the world and that is how pivots happen and that's why I have a whole chapter on pivoting because I think that people sometimes don't see the value on changing things and you're like, oh gosh, my numbers are not looking good or this has been a trend where I am seeing this that is not moving, is not going forward with this, that is actually a very clear signal that you have to adjust the course before it's too late. The market, the conditions, the responses you get are going to be the best barometer for you to measure what's happening and those things usually don't lie, right? And I mean, it's a shame when people get so rigid, that incredible things that could have happened because every pivot is based on what you already know, right? I mean, you're not going to go from a surgeon to a painter. Like that's hard, honestly, right? I mean, I'm talking or like what I did, which was incredibly radical, but what I'm saying is that once you have built something in a business that you love, you can use what you have built to do something else and the most interesting thing is that people should always explore intersections and adjacencies because this is where opportunities are, right? I borrow things from other worlds to bring it into the art world because like when I was doing the blogging, nobody else was doing that, right? I mean, there were fashion girls and there were I don't know what doing the blogging or cooks and chefs and nobody in the art world was doing it, so I borrowed that, right? When I did my online course, nobody was doing that, but other people were doing that in other areas and influencers and content creators and whatever, so I said, I can do that too. So the adjacencies and those are very important places to look for opportunities 'cause every industry intersects with another in many ways, not just one or two, but many, many ways and if you pay attention to what's happening in those intersections, that is where you're going to find gold and it's usually things that are not that obvious, right? They are not obvious to the rest of the world or else everybody else would do that, but they have to be obvious to you. Like if you are paying attention and you're in the present, you will see how to make those adjustments, pivots and changes if you're willing, if you are willing to look for those opportunities. All of the best things in my photography career, for example came from outside photography. This particular show that we're on right now is now 12 years old. No one was podcasting and the idea the photographer would start a podcast, talking to people who were beyond the photography industry it was like, it was so strange to people and yet that's where so much value from my personal experience. I am signed up, I'm endorsing that idea with everything I've got. I think it's a brilliant, brilliant insight, also again, congratulations on your book, "How Creativity Rules The World" from curating for others to curating your own creative path in this world. Thank you for bringing insights in our conversation today. Obviously, our community is fantastic at supporting authors who are sharing books with the world. Where else would you steer, as you mentioned, your online course, which is incredible as well. Part of my question is where else would you steer us before we wrap up our show today? Any other places out on the internet you want us to go check out? Come to my website, mariabrito.com and you can also sign up for my weekly newsletter which is called The Groove, it's free, it will always be. I love to give, I've learned that giving is much better than receiving and it's a newsletter on the intersection of business, art and creativity and I work super hard of that because it's a lot research and I try to condense it and to make it every week under five minutes or less like the time you spend reading because I know people don't have that much time. So come hang with me and mariabrito.com, there are all sorts of like links to my social media and there is a form for email I'd love to hear from you and... I'm just excited to get this book out in the world and I am... Pumped for people to tell me what kind of breakthroughs they got and what kind of incredible ideas were birthed through implementing was written in that book. Amazing, thank you again so much for sharing your time and energy, your vitality, it oozes through the screen here or through the headphones for those who are listening instead of watching. Thanks so much for being on the show. You heard it here folks, this is an incredible book. I couldn't endorse it more. The idea that this role from within the art world about not just the art world, but beyond, very inspirational and interesting, it is that same sort of thesis that I had developed and when I'm reading this book that Maria wrote on like, yes, yes, underline, dog ear that page. So again, thanks so much for being on the show, for sharing your book with us and until next time, I bid everybody out there and you of course as well, Maria, thank you so much and I bid you adieu. Thank you. Thank you everybody. Thank you, you're a fantastic, my heart. (upbeat music)
Ratings and Reviews
By far the best classes on Creative Live!! Thanks Chase Jarvis for bringing so much greatness to the table for discussion! Just LOVE it!
@ChaseJarvis - love chat with Gabby about hope and the "relentless optimism" you share at the end of Creative Calling. Many thanks. -- René Vidal McKendree Tennis
Excellent interview with thoughtful questions. Thanks!!
Student Work