Q&A's With Chris
Chris Burkard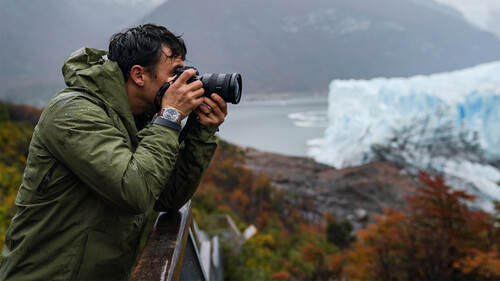 Q&A's With Chris
Chris Burkard
Lesson Info
11. Q&A's With Chris
Chris answers your questions from social media and answers the biggest question left of the workshop: will he share Brea's bread recipe?
Lesson Info
Q&A's With Chris
I put out a little questionnaire on social media to ask you guys what you're most commonly wanted to know questions were, right? And I think that the reality is I touch on so many of these subjects, a bit more in depth and a lot of these kind of things that I wanted to address are really just they're so nuanced that I felt like it was important. And it was pertinent to maybe just dive in a little deeper into some of these things, because as you've realized from doing this business photography course, that you can't really talk about business without talking about marketing. You can't really talk about business without talking about mission statement. You can't really talk about business without talking about your personal life. So the reality is all these things in so many ways they're succinct and they're congruent. And I think that in many ways, my hope and goal is that you can pluck out and extract the bits of this that have been valuable for you and really worthwhile for you in hop...
es that this will absolutely benefit you long term, help your business, get through some of these kind of struggles and trial periods and realize that it's a long road. And if you wanna be a creative working in this field, you're gonna have to do that for a while. And I don't want that to scare you off, 'cause it can also be an awesome journey with incredible views and epic opportunities, but you're gonna have to weather some storms. And so that's kind of been the goal here now to answer some of these commonly asked questions. I want you to know this is right off the top of my head. There's no preparation here. I haven't thought through these. I am literally just looking through a handful of them that I see right now. Okay. Hmm, I'm gonna try to probably go into some of these a little deeper and then some of these might just be real quick rapid fire because I think I already addressed them. So from Carly In The Clouds, "If you mess up a delivery timeline, how do you healthily relay that info to a client?" Great question for example, COVID right. There's probably some timelines that have been messed up and I think that people are more understanding in this current climate than ever before. One of the things that I like to do is, again, this concept that I talked about with the agent, the producer of educating the client, when you're telling them when you're educating them of how realistic that it is to do this job by giving them accurate pricing, by giving them realistic pricing, by separating your fees from the fees of the actual job, basically and showing them what you're really getting paid based upon what the whole price is. Well, a part of that is also giving them a realistic timeline, what it'll take to deliver that. And that really comes with time. I always pad it by a week or two weeks. If I have 10,000 images to get through 20,000, 30,000 images to get through, I wanna give myself a little more time. So they don't come to me being like you said, this date, blah, blah, blah. And if they are on this hard deadline, well, you're gonna have to realize that you might have to bring somebody else into your office to help you finish that. I've had to do that in the past. There's even times where I've spent a lot of extra money coming in so that I can make that deadline happen. But I think the key is keeping that relationship with the client as healthy, safe, as possible is the very best thing that you can do. Now, if you've managed to kind of delay a deadline, you wanna move forward, what do you do to keep things honest and transparent? You do exactly that you just give them an all honesty and all transparency. I think you're realistic about if there was weather things or if there was an issue with the drives or if there was something that happened, don't start off on the wrong foot and tell some fib that forced you to do it. Don't throw somebody else in your studio under the bus, explain to them that maybe there's an opportunity to say, hey, I know we didn't deliver on time, we're really sorry. But to show you a stroke of our gratitude and humility, like here's an extra this, or here's an extra that, or you might do something along those lines. I think that goes a long way. And just giving them a completely honest perspective, be like, I didn't evaluate how much time this is gonna take because there were a few more asks placed on us during this shoot. Or we didn't evaluate how much time these images were gonna take, 'cause we shot a lot more for you. So there's always a way to spin it, to make it more positive or to say, we're working through this right now and we're gonna deliver a product that was way better than we even expected in the beginning. So these are just some thoughts and ideas, but always honesty in the beginning and knowing that like everybody does this, these are common mistakes. Okay, hm. What is the best piece of advice you've personally received? From Dak Whiting. Great question, wow I've said this probably a hundred times. Don't get good at something you don't want to do, okay? That's just all there is to it. You don't wanna be the bookkeeper, don't be the bookkeeper. You don't wanna learn how to use QuickBooks. That's gonna be a whole section of your time, your brain, your effort, your energy, that you're gonna have to pour yourself into. And if you do that, then that's less time you can focus on being creative. I think that there's this concept where we often think, and this is really more advice to young photographers, right? This advice kind of furloughs into that. But there's this example where a photo editor wants to see the work of a young photographer and they ask for their book and the photographer gives them photos of portraits and landscapes and action. And they have this expectation that that person wants to see everything. When really they're hiring you because you're a specialist, they're hiring you because you do one thing really well. That advice has lived with me forever. That's why they hire Paul Nicklen because he is the best at shooting under Arctic ice. And yes, he can shoot incredible Afghan portraiture, but it's not the job that he's usually out there doing. Now, I work on specific portfolios all the time to improve what I can shoot. But the reality is what it boils down to is I aim to be a specialist and I aim to hone my skills into one thing and be the best at that because that's why you're hired by the client. And yes, you can work on things and you can promote other things and you can invest in other things in portfolios. But it's important to hone on that one skill. So understand that again, you don't wanna get good at something you don't want to do, right? You really need to learn to hone those skills. And I think that's been a major benefit for me. How do you say no to potential clients? Wow, great, this is a great question. And this is from Sheve Ganesh. I mentioned this before, and this is just personal wisdom, okay? It's straight from somebody else's wisdom too. It's "Essentialism" by Greg McKeown. And this book is all about understanding and deciding what's essential. So when you learn to say no to a client, again, it's all about being straightforward and honest. And I think what it comes down to is timing. You can always throw your time under the bus, right? You can always use that as your excuse. I don't have the time right now to do as focused or as good or as honest or as laborious of a job as this is gonna entail. If it's something that you just don't want to do, there's no need to say I don't wanna do that, right? And again, you can always put or task your agent with doing that. You can always ask somebody else to say no for you if you don't want to. I don't think that there needs to be an altercation, but learning when to say no is really a judgment based on where is your time best spent. And that goes into so many other deep things like, is this job here to make you money? Is it gonna fulfill one, two or three of your essential needs? Is it gonna make you happy? Is it going to allow you to make more money, which will then allow you to spend time doing projects you want? Is it going to push your career in a positive manner, right? Is it gonna be something you're proud of sharing or promoting? So if it doesn't fulfill one of those needs and or you don't have time for it say no and learn to say no and say no humbly with humility and grateful because what I always say first and foremost, when I get an email is thank you so much for thinking of me for this. Like I am honored, I'm truly every time honored someone would even want to hire me for a job. Now, whether I can do it, usually the first thing I do is I don't wanna get someone too excited and lead them on. I wanna say, I gotta look at the calendar because there's a couple other things conflicting right then, and we'll get back to you and see if this is a possibility. And so if you paint that picture, you're excited, you wanna move forward, but there are always gonna be potentially conflicting things. That's the best way to, I think, set yourself up so that if you have to say no, it's because of one of those reasons, right? Ar Melik, how do you approach editors and print teams to have your work considered for a story? That's a great question. So explain a little bit in sort of my intro story that my relationship with my first photo editor really became this friendship that took a few years to really create. Over the years, I've understood that as a photographer, you have a service that you can provide to a lot of these magazines and that service really comes down to what can you offer, what can you give? What can you provide them being, they have needs, they have to fill, they have sections of the magazine, whether it's stories or profiles or interviews or whatever, and ultimately you wanna fulfill those needs. So are you bringing them an interesting story? Are you bringing them something unique that they feel like will fit? If that's the case, then there's a good chance that that will come to life if you're sort of just asking them or probing them, oh, do you have any work? Oh, do you have anything that I could shoot for you? I don't think that's the best approach, right? Typically what happens is you bring them a concept or you bring them an idea, or maybe there's a relationship that you have with somebody else that they're looking to feature. You would be able to do that job. And that furloughs kind of into a relationship that then it becomes more open and easy and easy to navigate, really pitching new work. Now sort of the, I guess the way to approach editors is many as many times with a deck, right? So a lot of times early on when I was doing trips for "Surf Magazine," I was going to these more off the beat and path, remote places and it was gonna cost more money and it was gonna be more expensive. And I was kind of having to convince them that these were good trips to go on. Now in the beginning, email wasn't enough. So what did I have to do? I'm gonna pull resources offline. I'm gonna gather some text. I'm gonna give you an illustration of what you might be able to see there. That is really the best way to approach them, right? The more prepared you are, the more impressed people are gonna be, the more with it you are and the more of your crap you have together, the more impressed people are gonna be. I think that's the best way to move forward. Okay, Jade Nattered said, "Does the business aspect ever seem to get in the way of the true joy of simply capturing the world?" Absolutely, absolutely, yeah. I mean, for sure it does. I mean, that's the reality. I'm not gonna sit here and tell you that every time I pick up a camera, I'm just immersed with joy and love and excitement, there are times where it is absolute work. That's a reality. The goal again, when we talk about this kind of personality of how each of us operate when we're at home or when we're filling up our cup or our well with inspiration, that's really where it happens. You wanna be so filled up with inspiration, from the things that you care about and love that it spills over, right? And you have some to give you have something to give because the truth matters that our jobs that the truly will just make you feel worked. And the thing I would say is that if the camera, after you've put in those 10,000 hours after you've really put in that time, and you've learned how to break through those sort of technical barriers, if the camera is the only thing that defines you, the only thing that brings you growth at a certain point, you're gonna realize it's not enough. And so, what I suggest is find other ways to find growth, whether that's physicality or whether that's speaking, engagements or something where you're exercising your creativity, whether you're directing, go back to being new at something, go back to sucking again, because that will teach you and make you appreciate just how much that learning curve is. And once you do that, I think you'll also realize that there are moments where after you've put in that time, that investment, you can put the camera down and you can really appreciate these places. Also, too, I think what I've realized is that going into a location and just trying to shoot blindly is a really scary scenario because it forces you to just start reacting. I don't wanna react, I wanna compose much like a composer would compose an orchestra. They've have this thoughtful process where they're going and they're giving their time. Oftentimes we call this a scout day. If you have the scout day, you're not out there with your camera, you're with your phone or something. And you might just be taking reference shots and you're really breathing in this place. You're taking it in so that when you do take the time to sit down with your tripod or whatever, you've really drank it all in, you know what you're doing, right? So for me, I really try to avoid, and I know this is not everybody. We can't always just go there and have the time to scout. Sometimes it's running guns, sometimes we're just shooting. But when you give yourself the time to really take it in, you appreciate it, you see certain things more. The photograph behind me is actually from a mentor of mine, Michael Fatali. And this is normally a long story, but I wanna shorten it for you, Michael Fatali. If there's one thing that he taught me, it's about how to be patient with an image. He was a mentor of mine, I trained under him for a little bit. He shot large format photographs, eight by 10, right? He would go into the back country with a big wooden tripod, huge camera, big plates, right? With four or five sheets of film. And every photograph on his website would have the amount of hours or days written by it. And that was the amount of time he waited for the light. Why? Because he had to, because he was forced to. And when he says, when he would go to these places and they were so beautiful and all he wanted to do is start shooting. I'm like, "What do you do?" He's like, "I couldn't do anything. I would have to write a poem about it. I'd have to sing a song about it. I'd have to draw it or whatever, whatever I have to do to get a little creativity burst out of me." But when it really comes time to taking the picture, he's like, "I would wait for the moment when it felt right when the light looked good. And then I would document the image." And I think that's the reality is to give yourself that time, you'll find that you can really appreciate these places more, right? Hmm, so by Terry Bell, "How many hours do you or your staff have to devote to post-processing of photos?" Not a lot, actually. That's the beauty is that, see my work wouldn't be sustainable if every image took hours and hours, it just wouldn't be because what you're seeing online or whatever is a very, very, very small fraction of what I'm shooting. Why? Because of a couple things I'm often shooting multiple variations so that I have images for stock use for I have images to sell to different types of clients, vertical pulled back this that, it's not like I just shot that one frame. I'm also trying to oftentimes nail down a brief. And that requires a lot of angles and creativity and this and that. And ultimately when I'm passing these images over to my photo editor, we know that although we might be sending the client a couple hundred images, we're only really delivering a certain amount that need to be truly post processed and executed perfectly. So that means that I don't wanna sit there and edit every single image to the nines, make it perfect. I wanna give them a sampling of what it looks like, and then hone in on their selects and then work through those perfectly. And I would say that almost every job takes us about a week to two weeks to process whether it's 10,000 images or 30 or 40 or whatever, we kind of have it down to a fine science. And it's a process of me, of working with Hannah. She looks at it, she's making selections, I'm looking at it. I'm making selections, going back and forth to kind of do tweaks and edits. And I'm giving her creative feedback. But ultimately I wanna put it in her hands to strengthen that role and strengthen that skillset. So, no, it doesn't take that long. I would say at most it might take, a minute per image or something like that, but then a lot of times we're shooting in a big batch or we're shooting in at the same angle. So you can just batch edit the next 100 photographs by copying and pasting. "Do you mainly reach out to companies you wanna shoot for or is it vice versa or both?" By Bella Coats. Well, the reality is I mentioned this prior, quite at length, but ultimately, no, I'm not reaching out to most of the larger brands I work with. Like if it's someone like Honda or Toyota or Apple or whoever, no, we're not. We are simply just focusing on talking to their agencies, putting out good work. If it's somebody that we've had as a past client, we're kind of keeping in touch that way and just sharing what we're doing. We're not reaching out saying, are you hiring? Is there anything new? No, we're just trying to stay on their radar, right? Now, if they're smaller brands, those are brands I'm usually working with on a personal project level, whether that's some sort of ambassadorship or whether I'm trying to formulate a relationship, 'cause I wanna go do a trip somewhere or an expedition and I'd love for them to endorse or sponsor that. So those are brands again, you have the Fortune 500s and then you have these kind of much smaller brands, usually where their marketing department is inhouse. You can reach out to them via DM. And again, these are like the Cotopaxi, the Topo designs of the world, et cetera, et cetera, where there's sort of a usually a direct line of communication that you can access there. And that's kind of one of the ways that I like to go about that. So it's a bit of both, yeah, to answer that question. How do you apply these skills to personal photography, vacations and family moments? P. Trehan, I'm not good at it. I don't really shoot on vacation, I'm so sorry. That's probably not what you wanna hear, but the reality is I'm terrible at like documenting all these moments. This is what I use when I'm on vacation. Why? It's really simple, actually the smaller the device, the more intimate the experience, right? The larger the camera, the larger the technology between you and your experience, the less intimate it's gonna be. I mean, it's simply the size creates more space between you and your subject. Like actuality the physicality of it. So for me, when I can pull up my phone and nobody's threatened by that, nobody feels like, oh, I gotta pose, I gotta look good. As opposed to pulling up a big camera where people start to feel like something's happening. I feel very, very much grateful for a device like this that's super simple. So most of the images I'm shooting on family trips or with these, or I'll bring a Polaroid or something along those lines. There is one question I really like that I scrolled through here and I'm blanking on the name, but we'll find it was, how do you diversify your workplace? And that's such a great question. Something that I've, especially in these current times, been thinking about a lot and over the years, I've been lucky enough to have a super diverse amount of interns that have come from all races and genders and whatnot. And the beauty of that is that for me, at least most people that work for me come through that internship process. Now I think one of the issues that I found is that a lot of the applicants simply aren't that diverse. And I need to do a better job at getting my sort of, getting the word out right to a more broad community. And so I signed my business up for the outdoor CEO pledge, which really also not only does it force us to kind of enact like a pledge that we're going to increase diversity and do DEI training within our workplace, but gives me the resources to put things like my call for interns and whatnot and or employees if I have openings out into a more diverse crowd, which is awesome, 'cause they help us do that. The other more challenging scenario is when you live in a really small town, like say in San Luis Obispo, you need to look for ways in which you can bring other people in because we don't have this huge pool like in Los Angeles or LA or Los Angeles or San Francisco. So one of the things is if I'm going on a job and if I'm hiring, trying to kind of reach out, look at people online, even just broadening your scope of who you work with is such an awesome way to do it. I think one of the key components that I've thought about here with kind of understanding the movement that's happening right now is my role and how I can help foster awesome experiences for diverse youth to have outdoors and basically raise money through selling prints and doing that. I think that's one of the awesome scenarios which every photographer has at their availability is if you're creating projects like books and prints and films, do a fundraiser, do something like that, give money back to these communities and or give of your time, give of your energy, right? If that's available to you, obviously, if you're just trying to stay afloat and scraping by during times of COVID, don't stress too much get through that. But then when you do have the ability, try to find ways to mentor others. And that's really, I think one of the key things I've found is that by being able to mentor, that's the greatest gift I can offer besides, maybe helping someone out financially is to share with them the knowledge that I know. And that's my real hope. What's a legit place to buy a good use setup to get started. Probably used the used section at like B and H, they're usually certified, pre-owned sort of things, those things they have warranties, it's a great place. How do you get your photos to be seen? Pretty simple. The key component here is using free marketing tools that are available to you. Again, looking into making noise with your work, making buzz, right? If your work is like everybody else and it looks the same, it's going to be impossible. That's just all there is to it, right? So how are you investing into personal projects or projects that are gonna get you noticed? I mean, again, why my work got noticed in the Surf world is because I was going to places nobody else was. Now here's a little tip for you. My photographs weren't in any capacity better than anybody else out there, but it's impossible to judge an image based on how good it is when you've never seen anything else like it, when you've never seen other images from that place. So a willingness to go to certain places and these don't have to be far places. These don't have to be remote places and shoot there is one of the most important things you can do. The first large personal project that I invested in California Surf Project was literally driving the length of my home state in a broke down 1976 Volkswagen bus. You cannot tell me that somebody else couldn't try to take on that adventure. And it was an adventure, but it was an adventure to explore my own backyard. So I don't think we need to like overthink it in many ways. Your photographs need to make, tell a story, the more story oriented the image, the more people can sink their teeth into it, follow along, feel like they're connected to it. To me, that's one of the best ways to get your images noticed. How do your favorite shots compared to what people buy from your shop? Well, I have the best sellers from my shop, which is great, but the reality is the images that I care the most about are the ones that have a story behind them or they were maybe they weren't really shot on a commercial assignment. They were shot on a personal assignment and I'm connected to the people in the image, or I feel a sense of ownership over that, or I suffered for it right? When you suffer for something, it deeply imprints in your memory. And when it deeply imprints in your memory, you care about it more because you gave something up of yourself to get it. And that's really all it comes down to. And to be honest, whenever you're building out a story to tell, whenever you're thinking about something, you might wanna say, start with those images, you're gonna be willing. And you're gonna even be able to extract little tidbits that you never thought you would, because in some way you are connected to that image for life. I mean, it's a beautiful thing, it's a beautiful relationship. How to have a stable income? Again, talked about that in creating revenue streams, ones that are kind of safer ones that are more extreme, also investing right, investing in some capacity, whether it's in land, whether it's in property, what have you, whether it's in alpacas, I don't know. Tips on starting a blog. I don't really have a blog. I would just say, if you do it, you gotta be consistent. I mean, the reality of any blog is like tell stories. It all comes back to that willingness to be open and share something intimate, not just regurgitating anything that you're hearing. So, but trying to give you something of yourself, right? And the way you find time to extract good stories is by living in those moments, an earlier question was about, how do you find joy in these moments when you're outdoors? Well, you find joy by being there, usually without the camera, by taking it in. And what I mean by that is not just staring at your phone, looking at it, but actually taking it in, right? Little bits of this place imprint on you and then write it down or you'll forget it, right? Tell me, just write down a couple lines. Those are usually the beginnings of great captions. Those are the beginnings of great stories. Those are the beginnings of great speeches. What are some tips for turning from a hobbyist to a professional, from Ado Quad? It's interesting. I think that any good professional photographer probably started as a hobbyist. I would say that in many ways, ask yourself, consider, do I really want this to not be a hobby anymore, and to turn into a career? Because you're gonna lose some stuff, you're gonna lose some of your fire. Some of your energy, some of your joy is gonna be gone when you do that. I would say the key thing is that when you feel like you are at a point where you could charge for your work in some way, whether people are requesting you to shoot stuff or whether you're feeling in some way, like this is a skill or that I could offer people, also look at where you live. If you live in an area that's super, super impacted with wedding photographers, it might not be good to go into that career path because you're competing with all those people. Again, for me, I lived and grew up in a small beach town. There was no other people shooting what I was shooting for miles and miles around. So it kind of made sense, right? And I think putting yourself in an ideal situation to be the go-to person for some magazine or some client is really helpful. One of the thoughts that I have on that is traveling to Iceland, again, 41 times over the last decade to go there. It's given me a knowledge of the place that has benefited jobs. Every time I've been there has been for work. And so the goal there is you become succinct with creating something great in this place. So clients come to me because they know I have a knowledge of this place. Same, like they might on the California Coast because I made a book about it, right? So again, there's people who are kind of specialists in certain areas. That's what I'm getting at. And the devotion of their time to these places usually comes back to benefit them. And that's kind of, I think how you can turn maybe a hobby and something you're passionate about into a career path. Oh, how does one start into this field? I'm 35 and wanna switch gears to photography, too late? I don't think so. I just think it's a matter of how much you're willing to sacrifice to get there. That's all it comes down to. Again, there's no switch you can flip to basically jumpstart your career. There's no surge you can do. You can invest the time and the energy and the money into the right equipment, into creating portfolios. You can start to think passionately about the stories you wanna tell and how you wanna go about telling those. And then you can follow the same process right, after you've built up some experiences, some stories, some images, then get a social media account. Don't do it first, that backwards mentality of getting social media, then buying a camera, then figuring out how to use it, that's not good for anybody, right? So again, get a camera, use it, be passionate about it. Then extract what you want to tell or say with that camera, try to form a style that's all your own. That's gonna take your first 10,000 hours. It's gonna take your first couple years or weeks or months, depending on how much you're willing to devote to it. At that point, you can look into forms of media to publish your work, whether that's blogs or websites, or you can reach out to a PR company to try and get you some extra press or buzz, right? But ultimately your story or what you're working on has to be noteworthy, has to be interesting to people, right? Again, is it Yosemite in infrared, young photographer shows the world Yosemite they've never seen before. I don't know. Is it again documenting, social justice issues in places or in ways that people have never seen? Again, I'm not sure it's a matter of kind of what imagery you're hoping to create long term that's going to hopefully make some noise. Getting paid on time can be a real headache. That person sounds like a legend total life forever. Yes it is. So if you're living paycheck to paycheck, or if you're doing this job where it became burdensome, I would really urge you to be tight with your contracts. Typically and traditionally, it's a great point should have brought this up earlier, but it's not uncommon to ask for 50% first, you wanna ask for 50% upfront, your production fees upfront, basically. So you have the money to do everything you need to do to get the job done. So you're not paying with it on your credit card. And then you're literally like waiting to deliver the images and they haven't paid you a dime, that sucks. But again, these are things where you can safely protect yourself so that you're doing this in the beginning, not six months down the road, right? I would never get in a situation with somebody where they owe me money and I've delivered everything, right? I wanna make sure there's equal amounts of risk involved. So that's a really challenging lesson to learn. How can you save up to open a studio? Cool, Panda photography. It's really simple, you start small, you start in the bedroom of your house. You migrate into the garage of your house. You move into a building down the street, that's what I did. And ultimately it was slow, slow growth. This is over five, six, seven years, right? And ultimately the studio I have now, which I'm so proud of is something that was a huge investment, right. But the goal was, it was a long term one. I could see my income being steady and I felt safe and able to do that. So I would say saving up for it really just comes down to where are you at in your career? How many clients do you have? How consistent is that income? Is paying for the mortgage, is paying for the rent going to bankrupt you? Or is it going to put you under? Ask yourself that question because yes, it will be an expense, but it will allow you to do work faster and more efficiently. Will you ever do a photo shoot of your wife making her famous homemade rosemary bread? Yes, I should. 'Cause I've been asked that question by people so many times, what is that recipe? It's super good. Can't share it now, it's secret. To be honest, I think, oh how to write contracts. Great question. I guess this is a good one to end on, but contracts are something where you, there is simply no way for us as the creative person, unless you have a legal background, unless you have real expertise in reading and understanding legal mumbo jumbo. This is really truly where that advice of get a lawyer or get an agent who can look over these things for you and can read through all those things, that's so important. You need a second set of eyes, right? When you're writing contracts on your own, what are you writing them for, right? The contracts vary. If you're just writing a talent release, there are documents online, there's DocuSign or whatever there's apps that you can literally give to talent. They can scribe with their finger. You take a photo of them and that's your talent release. There is also other docs out there like NDAs that you can have people non-disclosure agreements, which basically force people not to share sensitive information with others. That's something that you can find online. That's something that's really easy. The key component is when you're writing a contract for maybe an employee or you're writing a contract for a client, or they're writing a contract for you, something you want to have somebody who has professional experience look over, that's not me. Right, but what I've always done is always looked at contracts online. I might adopt some of that and make my own and really having someone you trust and care about, look over it. Okay, last one. We got a lot. Maybe this the best and worst part of it, from Ben Arbe it's a great question. Best part of it is being able to, again, coming back to the reason I started my career, basically being able to go out, experience the world and bring that work, those images, those stories back to first and foremost, my mom, my family, my community, which I've done through my studio and then social media, millions of people out there, my wife and kids, that's the best part of it, hands down, being able to kind of show what shaped me and parts of the world that I've just found so interesting with people I love. Worst part of it, probably the sacrifice that it takes to leave home when you don't wanna to have to be home for 24 hours, repack your bags and then get back out on the road. And there's people you miss and your health is suffering and you just don't feel like you're yourself. That's a hard thing to do. And I feel like I've learned some tricks and tips when it comes to kind of like, again, filling out my personal cup that can help me do it better, but it never gets easy. It never gets easy leaving a place you care about, people you care about and just things you wanna do. When you love surfing and you wanna surf in the fall season or winter, and you have to go to the other side of the world, that's brutal a little bit and a small part of you dies inside, but you hope, and you pray that maybe your mission statement or what you're out there doing this for is good enough or is driving you enough that it makes it worth it. That's it.
Ratings and Reviews
An experience This was absolutely amazing. I have followed Chris for more than 10 years, he has been an inspiration to me in many ways; his way of seeing the world and the devotion behind his passion for storytelling has always called my eye. After watching and studying with this course I realized it all comes down to following whats true to you and doing it with all the love in the world. Thank you Chris for being an open book about your business and sharing with us all the stories in between, the anecdotes, the whys and the hows behind your experience as a photographer. This was an adventure for me and I am grateful for all that you shared. Now I am ready to take my business of photography to the next level.
Insightful and Motivating it was truly great to hear some real life experiences from someone you look up to. I feel like I have an understanding of the industry I previously thought I knew but now know was way off. if you are looking to take your photographic journey seriously this is a fantastic look into the world of the working, travelling, successful creative.
Always Gives *Almost* Enough Detail Although I'm a huge fan of Chris Burkard's work, I must say this workshop was unfortunately very disappointing - especially given the premium price that is charged. While each episode is quite long, it seems to fall into the trap of saying a lot while saying very little of substance. It's great to hear his story, but also feels as though the picture he offers is a very general "top-level view" through friendly conversation, as opposed to offering more concrete action steps by deflecting specific guidance with words like "you need to figure out what's right for you." I bought it because I don't even really have a good benchmark for "what's right for me." Unfortunately, whenever opportunities rise for Chris to offer a baseline for what we can start looking for, those moments fall through. This course absolutely does offer value - it's not a 1-star workshop by any means. However, if you're trying to decide where to invest $300, spend it on Finn Beales' Storytelling workshop, Alex's Adventure Photography Pro workshop, or Andrew Kearns' workshop on brands. There are MUCH better places to start or continue your investments though Wildist's courses.
Student Work